12 Heartwarming Instagram Captions To Post This Hanukkah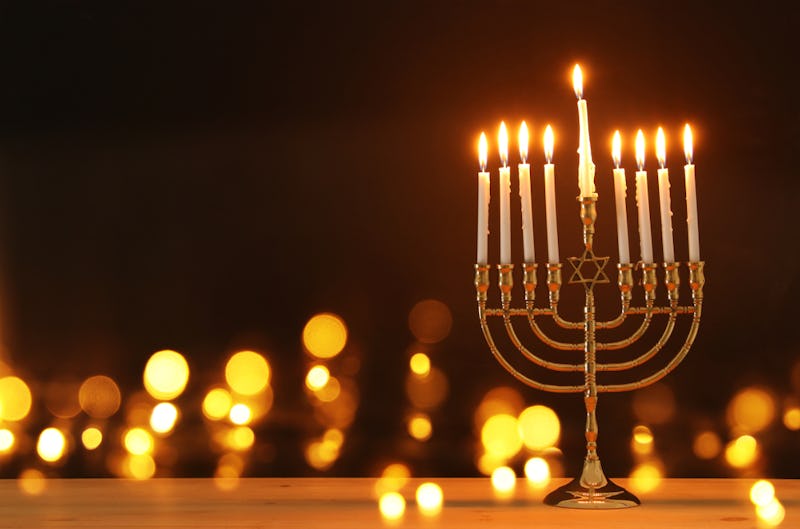 ShutterStock
Whether you take part in Hanukkah or not, it's obvious that this holiday is a beautiful celebration of light and faith. This year, Hanukkah begins on the evening of Sunday, Dec. 2, which means it's coming up really quickly. And since it's almost here, you night be getting ready for some quality Hanukkah content for social media. I've got you covered with some heartwarming Hanukkah Instagram captions to use alongside your photos.
Hanukkah is the Jewish eight-day "festival of lights," and it's celebrated with a nightly menorah lighting, gift giving, special prayers, and specific foods. The holiday commemorates the rededication of the Holy Temple in Jerusalem after the Maccabean Revolt — before the revolt, the Holy Temple had been desecrated. When Judah Maccabee rededicated the temple, there was only enough oil for one day — but, miraculously, it lasted for eight whole days. During each night of Hanukkah, one candle on the menorah is lit until the last one is lit on the final evening. This symbolizes the eight days the oil burned in ancient times. It is also customary to eat foods fried in oil, like potato latkes with applesauce or sour cream and jelly-filled sufganya (doughnuts).
This celebration symbolizes so many important things, like spirituality, dedication, and strength. It is a time of year filled with love and unity, unlike any other, and it's so important to recognize it and give it the love it deserves. Below are a few heartwarming quotes that capture the true spirit of Hanukkah to share with all of your friends. Because while it's nice to share funny and punny Instagram captions, it can also be nice to get real for a second.