12 Ways To Stay Calm When Mercury Retrograde Messes With Your Thanksgiving Plans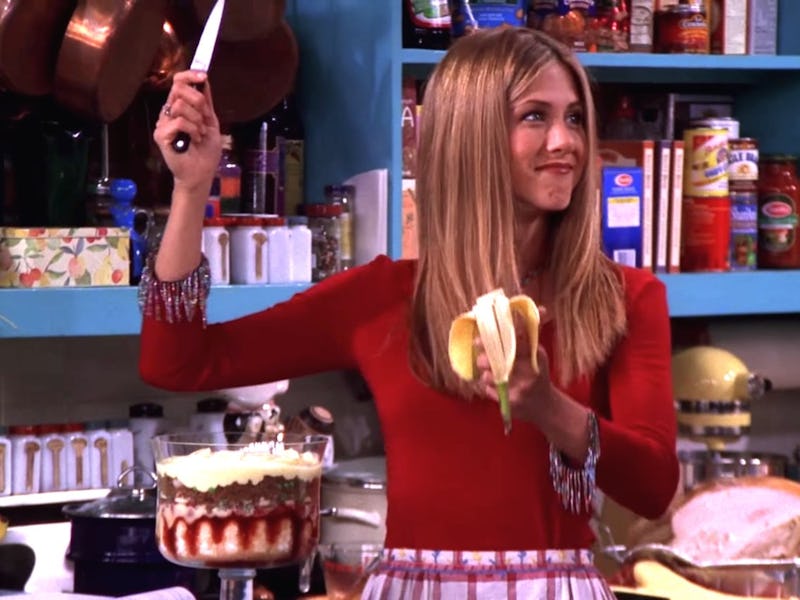 NBC
In case you haven't yet been made aware, Mercury retrograde is happening during Thanksgiving this year. Or perhaps you have been made aware and you just chose to block it out of your memory? I certainly can't blame you if that's the case, as Mercury retrograde periods are infamous for their ability to turn our lives upside down when it comes to traveling, communication, tech, and more. Fun. Oh, 2018, the irony of Mercury retrograde taking place during the busiest travel day of the year is not lost on us, OK? We get it. You win. We all surrender.
Mercury's next retrograde begins on Nov. 16, meaning Thanksgiving will fall right in the middle of it. Mercury Rx is never a fun time, per se, but the planet's tri-annual-ish jaunt backward does serve its purpose astrologically. Just as the planet appears to move backward during its retrograde period, retracing all of its recent steps and revisiting the roads its already traveled, it's a good time for us to retrace our steps, too. Think of it as an opportunity to double-check your work and review where you're currently at in life.
Of course, the nonstop craze of the holidaze is not an ideal time for many of us to hit the brakes and go inward. No, no. Most of us are too busy running a metaphorical marathon in the form of cooking, traveling, catching up with friends and family, traveling some more, and scrambling to get your sh*t together at work before you head out of office for a long weekend. That combined with the travel mishaps that are bound to occur, meditation is probably going to be a must when it comes to keeping us semi-sane during the Mercury retrograde roller coaster. Probably wouldn't hurt to book a couple extra therapy sessions while we're at it, either. Just sayin'.
Here are some solid meditations for Mercury retrograde during Thanksgiving that will help you find your chill, work with the crazy retrograde energy rather than against it, and stay sane during Thanksgiving and beyond.
Mercury Retrograde Meditation ⚡️ Release, Reflect & Relax
This gentle, yoga-based meditation focuses on your breathing and draws on gentle lunar energies to help bring about balance amidst the wild Mercury retrograde vibe. The moon connection will be especially powerful given that November's full moon will take place on Thanksgiving night (which def has the potential to pour gasoline into the retrograde fire).
Mercury Retrograde Meditation: Release Heavy Emotions
As mentioned, November's full moon on Thanksgiving is going to be bringing about some major emo feels. Combine that with the communication- and travel-based mishaps of retrograde season, and you've got a perfect Thanksgiving storm, don't ya? Release those heavy, stress- and full-moon-induced emotions with this meditation, which is designed to help you do exactly that.
How To Survive Mercury Retrograde Meditation
"Take yourself to the beach and away from the stress of crowded daily life with this mini meditation," explains the video's description. "Perfect for mercury retrograde season." Um, yes please. If you'd rather be at the beach than at the airport, your parents' house, or anywhere else you find yourself during Thanksgiving's Mercury retrograde, plug in your headphones, find a quiet space, and meditate along with this video.
Reiki With ASMR: Mercury Retrograde Healing Session
If you're not the meditation type, just sit back, relax, and enjoy a free reiki energy healing session aimed at lessening the drama of Mercury Rx with this ultra-soothing video. The goal of the video, according to its description, is to "help work with the energy of Mercury Retrograde and lessen the frustrating and uncomfortable side of it." Must have.
🌜Chakra Energy Healing and Balancing 🌛
This guided creative meditation features the soothing sounds of singing bowls and is aimed at chakra balancing. The video was made specifically for Scorpio season 2018 (which runs up until Thanksgiving) and all the energies that it brought along with it — including Mercury retrograde.
Boost Your Mercury Energy Meditation
This meditation isn't guided, so it's better for those of you who are able to guide yourself. That said, the crystal singing bowls provide an incredibly soothing, calming backdrop for clearing your mind and energy field — so even if you don't know what you're doing, taking an hour to find your chill in the midst of the retrograde/holiday madness with this track will be useful.
Frequency Of Mercury For Intellect & Mobility
This binaural beat-based track is perfect to zone out to. It's set to the frequency associated with the planet Mercury itself, so not only is it ultra-calming, it can also help you align yourself with Mercury's energy so you're working with it, not against it.
Guided Meditation: Communicate Clearly & Speak Your Truth
Given that Mercury rules communication of all kinds, when the planet retrogrades, miscommunications (and even straight up fights) are way more likely. Since Thanksgiving dinner is bound to bring about a few wine-fueled political debates and grating small talk sessions, this guided meditation, focused on clearing your communication channels, is a must.
Mercury Retrograde Meditation
This soothing meditation video not only offers sound advice on handling Mercury Rx season, but also provides step-by-step instructions on getting into a zen, meditative state that will help you find your chill in the midst of Thanksgiving and retrograde-fueled insanity.
Guided Meditation For Healing Toxic Family Trauma
Thanksgiving (and the holidays in general) can be super triggering for those of us who don't have the best histories or relationships with our family members. If you're headed home for the holidays and feeling stressed about family issues, try this meditation, which aims to help you work through your trauma and better handle the Thanksgiving interactions, which are only intensified under Mercury retrograde.
ASMR Tarot Reading: How To Communicate Better
Communication is being turned upside down under this retrograde. Give yourself a little Tarot-based guidance and get down with the ASMR tingles using this relaxing video, designed to offer a bit of advice via divination to help you speak your truth over the Mercury Rx holiday week.
Mercury Retrograde: Manifesting & Energy Download
Let's not just aim to stay alive during Mercury retrograde — let's aim to thrive, y'all. Am I aiming too high here? If you burn through these other meditations, then you'll probably find yourself in a pretty solidly chill state. This short meditation helps you channel the law of attraction using manifestation to help you reach your goals. Perhaps your goal is just getting through Thanksgiving dinner without a fight, and that's OK! See if this video can't help you achieve it. Knock zen yourself out.