12 Movies Kardashian Fans Should Stream ASAP, Including A Thriller Kim Actually Starred In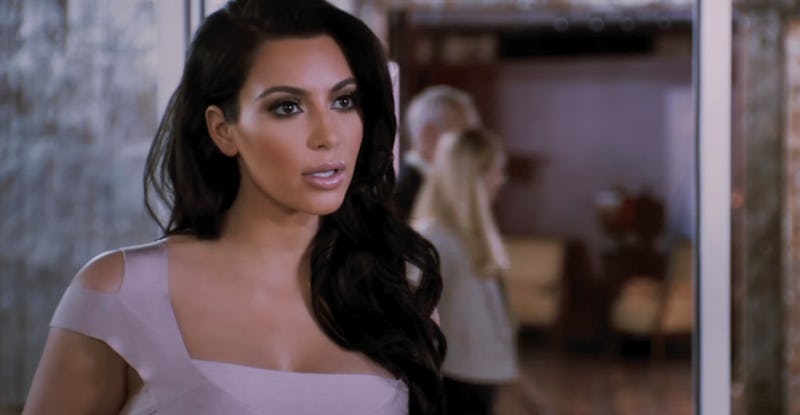 Lionsgate
Fans of Keeping Up With the Kardashians tune in for a number of reasons: the drama, the look at how the other half lives, the bond between the sisters, the luxurious family trips, the fact that the Kardashians and Jenners' lives are just plain weird and that in itself is intriguing. So, if you're a fan of the Kardashians and need some new movies to watch, there are quite a few to choose from if you're looking for those same themes.
Sadly (well, depending on who you ask), the Kardashian and Jenner family members have not been in many movies themselves, so only one film on this list actually has a Kardashian in it. There are a lot of movies about rich people, though, and plenty of films that offer the escapism you get when you watch a KUWTK episode where the family travels to a beautiful locale and lives it up in front of gorgeous beaches and crystal clear water. And there is also one movie on the list for the Kardashian fan who is in a more introspective mood...
Read on for 12 movies KUWTK fans should check out, along with the streaming services on which they're available. Okurrr.
1. The Bling Ring ($3.99 to rent on Amazon)
This 2013 movie based on the infamous Bling Ring shows a group of teens stealing expensive clothing, shoes, and handbags (just the kind of stuff the Kardashians would have owned at the time) while the celebs were away from their homes. Star Emma Watson even said that she watched KUWTK to help get the LA mindset and accent down.
2. Ingrid Goes West (Hulu; $3.99 to rent on Amazon)
The Kardashian-Jenners are known for their social media, so it only makes sense to add a movie all about social media. This dark film starring Aubrey Plaza and Elizabeth Olsen follows a stalker who becomes obsessed with an Instagram influencer and infiltrates her life.
3. Tyler Perry's Temptation: Confessions of A Marriage Counselor ($3.99 to rent on Amazon)
Winning the award for longest title on this list is Tyler Perry's Temptation: Confessions of A Marriage Counselor. This movie sounds absurd, but it also has an actual Kardashian in it, which is why it's featured here. Kim plays Ava, a woman who works at a matchmaking agency and, apparently, is very judgmental.
4. House Of Wax ($3.99 to rent on Amazon)
Kim Kardashian and Paris Hilton used to be best friends. Paris Hilton stars in the horror movie House of Wax. There you go.
5. Ibiza (Netflix)
Speaking of the old BFFs, Kim and Paris went to Ibiza together way back when and have reminisced about it on social media in the time since. If you like the travel episodes of KUWTK or enjoyed the many club scenes the show used to feature where Kim would show up to promote random stuff, this could be the one for you.
6. Mamma Mia! (Netflix; $3.99 to rent on Amazon)
Once again, if you like the travel episodes, you might just like staring at a beautiful Greek backdrop for two hours. Hey! Remember when KUWTK went to Greece? See, it works.
7. The Queen Of Versailles (Hulu; $3.99 to rent on Amazon)
This documentary follows rich couple Jackie and David Siegel, who are attempting to build one of the largest homes in the U.S. and plan to call it Versailles. It's an interesting look at wealth and the people who are obsessed with it.
8. Marie Antoinette (Netflix; $3.99 to rent on Amazon)
And now to the real Versailles. Marie Antionette stars Kirsten Dunst as the young, hated queen. It shows her dealing with rumors (like the Kardashians!) and, of course, has really over-the-top displays of wealth. As an added Kardashian connection, Kim and Kanye West held part of their wedding festivities at Versailles.
9. The Truman Show (Netflix; $3.99 to rent on Amazon)
So maybe you're not in the mood for watching rich people be rich people, but are in the mood for thinking deeply about reality TV and how we consume it. The Truman Show is ready for you.
10. & 11. Both Sex And the City Movies ($3.99 to rent on Amazon; first movie available on HBO Go)
Women bonding. Luxurious vacations. Drama aplenty. Both Sex and the City movies have these things in common with KUWTK. Put one on and escape the real world for a little.
12. Clueless ($3.99 to rent on Amazon)
It's set in LA and is about a rich teen, so we can assume Clueless is exactly what Kim's life was like in 1995, right?
Whether you choose the documentary, the historical biopic, or the one that actually has Kim Kardashian in it, these movies can help fill the gap until the next KUWTK episode airs.