12 Movies With Kick-Butt Women To Watch When You're Feeling Powerless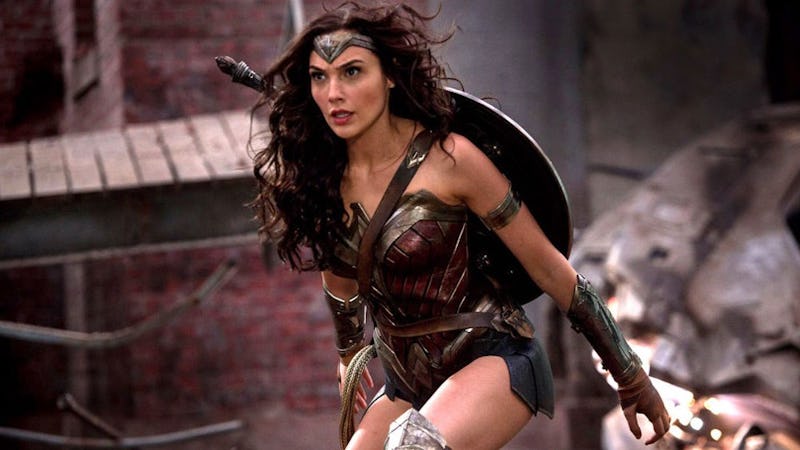 Warner Bros.
Last week was a rough week for women, and this coming week will probably be the same. With the FBI now investigating Supreme Court nominee Brett Kavanaugh, his accusers will have to tell their stories over again. (The nominee maintains his innocence.) The daily onslaught of news reports featuring details of alleged misconduct and assault have been and will continue to be brutal to hear about on a consistent basis. It's no wonder that some women turn to movies for self-care, and have chosen to completely opt out of the news cycle and turn to calm methods of survival mode.
If on the other hand, you're in activist mode, you might feel like you're up for a fight. It is absolutely true that fighting for our rights and our very livelihoods doesn't require violence, but sometimes watching woman who are using their strength and skill to fight their oppressors can be inspiring. The movies below feature women who fight for what they believe in, be it through physical revenge, self-defense, or emotional escape. If you're feeling like you need a bit of a pick-me-up in the form of women kicking ass, check out one of these flicks.
1. Wonder Woman
Is anyone stronger than Diana, Princess of Themyscira? Our Wonder Woman, starring Gal Gadot and directed by Patty Jenkins, is a bright spot in the otherwise dour DC film universe. From watching the women of her island train without men, to Diana's insistence that humanity fight for good, Wonder Woman is the kickass heroine we need this week.
Streaming on HBO, Amazon, iTunes and more.
2. Mad Max: Fury Road
The title of the movie focuses on Max, but the power in Fury Road is all within Imperator Furiosa, played by Charlize Theron. Her mission to rescue the "wives" of Immortan Joe from sexual slavery feels like every woman's mission right now.
Streaming on Amazon, iTunes, and Vudu.
3. Lucy
Scarlett Johansson is kidnapped to be a drug mule but, in absorbing some of the substance, learns to control the world, and her own body, on a cellular level. The result is a young woman who can not only kick butt, but also doesn't even have to. She just knocks the bad guys out with her mind.
Streaming on Amazon, iTunes, and Vudu.
4. Thelma & Louise
Susan Sarandon and Geena Davis play best friends and gay icons Thelma and Louise in one of the first movies to address rape. Turning to each other when escaping abusive men is the very definition of girl power.
Streaming on Hulu, Amazon, iTunes, Film Struck, and Vudu.
5. Mulan
What makes a woman and what makes a man? Mulan searches for her true reflection and finds it in her father's sword. The Disney animated version is a 90s Renaissance classic, but we also can't wait for the updated live action version as well.
Streaming on Netflix.
6. Atomic Blonde
Charlize Theron strikes again, and again, and again in this spy thriller set in the '80s. The fashion and the neon are on-point to the period, and the action features women kicking some butt and then hopping into bed with each other. Even better than the operative's killer moves are her killer clothes.
Streaming on HBO and Amazon.
7. The Craft
The Craft is a Halloween staple and cult classic at this point, but the more interesting aspect of this teenage witch tale is how the witches use their newfound powers to fight abusive men, racists, and patriarchal standards of beauty. Abracadabra, witches.
Streaming on Starz, Amazon, iTunes, and Vudu.
8. Colombiana
Zoe Saldana gets even with the drug lords who killed her family in this action film co-written by Lucy director Luc Besson. Leaving behind an orchid after every kill, Saldana's Cataleya honors her mother while taking her revenge.
Streaming on iTunes, Vudu, Amazon, and more.
9. Literally Anything With Michelle Yeoh
Crouching Tiger, Hidden Dragon may be her most famous film in the U.S., but Michelle Yeoh's career is full of action-packed, ass-kicking roles. Check out any of her Hong Kong action films, the movies where she goes toe-to-toe with Jackie Chan, or on Star Trek Discovery.
Crouching Tiger, Hidden Dragon is streaming on Starz, iTunes, Vudu, and Amazon.
10. Ghostbusters
Trolls are gonna troll, but watching the four women of the all-female Ghostbusters light up their proton packs and blast ghosts for the first time was truly awesome. It's also a perfect time to revisit this once since we're now in Halloween mode. Afraid of ghosts?
Streaming on Amazon, iTunes, Vudu.
11. The Girl With The Dragon Tattoo
Whether you prefer the Swedish original starring Noomi Rapace, or the U.S. remake with Rooney Mara, Lisbeth Salander knows how to get even with the men who have wronged her and other women. Claire Foy is taking over the role for the next installment, The Girl in the Spider's Web.
Streaming on iTunes, Vudu, and Amazon.
12. Proud Mary
Just when you thought Taraji P. Henson couldn't get any more badass, she goes and plays an expert assassin. Cookie has weapons now, guys, and she's coming for ya.
Streaming on Starz and Amazon.
Whatever your own struggles are — besides what's in the news — these heroes and anti-heroes will help you get through them.