The Best Lyrics Off Kendrick Lamar's 'DAMN.'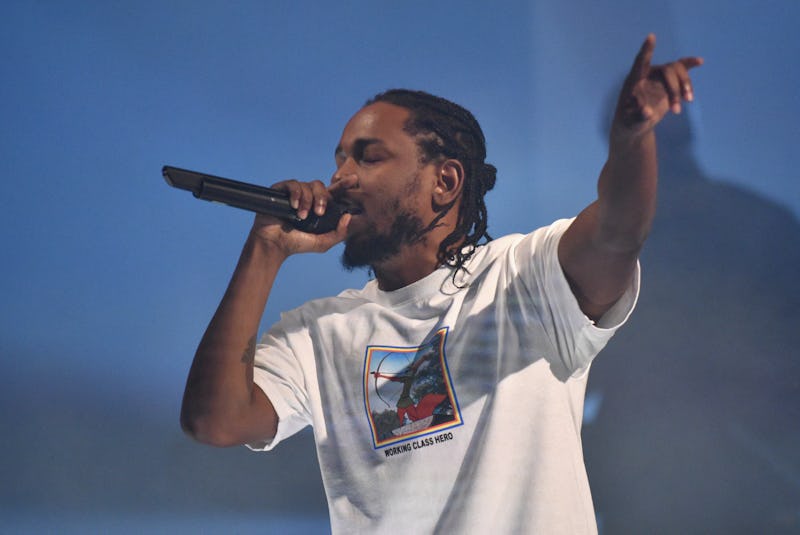 Bryan Bedder/Getty Images Entertainment/Getty Images
After over a month of teasing and a slight fake-out, Kendrick Lamar released DAMN. on Friday. Yes, that's about a week after he piqued our interest by closing off "The Heart Part Four" with "y'all got til April the seventh to get y'all sh*t together." The heart and Lamar's lyrics lied, but no worries. DAMN. is now here and available to stream over and over again. And while you're treating yourself to another full-length album, you'll start to hear a few shining Lamar lyrics that stand out from the pack.
Thematically DAMN. seems to deal with Lamar reconciling with two things: his identity as a black man, particularly in Donald Trump's America, and a conflict of spirituality. Lamar doesn't have anyone to pray for him anymore now that his grandmothers have passed on, and being caught up in the flashiness of the rap world, there's this real question of whether he's damned. Suffice to say, those are very, very specific, identity-centric problems. And there are some stand-out lines that smartly target Lamar's personal themes, and others that could be more broadly applied to anybody else.
Not sure what I mean? Well, keep reading for a sampling of some of the best lyrics off DAMN.