12 Punny Ideas For Your Friendsgiving Instagram Captions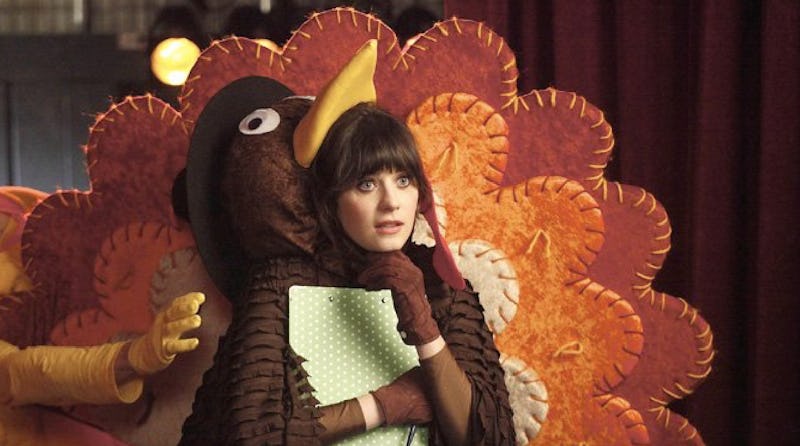 NBC
November means that Thanksgiving is around the corner. Whether you're a fan of the day or not, it has inspired an ~unofficial~ holiday. One that is safe from intrusive questions your aunt asks like "What happened to that promotion you were talking about?" and "Why aren't you married yet?". This cherished day has been dubbed Friendsgiving, and I already know you're going to take so many pictures of it that your phone's memory will be filled. To compliment the photo of cranberry sauce smothered mashed potatoes that made it to Instagram are punny Friendsgiving 2018 Instagram captions. They're bound to make your followers chuckle.
Every second of a Friendsgiving feast is an Instagrammable moment. From the-one-friend-who-can't-cook's actually-perfect macaroni and cheese victory to the Pinterest worthy table spread, there are so many reasons to keep your camera on the table. Even though, for etiquette reasons, I highly recommend at least keeping it tucked in your pocket. Or, at least, hidden under your napkin.
But, I get it, having all of your friends pull together the pot luck of the year in a small space is a feat to celebrate via social media. If you're celebrating with your chosen ~fam~ before venturing home, make sure your Instagram caption is a play on words your followers will gobble up.
"Eat, drink, and cranberry."
"What's butter than dinner with friends?"
"You know I'm all about that baste."
"Not to be corn-bready, but I yam so thankful to have so many great friends."
"Yes, you cran sit with us."
"Being your friend is the casserole of a lifetime."
"Let's get basted."
"I get pie with a little help from my friends."
"Pie pecan't live without you guys."
"I'll take all our secrets to the gravy."
"Tonight we dined until we were stuffed and jammed to Plymouth Rock."
"I'll never be able to quit my friends. At least, not cold turkey."
If you're strapped beyond quotes for how to make Friendsgiving work for you this year, then you have plenty of options at your disposal — namely, Trader Joe's, which has a whole slew of delicious Friendsgiving options, from butternut mac and cheese to cranberry pie. Pro-tip: TJ's is also a great place to pop in if your friends happen to have any allergies or dietary restrictions, because their affordable vegan, dairy-free, and gluten-free options are off the hook (Almond Nog, anyone?).
And beyond food, there are also plenty of Friendsgiving traditions you can observe — whether it's a Secret Turkey where you each surprise each other with a little dish or dessert that you know the other will like, or a compliment basket where you write sweet things about each other that you're grateful for to take home at the end of the night, or table games you can play to get to know each other even better than you already do. Then, of course, there's always the most sacred, time-honored tradition of all: eating until you basically can't move, and taking a very long post-Friendsgiving nap among friends.