12 Punny Groundhog Day Instagram Captions To Post No Matter What Punxsutawney Phil Predicts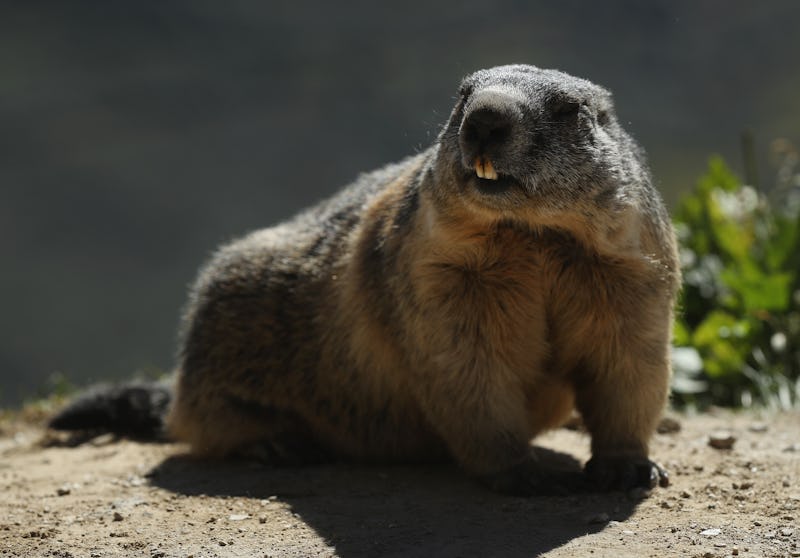 Sean Gallup/Getty Images News/Getty Images
At a time where everything in America is serious and scary, I think we could all use a day where we celebrate watching a groundhog climb out of a hole and predicting how long winter is going to last. Seriously, name something more ridiculously awesome than that, I dare you. Thankfully, we have a day where exactly that happens! Every year on Groundhog Day, Feb. 2, Americans wait on the edge of their seats to find out if groundhog, Punxsutawney Phil, saw his shadow. The tradition goes: If the groundhog sees his shadow then it's six more weeks of winter, and if not, then it's an early spring. We need some fun, even when it comes to our social media celebrations. And, posting a punny Instagram caption for Groundhog Day is perfectly in line with the spirit of the holiday.
If you're wondering where the tradition of Groundhog Day comes from, it was actually German by creation: Based off of the ancient German celebration of Candlemas, it was brought to the U.S. by German settlers, who became the Pennsylvania Dutch when they settled in Punxsutawney, PA in the 1800s. Originally, the badger was used as the animal that would predict the coming weather, but badgers weren't indigenous to the northeastern US — groundhogs were. And so, groundhogs were used in the tradition instead of badgers.
Following this, a Pennsylvania-based newspaper editor who was a member of the Punxsutawney Groundhog Club, declared that Phil the groundhog was the only groundhog who could predict the weather in the late 1800s — and the rest is history. Generations upon generations of groundhogs later, the modern day Punxsutawney Phil is still in charge of determining our weather. Each year, tens of thousands of people flock to the town for the big reveal.
It's worth noting that Phil is only right 39 percent of the time, which is not a great track record. However, I don't think the point of Groundhog Day has anything to do with the weather — I think it's about coming together and enjoying a tradition. It's about focusing on new beginnings and embracing life.
Want to honor the holiday with some humor and spirit? Read on for punny Groundhog Day captions to use on Instagram.
1. "Despite the forecast, live like it's Spring." - Lilly Pulitzer
2. "Spring is the time of the year, when it is summer in the sun and winter in the shade." - Charles Dickens
3. "To shorten winter, borrow some money due in spring.​" - W.J. Vogel
4. "Winter is nature's way of saying, 'Up yours.'" - Robert Byrne
5. "The trouble with weather forecasting is that it's right too often for us to ignore it and wrong too often for us to rely on it.​" - Patrick Young
6. "Don't knock the weather; nine-tenths of the people couldn't start a conversation if it didn't change once in a while." - Kin Hubbard
7. "An optimist is the human personification of spring." - Susan J. Bissonette
8. "Spring is nature's way of saying, Let's party!" - Robin Williams
9. "You can't get too much winter in the winter." - Robert Frost
10. "Pitiful, a thousand people freezing their butts off waiting to worship a rat." - Phil Connors, Groundhog Day
11. "The groundhog is like most other prophets; it delivers its prediction and then disappears.​" - Bill Vaughn
If you live near Punxsutawney, Pennsylvania, or feel like taking a drive, it may be worth heading over to see Phil in the flesh. Throw him a nice pun while you're at it! Maybe the sun will come out.