These Tweets From Jordan Of 'Bachelor In Paradise' Could Double As Motivational Posters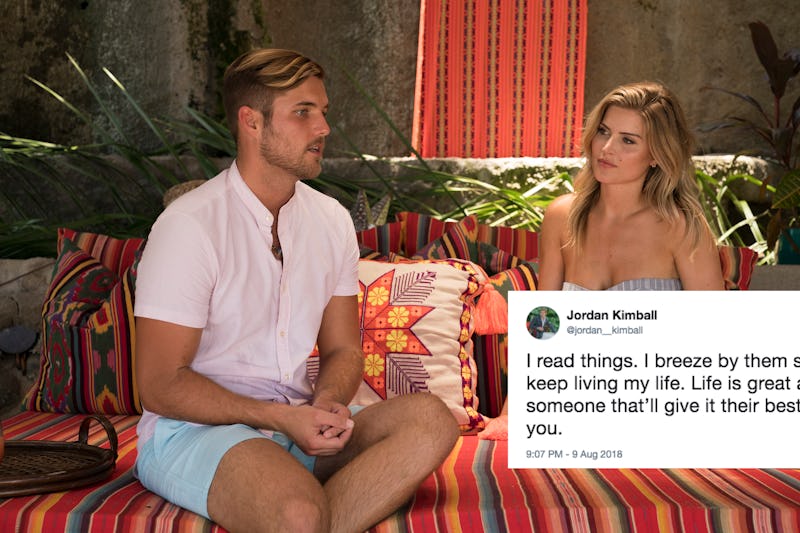 ABC/Paul Hebert; Jordan Kimball/Twitter
Love him or hate him, most people have to admit Jordan Kimball is entertaining. Whether you're laughing with him or at him, this guy made great TV on The Bachelorette and Bachelor in Paradise. Not only that, but he's hilarious on social media. In fact, Jordan's tweets could double as motivational posters. Most of the time, his quotes guarantee a good laugh, but a solid amount of them actually provide some great advice and valuable insights. Sure, some are just hysterical, but Jordan has plenty of tweets that could be considered "inspirational."
As fans know, Jordan brings a lot to the table. He has an impeccable wardrobe, hair doused in sea salt spray, an array of modeling poses, and ego-destroying clapbacks, so there are plenty of distractions and a lot to unpack. Beyond all of the hilarity, there are actually some astute observations mixed in.
Most of his tweets are in response to reality TV drama, but they could easily be applied to other situations in life. Jordan is very proud of being a fashion model, but maybe he's meant for a different path in life. Could Jordan have a future as a motivational speaker? It sure seems like he has a shot. Just check out these Twitter gems.