Here's Why Millennial Women Are Really Marching For A People's Vote On Brexit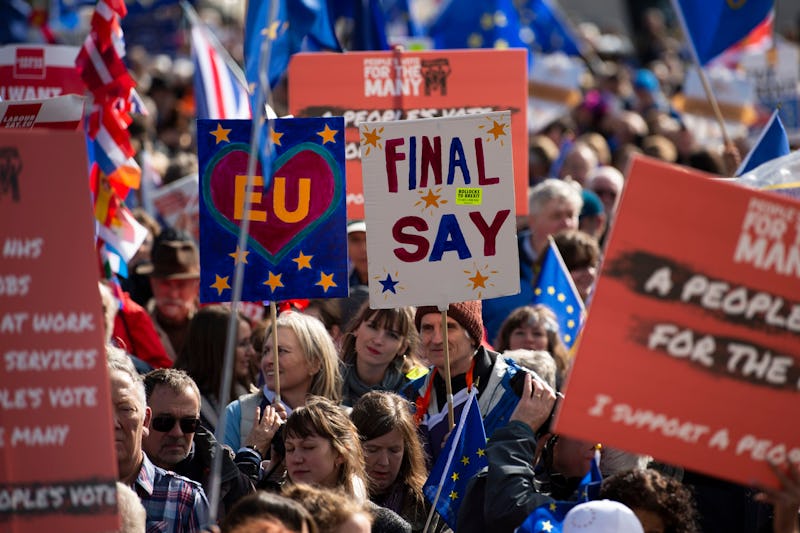 WILL OLIVER/EPA-EFE/Shutterstock
It's hard to remember a time before Brexit dominated the news cycle. A no-deal Brexit, the Chequers plan, the Brexit backstop: these phrases are now a seemingly interminable part of our vocabulary. The Brexit dialogue of 2018 is loud, rabid, and, as a recent YouGov poll reported by Business Insider revealed, accompanied by a swelling tide of regret. But despite the vociferous coverage on both sides of the debate, and as March 29 looms ever closer, the one thing that's clearer than ever is that the terms of Brexit are contested to the point of obscurity. It's this debate and the shifting sands of public opinion that drives the campaign for a People's Vote.
This weekend, activists from all over the UK will march through central London to advocate for a final public vote on Brexit. While many of those marching are ardent Remainers, others march for democracy and the chance to shape the mechanics of the biggest political decision of our generation. Ahead of the march, I spoke with 12 British women — many of them deeply involved within the campaign to Remain in the EU — to ask why they were marching for a People's Vote. The reasons may surprise you.
Rachel, 29, London
"Women make up just 11 percent of the UK's Brexit negotiating team, 32 percent of parliament, and 51 percent of the population. We are not being adequately represented in the biggest political decision for generations. Nobody voted for this botched Brexit. That's why we need a vote on the final deal."
Amanda, 25, Cornwall
"I strongly believe that a People's Vote is the clear way to re-address the imbalance we've seen in the Brexit debate; women will be disproportionately impacted by Brexit, yet men made up 90 percent of the parliamentary Brexit discourse. It's never been more important for woman to have a #PeoplesVote and to have our voices heard."
"As a queer woman, I know that my rights are best protected in the EU."
Cathleen, 22, London
"I'm marching for a People's Vote with Our Future, Our Choice because we need a final say on Brexit. I voted remain in 2016 and while I have tried to move on with my life — the politicians have not. They have failed us and it's time to put the choice back into the people's hands."
Kathryn, 34, London
"As a woman, and especially as a queer woman, I know that my rights are best protected in the EU. Previous generations fought too hard for us to simply capitulate, to stand silent while these rights are put at risk, which is why I'm raising my voice to call for a People's Vote."
Lara, 21, Chichester
"Before the People's Vote campaign, the obtuse male egos which plastered our screens each time Brexit was covered was intimidating. Now, as a young woman, watching the men committed to seeing their ideological experiment through at all costs is a driving motivation for our campaign. For too long, the voices of women have been shut out the Brexit process while their rights are threatened and their futures in limbo."
Miranda, 32, London
"I'm marching because it is the single most hopeful thing I can do. Everyday it feels like chaos is coming closer and life may become much harder, very soon. And if it does — I need to know that I stood up for the country, values, institutions, and communities that I love."
"Women not being adequately represented in the biggest political decision for generations."
Lauren, 21, London
"As a young person, as an ethnic minority, and as a woman, my voice has been underrepresented in the Brexit debate. I think that a People's Vote on the final Brexit deal is the only way to ensure that my future and rights are protected."
Jenny, 24, Belfast
"I want a People's Vote because I was born in Belfast and I'm worried about the impact a no-deal or hard Brexit could have on Northern Ireland. We clearly can't rely on politicians to solve the problem, so the only option is to hand the decision back to the people."
Mackenzie, 23, London
"As the granddaughter of Holocaust survivors, I firmly believe in the importance of a tolerant, just society. Everything from anti-harassment legislation to funding for survivors of domestic violence will be negatively impacted by Brexit, and women will bear the brunt of its consequences. The only way to ensure that our voices are heard is by demanding a People's Vote on the final Brexit deal."
Madeleina, 24, Sheffield
"The vote to leave the European Union was won by the slimmest majority, with a questionable voter franchise where citizens with the greatest material interest in Remaining were denied a vote. The consequences of Brexit will damage the UK for decades and I believe it's our democratic right to have a People's Vote on the final deal when we know the reality of Brexit and not the fantasy that was promised."
Kirsty, 24, London
"The NHS is held up by women. The vast majority of nurses, midwives, and healthcare assistants are female. Their jobs and livelihood are at risk from a Brexit which will cut funding, increase workload, and send EU staff home, worsening the staffing crisis. We can't let that happen. Women need a People's Vote."
Alice, 31, London
"Because democracy is a process. Because the government can't make up its mind. Because Parliament can't make up its mind. Because minority, civil & human rights are threatened. Because the Union is threatened. Because peace in Northern Ireland is threatened. Because there is no dividend - only costs. Because the government answers to the people, not the other way around."