Do You Have 'Brexit Anxiety'? You're Not Alone. Here's How To Alleviate Your Stress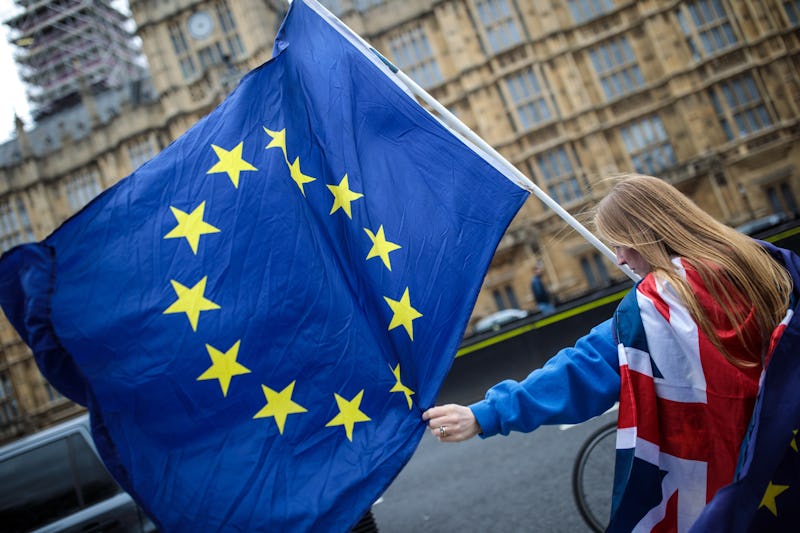 Jack Taylor/Getty Images News/Getty Images
Do the names Jean-Claude Juncker and Donald Tusk make you shudder? Do you feel disheartened by divisive social media debate? Does the mention of Article 50 make you want to stick your fingers in your ears and scream? Then you could be a millennial suffering from "Brexit anxiety."
It's been almost two years since the British public voted to leave the EU and it still feels like there are a lot more questions than there are answers. Will the government meet the March 29 deadline in 2019? Can the UK stay part of the single market? Just how hard or soft is Brexit actually going to be? And what's the difference anyway?
But while fears around Brexit and its impact might be dismissed as "snowflakery" or "remoaning," studies have shown EU-related uncertainty is taking a toll on mental health, particularly among young people.
A 2017 survey commissioned by the Young Women's Trust of over 3,000 18- to 30-year-olds in England and Wales found that a third of participants felt their mental health had deteriorated in the year after the Brexit result, with two out of every five respondents naming Brexit as a cause of anxiety.
Given that 75 percent of 18 to 24-year-olds voted to remain in the 2016 referendum, it's hardly surprising that so many are feeling stressed by the implications of exiting the EU.
But millennials aren't sore losers — they have plenty of legitimate fears. A 2017 report conducted by The London School of Economic and Political Science (LSE) found that millennials were most concerned about Brexit's impact on their ability to live and work in Europe, rising levels of racism and intolerance, and the underfunding of public services like the NHS.
But short of hoping and praying for a second referendum, what can you do to soothe the Brexit blues when they strike? Here are a few simple ideas to help keep your Article 50-related anxieties in check.