13 Beauty Products I Use When I'm Feeling My Worst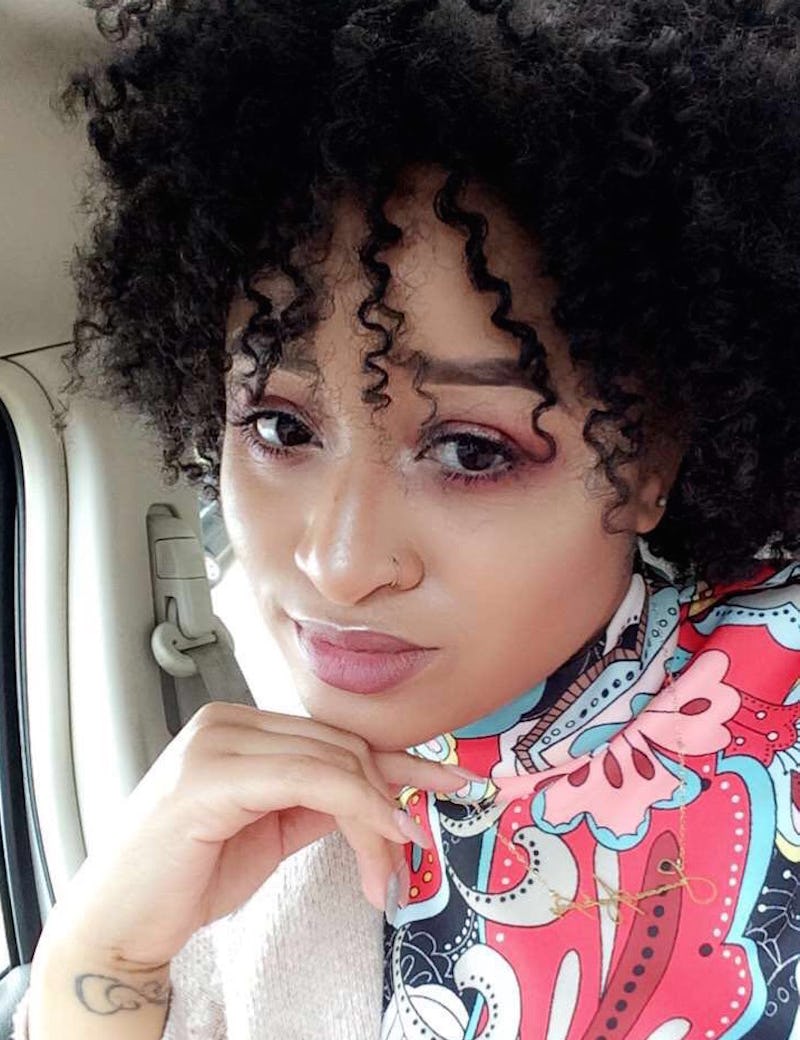 Labeling myself a beauty addict is probably an understatement. With a stockpile of over 80 lipsticks, hoards of loose glitter, and enough eyeshadow to last a lifetime, I've basically converted my vanity into a mini Sephora. I absolutely adore everything in my stash, but the handful of beauty products I use when I'm feeling my worst are the fuel to my obsession.
After hitting snooze one too many times or waking up in a sucky mood, I'm always in search of a pick-me-up. For those no good, terrible mornings, I turn to my ride-or-die lippies, palettes, and hair products that never let me down. They're the must-haves that cheer me up without fail every single time, like a caffeine boost for my morning woes. Through trial and error, I've learned how to use them to get my best beauty looks in a flash — a process that makes me feel better, every damn time.
Despite getting my weekly itch to try new products with every beauty launch, I'm always repurchasing my bonafide hitters. There's no beating the sweet satisfaction I get from swiping my favorite power red across my lips or dousing my cheekbones with the ultimate glow. Sending me on a cloud nine high, these 13 beauty products are the stunners that always have me looking and feeling my best when everything else feels not so good.
I'm a girl who loves her options, which is why I've amassed a ridiculous collection of lipsticks. But Anastasia Beverly Hills' "Ashton" Liquid Lipstick will probably always be my absolute fave. Whether I pair it with a full glam look or keep things subtle with a fresh face, it's the nude that amplifies my mood. I get hype every time I use it because I know it's always going to look bomb AF.
"Ashton" Liquid Lipstick, $20, Anastasia Beverly Hills
Trust me when I say, this Shea Moisture detangler is a refreshing wake up call. Not only does it help a kinky-coily headed girl like myself get the snags out of my curls, but its mix of mint and ginger sends a cooling shock through my scalp. I can only describe the feeling as exhilarating, because the sensation is so tingly and refreshing. I loathe doing my hair because it's not my forté, so when I need to make the process painless this product instantly relaxes me.
African Water Mint & Ginger Detox & Refresh Hair & Scalp Leave-In Detangler, $14, Ulta
The only eyeshadow palette I've been able to successfully make a major dent in (and I'm darn proud of it): The highly pigmented, creamy Anastasia Beverly Hills Modern Renaissance Palette. It was love at first sight for me and this beauty because its color family was right up my alley. Giving me the ability to create such beautiful makeup looks, it makes me feel like a pro makeup artist with every use. Another palette that makes me feel like such a badass has yet to come.
Modern Renaissance Eyeshadow Palette, $42, Ulta
Once a week or so, I use this 7th Heaven Tea Tree Peel-Off. When I'm playing at home spa day on a Sunday evening, this mask adds an enjoyable element to my process. Most of the fun comes with peeling the mask away. But its combination of tea tree, Canadian willowherb, and witch hazel does wonders for clearing my skin and sucking impurities out of my pores. Having fun and improving my skin makes this product an all around win for me.
Tea Tree Peel-Off, $2, Ulta
"Smoked Plum" Cosmetic Glitter, $11, OCC Makeup
I've always said a girl's gotta have her sparkle. OCC's "Smoked Plum" loose glitter is a sultry shade that makes me feel like a sex kitten when I use it. Paired with a lip combo featuring OCC's "Sybil" cosmetic pencil and Urban Decay's "Asphyxia" Vice Lipstick, it's a showstopper on my lids. When I want to boost my confidence, there's no better beauty look that does it for me.
By now, it's probably apparent that Anastasia Beverly Hills is easily my favorite beauty brand. The dipbrow pomade is no exception when it comes to products that cheer me up. Even with no other product on, this brow enhancer alone gives my face a polished appearance. Till death do us part, because I'll never be without my "Ebony" pomade.
Dipbrow Pomade, $18, Ulta
Obsessed doesn't accurately describe my love for Stila's Magnificent Metals Glitter & Glow Liquid Eyeshadows. It doesn't matter how low I feel. One swipe of this mega-shimmery liquid and I'm revitalized. It's something about shiny things that get me going, so this blingy product instantly sends shockwaves through my body. I've used it everywhere from my lids to my cheekbones to my brow bones just to get me amped to face the world.
"Smoky Storm" Magnificent Metals Glitter & Glow Liquid Eye Shadow, $24, Sephora
I was reluctant to transition from chemically treated hair three years ago and I used to be afraid to reveal my natural texture to the public. Shea Moisture's Curl Enhancing Smoothie helped restore my confidence in my curls, however. This moisturizing hair cream boosts my mood because it has made me more comfortable with my natural self. Slathering it on my wash-n-go hair, it helps me radiate like the curly headed goddess I was meant to be.
Curl Enhancing Smoothie, $14, Ulta
Although I'm such a makeup maven, I like to take a break from the cake face every so often. I take a dime-sized amount of Nars' Orgasm Illuminator to a fresh face to give myself a glow from within when I'm heading out sans makeup. I guess I just can't help but coat myself with sparkle, even if only a little. As I mentioned, sparkle gets me going!
"Orgasm" Illuminator, $30, Sephora
Quick and easy beauty looks are the way to my heart. When in doubt, I sweep Anastasia Beverly Hills "Pink Champagne" shadow onto my lid for a soft glam look that I know will kill. The most used shade in my custom palette, this shadow is a fail-proof hue that makes me feel like a princess when it glimmers against my skin.
"Pink Champagne" Single Eyeshadow, $12, Anastasia Beverly Hills
If there ever was a holy grail concealer, in my opinion it's Too Faced's Shape Tape. Maybe it's the beauty addict in me, but I get such satisfaction from dabbing a Beauty Blender in this formula across my under eyes and anywhere else I wish to highlight.
"Medium" Double Duty Beauty Shape Tape Contour Concealer, $24, Ulta
Z-snap for the Nicole Guerriero Glow Kit because this palette is everything to me. The Sun Dipped Glow Kit used to be my favorite jam before this rose gold beauty was released. Whether I load it onto a full or bare face, it's the gift that keeps on giving. Breathing such blingy life into my face, it's an instant mood booster. Even on my most sluggish mornings, I can't wait to head out into the sun after letting this glow kit take over my facade.
Nicole Guerriero Glow Kit, $40, Anastasia Beverly Hills
There's nothing quite like a bold red lipstick to empower a woman. A true red against my complexion, Urban Decay's "714" lipstick is my go-to statement maker. When I'm not feeling up to par, I coat my lips with his mega matte as if to say I'm still a boss babe anyway.
"714" Vice Lipstick, $17, Ulta
If there's anything I've noticed about my favorite beauty products, it's that they're ultra-pigmented and full of glimmering specs. I guess I'm truly my most confident, enthusiastic, and comfortable self when I'm slathered in glitter and glow with a curly updo to match.
Images: Summer Arlexis (14); Courtesy of Brands (13)