These Disney Shows Are Super Underrated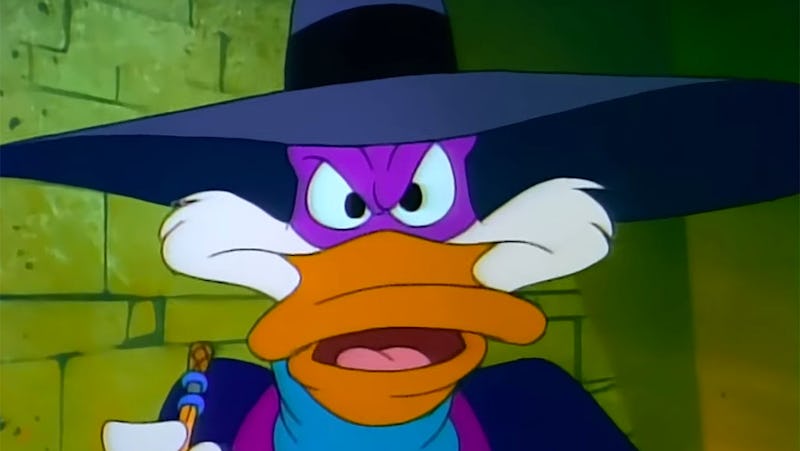 Disney Channel
If you consider yourself a Disney kid, then chances are you get frustrated when everyone talks about the same four Disney shows constantly. Yes, Lizzie McGuire, That's So Raven, Even Stevens, and Recess are all amazing, but there were so many great Disney shows from the '90s and '00s. Instead of focusing on the shows that were universally loved, it is time to talk about the Disney shows that should have been way more popular.
Not every show can leave a pop culture footprint as extensive as Lizzie's, or be as beloved by cartoon enthusiasts as Recess. However, if you grew up on Disney goodness, then you know people are missing out on the joys of Darkwing Duck and the genuine spookiness of So Weird. At its creative peak, Disney was all about taking risks. Whether it was serving up dramas aimed at the tween set or committing to animated stories with depth, the Disney Channel became home to a whole host of quality programs that defined your childhood.
When it comes to popularity, these 13 Disney shows deserve way more love than they get. They may not be the first shows that pop into your mind when you think of the era, but each and every one of them is a hidden gem.
1. So Weird ‌
It's clear So Weird was heavily influenced by The X-Files, but the supernatural road trip show served up its own mythology in the form of Fiona Phillips' search for the truth about her father's death. The series was a well-crafted, often scary, and genuinely moving exploration of grief and the unknown.
2. Pepper Ann
Created by Sue Rose, Pepper Ann holds the distinction of being the first Disney cartoon created by a woman. It also happens to be one of the most authentic explorations of the rich fantasy life and coming of age awkwardness most young women experience at some point during their tween years.
3. The Proud Family ‌
This family-centric cartoon expertly moved between the fantastic and the mundane to a create a series that was primarily about the savvy Penny embracing her independence. It gets extra points for Suga Mama, easily TV's coolest grandma.
4. Bug Juice ‌
One of Disney's rare forays into reality TV, Bug Juice chronicled the experiences of real life campers, and, in the process, made the prospect of going to camp for the summer seem like an adventure.
5. Darkwing Duck ‌
Beyond the fantastic theme song, Darkwing Duck deserves major kudos for the ways it brilliantly played with classic noir and adventure tropes found in Golden Age comic books.
6. The Jersey ‌
Who wouldn't want to time travel via a magical jersey? This show not only made sports look appealing, it mixed in actual history from time to time too.
7. Gargoyles ‌
If you haven't seen Gargoyles since you were a kid, you need to plan a rewatch immediately. Not only was it way ahead of its time on every level, it is the animated world's answer to Game of Thrones — a fantasy epic with a multitude of layers and moral ambiguity to spare.
8. The Famous Jett Jackson ‌
Famous TV star during the weekend, regular student during the week, Jett's double life was never boring. If anything, watching him balancing fame and attempts at a normal life made his story one of Disney's most enjoyable half-hours.
9. Adventures Of The Gummi Bears
I have no idea how a TV series inspired by candy ended up being one of the coolest fantasy cartoons ever, but it happened, guys.
10. In A Heartbeat
In a Heartbeat allowed you to have your very own medical drama to watch while your parents were hooked on ER, but it deserves extra credit for introducing the world to Shawn Ashmore and Lauren Collins.
11. Goof Troop
I'm just going to say it: Goofy is one of the all-time great TV dads, and this cartoon proves it.
12. Adventures in Wonderland
Trippy, weird, and utterly entertaining — Adventures in Wonderland was a bizarre Disney treat.
13. Chip 'N Dale Rescue Rangers
What's not to love about two crime-solving chipmunks?
Disney's legacy extends far beyond it's four big hit shows. It's time these unsung classics from your childhood get the recognition they deserve.