13 Halloween-Themed Date Ideas To Bring You Closer Together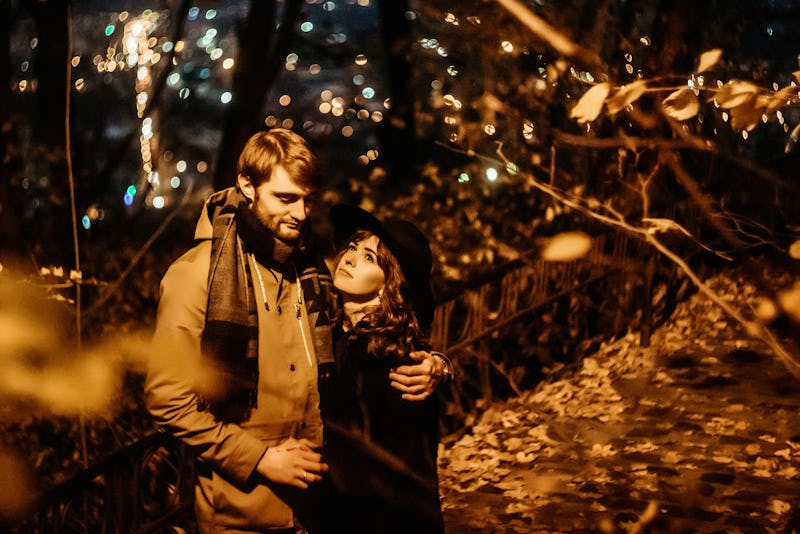 Shutterstock
If you want to do something different on your next date night, try going for a spooky vibe. According to experts, spooky date nights are not only unique, but they can also boost your attraction and create intimacy between you and your partner. In some ways, it can even bond you closer together than a romantic date would. Whether you're looking for something to do during the Halloween season, or you're just in the mood for a good scare, there are many different ideas you can try to take your date night to the next level.
According to science, there's a really good reason why doing something scary makes for a good date. A 1974 study conducted by psychologists, Donald Dutton and Arthur Aron, found a connection between fear and attraction. In the study, participants who identified as men were split into two groups. One group was told to walk across a shaky suspension bridge while the other was told to walk across a stable one. As each participant crossed the bridge, they were approached by a person identifying as a woman.
Those who were under the fear-inducing conditions were significantly more likely to say that the woman was attractive and would ask her out on a date. Although there was likely some attraction already there, researchers found that the arousal the participants experienced actually had more to do with fear than attraction. Participants just attributed their racing heartbeat and feelings of nervousness to being enamored with the woman.
Some researchers call this phenomenon "misattribution of arousal." It's something that can make you feel like there's a spark with someone quickly. It doesn't necessarily mean that you'll fall in love or stay in love. But it can make you much more open to connecting with someone than a regular dinner date.
Here are some spooky date ideas that experts say can bring you and your date closer together.