13 Inspiring #LoveIsLove Memes & Tweets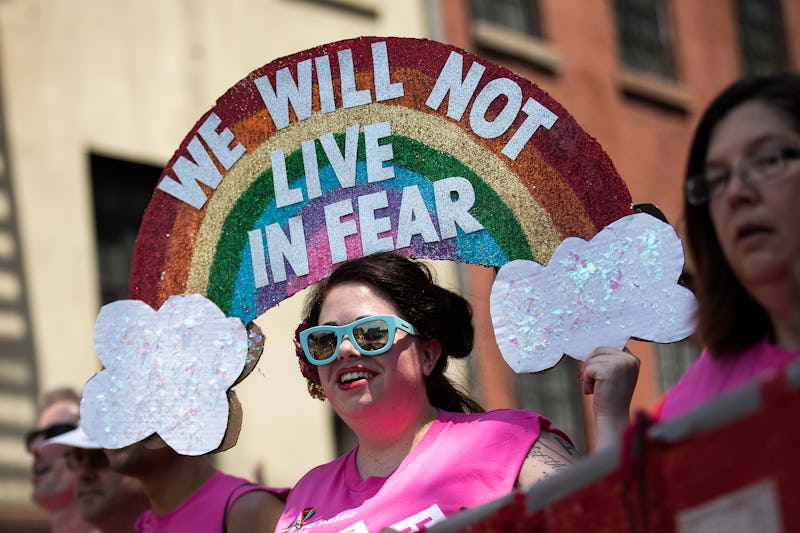 Drew Angerer/Getty Images News/Getty Images
On May 17, the world honors International Day Against Homophobia, Transphobia, and Biphobia, a day that — it goes without saying — is incredibly important. Created in 2004, the day was meant to bring policymakers' and social movements' attention to the hardships and discrimination faced by the LGBTQ community. To spread unity this May 17, people took to Twitter to state their support and explain how necessary doing so is. As a result, #loveislove started trending on Twitter, an ode to the truth that it doesn't matter who you love, all that matters is you're happy. The holiday is celebrated in 130 countries, including 37 where same-sex acts are still illegal. The support has continued to grow with 1600 events taking place worldwide on May 17, 2014.
So why was May 17 chosen? The date represents the World Health Organization's 1990 decision to declassify homosexuality as a mental disorder. Yes, you read that right, until 27 years ago, homosexuality was considered a mental disorder. While there have been great strides in the past three decades, that stands as a reminder of standing together to ensure progress continues. While there is not one centralized campaign for the day, it is instead viewed as a movement to continue support for the rights of the LGBTQ community. The IDAHO committee, created in 2005, is the closest uniting force, with the mission to develop the scope and increase the global mobilization on May 17.
In the current political climate in America, standing strong for everyone's right to be with who they love is as important as ever. This administration threatens the rights of the LGBTQ community and we can not let anyone's right to love be taken away. As Ted Mosby said, "Love is the best thing we do."
Here are some of the most inspiring tweets and memes to celebrate International Day Against Homophobia, Transphobia, and Biphobia.