13 Male Toys To Give Your Partner This Month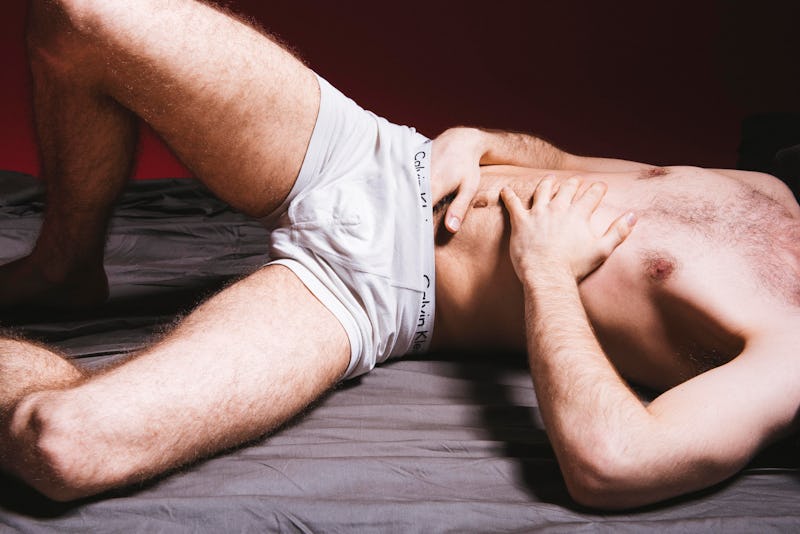 BDG Media, Inc.
When it comes to male masturbation, there's nothing wrong with doing things the old-fashioned way (aka lube, hand, and tissues). But if you ask me, toys for masturbation don't really get the hype they deserve — if trying out a solo sex toy can help you experience new kinds of pleasure, why not give it a go? Plus, May is National Masturbation Month, so it's the perfect time to treat yourself and your partner — and indulge in a new sex toy that can take your masturbation game up a few notches.
According to a recent survey of 1,800 U.S. men by We-Vibe, a global leader in solo and couples sex toys, 80 percent of men said they consider masturbation an essential part of a healthy lifestyle, and 79 percent said they still masturbate while in a relationship. Despite this, the male toys that get the most press are often those that look (and feel) like a "woman replacement" — take the Fleshlight or Real Doll, for example. If that's your partner's thing, more power to them, but the implication behind these female-looking toys — that men only masturbate because they "can't get a real woman" — is not only untrue, but harmful (and totally excludes men who aren't into women, BTW).
When toys like that are front-page news, it's understandable that shopping for a male sex toy might seem intimidating, especially for those who are new to the scene. The We-Vibe survey found that 66 percent of men feel like there aren't enough sex toys designed specifically for them, which is pretty sad, because there are so many good male sex toys out there. However, eight in 10 men surveyed said they've tried a sex toy and like to experiment to make masturbation more pleasurable, so it's clear that men are open-minded about incorporating toys into their routine.
Here are 13 unique male sex toys to purchase for your partner or friend, if they're interested in ~spicing up~ their masturbation routine and/or helping to eradicate the stigma surrounding masturbation.
We-Vibe Verge, $119, Babeland
This sleek-looking penis ring from We-Vibe is designed to help men have fuller, longer-lasting erections and more powerful orgasms — plus it rests on his perineum (aka the sensitive spot between his anus and balls) for even more sexy stimulation.
Duke Vibrating Prostate Stimulator, $99, Babeland
This rechargeable vibrating prostate stimulator has eight vibration speeds and three pulsation patterns, which makes it perfect for anyone who's looking to experiment with pleasuring their prostate.
Pulse III Solo, $109, Amazon
The original Pulse made waves as the World's First Guybrator, and its most recent iteration, the Pulse III, is even better. It's the perfect toy for the lazy man: all they have to do is insert their (totally flaccid) penis, turn it on, and let the toy do the work.
We-Vibe Pivot, $109, Babeland
The Pivot by We-Vibe works great for hetero couples (because the vibrations also stimulate the clitoris), but men can also use this penis ring during masturbation for a firmer erection and stronger orgasm.
Fleshlight Flight, $65, Babeland
Unlike it's more lifelike predecessor, the Fleshlight Flight is a bit more compact and discreet, but still has the same "silky soft" interior as the original.
LELO Tor 2, $149, Babeland
This sleek, rechargeable ring from LELO boasts six unique vibration settings, can be used for two hours after a full charge, and works for either solo or partnered sex.
Tenga Flip Zero, $99, Babeland
The Tenga Flip Zero isn't an ordinary masturbation sleeve: it has ripples and ridges inside for added sensation, plus squeezable side panels that create feel-good internal suction.
Buck-Off FTM Stroker, $29, Babeland
The Buck-Off stroker is the first toy designed specifically for trans men (or non-binary folks taking testosterone), so that's already a huge plus. It's soft interior with pleasurable ridges is designed to imitate the suction and sensation of oral sex.
Quiver Vibrating Plug, $39, Babeland
If they're into anal play, this vibrating butt plug (made of 100 percent body-safe silicone) is worth a try. It has a tapered end for easy insertion, but boasts a solid 1.5-inch girth at its widest point.
Sqweel XT Oral Sex Simulator, $60, Lovehoney
This is the toy for oral lovers. Simply add some lube and let the Turbo Tongues (yep, that's what they're really called) do the work. It may not be exactly like the real thing, but it's still going to feel amazing.
Lovehoney O Force 2, $55, Lovehoney
This male vibrator has not one but two powerful motors to deliver super strong orgasms — plus there are five different stimulation intensities.
Tenga Eggs, $9-$43, Babeland
These "eggs" are actually cleverly disguised masturbation sleeves. Just add a dollop of lube into the egg, place it over the head of the penis, stretch it down, and masturbate as usual. They're designed to stimulate the head of the penis, and come in six unique texture styles.
This vibrator offers both prostate and perineum stimulation, aka double the pleasure. It's also the first vibrator to stimulatet the butt with a "come hither" motion, and is body-safe and rechargeable.
The most beautiful thing about masturbation? There's no right or wrong way to go about it, and anyone can do it. It doesn't matter whether you're a masturbation purist who only uses your hands, or if you like to jazz it up with toys. As long as it feels good to you, it's totally your call how you masturbate. So if you, your partner, or friend wants to do a little experimenting this Masturbation Month, don't be afraid to treat them or tell them about a new toy.