13 Movies To Watch If You Loved 'Life-Size' & Already Can't Wait For The Sequel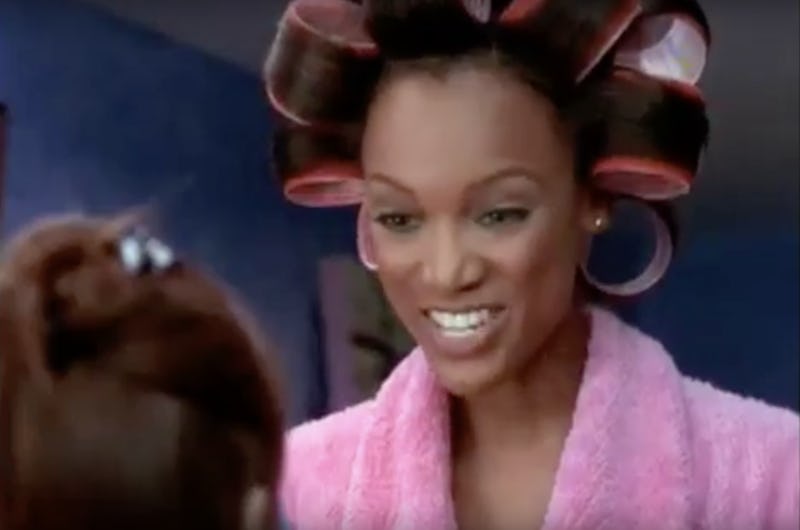 Disney Channel
Tyra Banks' role of Eve is iconic in Disney's beloved movie Life-Size. Eve is a doll who gets accidentally brought to life when a young girl (played by Lindsay Lohan) tries to bring her deceased mother back. Yes, Eve was maybe a little sheltered, but she was always fabulous, unapologetically herself, and a vault of unexpected wisdom. Fans never let go of the ridiculous antics or nostalgia of the 2000 film, which is why its sequel is headed to Freeform. And in the meantime, there are movies Life-Size fans can watch until the sequel drops in December.
Although Banks swears the Life-Size sequel will be "edgy," there's still time to expand the imagination and relive the silliness that fans loved as kids. In the Christmas-themed movie, Eve will apparently be older and wiser, ready to share life lessons as a fairy godmother to a young woman who's a bit lost in life (and who also brought her back). There's truly nothing like a good, old guardian angel tale, especially around the holidays.
Until the sequel is finally released (and fans find out whether Lohan will actually come back), below are movies you can watch to get in the Life-Size spirit. The list includes a blend of nostalgia, fantasy, and female-focused wisdom to get you ready.
1. Freaky Friday
With young Lindsay Lohan on the brain, this film (also starring a hilarious Jamie Lee Curtis) pulls at heartstrings. It'll make you laugh and want to hug your mom every time.
2. Coyote Ugly
Another blast from the past would be watching a young Banks in this kick-ass, girl-power flick from the same year. Her confidence truly transcends roles.
3. Model Behavior
In this lovable Disney Channel Original Movie, a model and average teen who look identical swap lives (while learning about their own). They're also blessed by the presence of Justin Timberlake in the meantime.
4. Zenon: Girl Of The 21st Century
Zenon was a hero of the early 2000s. Kirsten Storms' character knew who she was and marched to the beat of her own drum, no matter how ridiculous others thought her antics were.
5. The Cheetah Girls
Like Life-Size, this Disney film shows women sticking together, learning, and growing from each other, even when times get rough.
6. Seventeen Again
Young Tia and Tamera Mowry star in this fantasy-comedy about two elderly couples who find themselves in teenage bodies and learn life's greatest lessons in a whole new way.
7. Halloweentown
Like Life-Size 2, this fan-favorite Disney flick not only gets fans in the holiday spirit, but shows one determined chick on a path of her own in a world of mystic fantasy.
8. The Parent Trap
Relive Lohan and Banks' on-screen chemistry with double Lohan and the very talented (and sadly deceased) Natasha Richardson, who plays mom to all '90s kids, Elizabeth James.
9. Josie & The Pussycats
This nostalgic movie, with quirky characters by Rachael Leigh Cook, Rosario Dawson, and Tara Reid, blends iconic roles, the surreal, and female friendship in a way that's still fun to relive.
10. Wish Upon A Star
Like Life-Size, this blast from the past tickles the imagination, making audiences wonder, "What if?" after two teen sisters swap bodies.
11. Harriet The Spy
Like Harriet (Michelle Trachtenberg), Eve is determined to find her place in the world, all while being a one-of-a-kind woman on her own path.
12. Spice World
Not that '90s kids need an excuse to revisit Spice World, but the nostalgic (and at times, bizarre) film doesn't go a second without peculiar circumstances and female fun.
13. Pretty Woman
Like Banks, Julia Roberts stars in this classic as an unlikely heroine who steals audiences' hearts every time.
All of these films prove nothing is impossible, which also includes your ability to marathon all these movies until Life-Size 2 drops.