13 Podcasts To Help You Reflect & Resist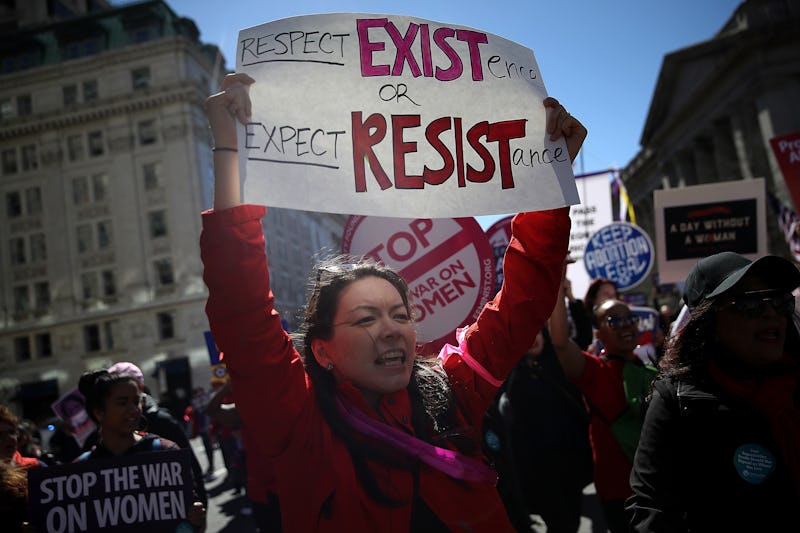 Justin Sullivan/Getty Images News/Getty Images
With the recent release of President Trump's proposed budget cuts, the organizers of the Women's March are asking you to #ReflectAndResist as part of its 10 Actions/100 Days campaign. To take part in action five, these 13 podcasts can help you reflect and resist as you continue your journey on the road to equality.
Action five of 10 Actions/100 Days, "Reflect And Resist," implores participants to educate themselves through study, reflection, and courageous conversations while learning from the work of activists, and being mindful not to perpetuate the mistakes of the past. Organizers ask that you take time to listen, to reflect, and to discuss topics that highlight issues that women experiencing multiple forms of oppression have faced, and continue to face every day.
While you likely have your own personal story of oppression, it's important to also understand the lack of representation for, and at times an active sidelining and silencing of, the issues facing people of color, people with disabilities, sex workers, low-income people, immigrants, and the LGBTQIA+ community. Listening is key to becoming aware of issues that don't affect you directly, and there are myriad podcasts available that highlight stories of oppression and promote intersectional feminism.
Check out these 13 podcasts to take part in the #ReflectAndResist movement. Listen to them on your commute so you can get to where you're going while learning how to advance feminism for everyone at the same time.