13 'Veep' GIFs That Describe Your Season 6 Excitement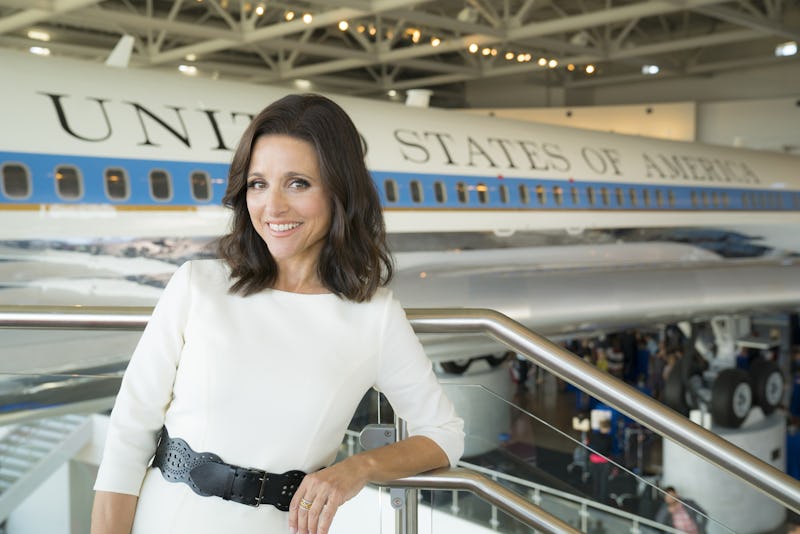 HBO
After what feels like an unbearably long break since the Season 5 finale of the incredibly hilarious HBO show, Veep's Season 6 premiere is finally upon us. In case you've been living under a rock and weren't aware, Veep returns on Sunday, April 16, and I personally can't wait. The show doesn't come on until 10:30 p.m., which is about 30 minutes past my usual Sunday bedtime, but oh well... I'm going to be tired on Monday, because I definitely don't want to miss the premiere of the award-winning series featuring the undeniably talented Julia Louis-Dreyfus. To celebrate, I've rounded up the best Selina Meyer GIFs out there.
Louis-Dreyfus' portrayal of Selina Meyer has been so on-point that she's received five consecutive Primetime Emmy Awards for Outstanding Lead Actress in a Comedy Series, and in my opinion, the word "outstanding" doesn't even begin to do justice to her performance in Veep. There's literally no one else who could deliver the lines in the same sharp-tongued, yet vulnerable way that Louis-Dreyfus does.
After negotiating a deal with the Chinese government to free Tibet at the end of Season 5, Meyer — who was Vice President during the first few seasons of Veep, then became President at the very end of Season 3 — narrowly lost a congressional election to another female politician. In this new season, we'll get to see Meyer attempt to secure her legacy outside of Washington, D.C. The reviews have been overwhelmingly positive, and in today's uncertain political climate, Veep is the laugh-out loud-hilarious show that we all need in our lives.
Now, without further ado, I present you with a collection of GIFs that sum up your — and my own — excitement for the Season 6 premiere.
1. First, Let's Start With A GIF That Speaks To How Sad You Were When The Last Season Ended
The episode was good, but it's sad to see any show you love come to an end.
2. Your Pure & Utter Joy About The New Season
I'm rooting for this show to live on for many years to come.
3. So. Much. Joy.
President, Vice President, or out of office, I'm always cheering for Meyer.
4. When You Find Out Someone Is Also A Fan Of Veep
Nothing brings two people closer than bonding over a good show.
5. Because It's Impossible To Watch Veep & Not Laugh Out Loud
OK, so maybe it's possible... if you're physically incapable of laughing.
6. Getting Fired Up Because The New Season Is Supposed To Be About Meyer's "Legacy"
I said, "LEGACY!"
7. Remembering Everything That Went Down In The Season 5 Finale
Such a dramatic — and surprising — turn of events.
8. Trying To Distract Yourself Until The Show Comes On
Safety first!
9. That Rush You Get When The HBO Logo Appears On Your Screen Signaling The Start Of The New Episode
It's a total HBO high.
10. How You Feel When Someone Says They Aren't A Fan Of Veep
I find it impossible for anyone who's even just seen clips of the show to not be a fan.
11. The Mood You'll Likely Be In After Watching The Season 6 Premiere
If you can't sleep, maybe rewatch?
12. Waiting For Next Sunday To Come Around So You Can Watch Another New Episode
When Veep is on, Sundays are the only days that really matter.
13. Finally, Even Though It's Not Meyer, This GIF Totally Describes How You Feel About The New Season Finally Premiering
Overcome with emotions — emotions like happiness, joy, and appreciation for everyone involved in making this incredible show.
Here's hoping the new season of Veep is as awesome as seasons prior, and that Louis-Dreyfus wins yet another Emmy for her strong portrayal of Meyer.