13 Things To Do After The Women's March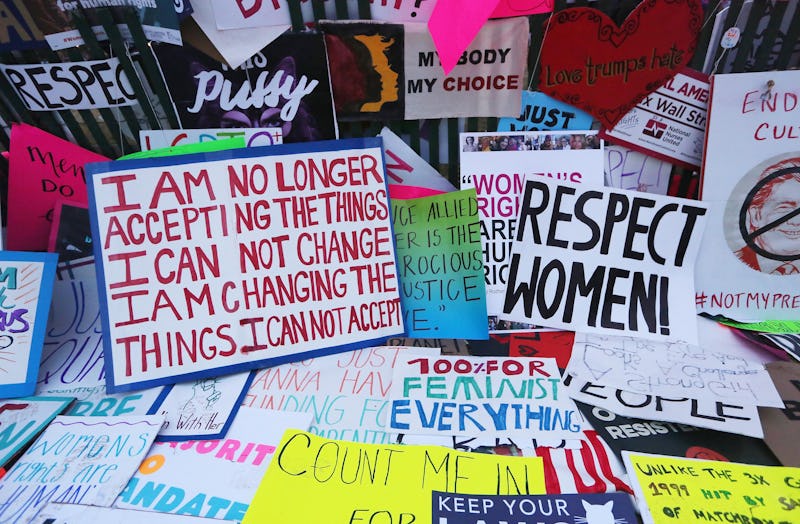 Mario Tama/Getty Images News/Getty Images
Inauguration weekend had its highs and lows — or rather, a single high (the Women's March) and a plunging low (the swearing-in of a man who embodies the feeling of stepping on something slimy in the dark). Although the Women's March is over, with up to four years of Donald Trump's administration ahead, the fight to protect the rights of minorities is most definitely not. For some, though, the trouble might be finding a way to direct your efforts: What are some things to do after the Women's March to best utilize the protest's momentum? Protesters are headed back to their daily lives this week, but there are plenty of ways to create political change in the coming months.
Although it was not without its flaws, the Women's March can still be counted a resounding success. Even conservative estimates put the number of protesters between three and four million people worldwide. Many have drawn comparisons between the crowd at Trump's inauguration and that of the Women's March On Washington, and the size difference certainly serves as a reminder that Hillary Clinton won the popular vote by a wide margin.
Clearly, millions are discontent with Trump's demonstrated disrespect for women and minorities. Unfortunately, it's easy to become complacent in the wake of large-scale protests; just look at the decline of the Occupy Wall Street movement. With that in mind, here are 12 concrete actions to take now that the Women's March is over — because the fight itself is still going strong.