These Netflix Picks Are Perfect For Busy Folks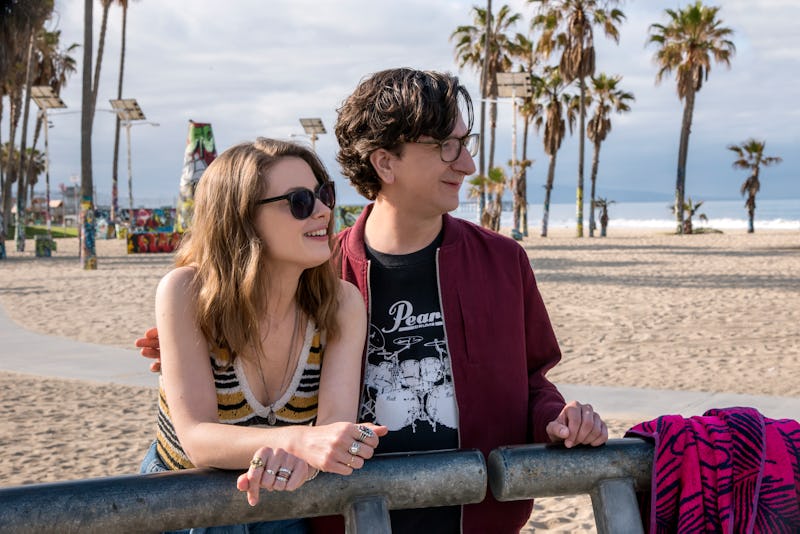 Suzanne Hanover/Netflix
Time is a precious commodity in this day and age, so when you do actually find the time to unwind, it can be tricky settling on something fulfilling but also quick to watch. Luckily, Netflix has tons of half-hour TV shows and comedy specials that are great for when you are craving something good but you know you can't lay around in bed, swaddled in blankets and in total binge mode. The daily hustle can be tiring, but that doesn't mean your Netflix choices have to be as well.
Why opt in for half-hour TV shows or stand-up comedy, you ask? First and foremost, when you're pressed for time, you can be stuck on the couch for longer than an hour, hour and a half maximum. Ideally, your show should be 30 to 40 minutes of television goodness that packs in great performances, compelling plots, and makes you curious enough to hit the "Next Episode" button even though you have a million other things to do. Secondly, who doesn't love to laugh? Stand-up comedies are great option if you're not in the mood to risk getting sucked into a great television show but still want to have fun.
The following list may surprise you but trust me: You're going to have fun watching any and all of these shows, especially when you're pressed for time and need to relax.
1. Love
Love is just the best for those short on time, in need of high-quality romantic comedy television, and a serious affinity with the awkwardness of modern courtship.
2. Santa Clarita Diet
This zombie comedy (zomedy?) starring Drew Barrymore and Timothy Olyphant is a great choice if you're ready to gobble up a new series in its entirety but you only have time between killing time and draining your to-do list.
3. Amy Schumer: The Leather Special
Superstar Amy Schumer is back with a new comedy special on Netflix. Timed at just under an hour, her new special is the best for getting your Schumer fix without binging her television show.
4. The Great British Baking Show
This reality TV show from the United Kingdom is like visual dopamine: Light, easy, breezy, The Great British Baking Show will charm you. There's no drama, no shade, no fighting. It's all about the great art of baking and you'll be both hungry and happy by the time you finish one episode.
5. Black Mirror
If you crave something a bit dark, dystopian, or challenging but you're still on a tight schedule, put on Black Mirror. Each episode is self-contained, so you can choose at random and not have to worry about missing major plot points. Additionally, they're all well-told stories about the ways in which technology shapes our world.
6. Mike Birbiglia: Thank God For The Jokes
Mike Birbiglia is a great comic and it is often his deadpan that really endears him to his audience. His latest special, Thank God for the Jokes, is filled to the brim with chuckle-worthy material. It clocks in at a mere hour and 10 minutes, perfect for those looking to watch something during their lunch break or unwind after a long day at work.
7. Cuckoo
This English comedy is great for those with a bone-dry sense of humor and a soft spot for both Andy Samberg and Taylor Lautner. Imagine if Meet the Parents went to England; that's Cuckoo and it's absolutely brilliant.
8. Galavant
Before he was predicting the end of the world on No Tomorrow, hunky actor Joshua Sasse was in the Monty Python-esque musical comedy Galavant. The show is light, breezy, and incredibly funny — perfect for those who want something fun when they're short of relaxation time.
9. Katherine Ryan: In Trouble
U.K. export (by way of Canada) Katherine Ryan is an amazing stand-up comedian. Her Netflix special, In Trouble, is the perfect introduction for those who have never heard her stand-up.
10. Easy
Easy consists of eight half-hour episodes telling loosely connected stories about different Chicago-area couples going through various romantic issues. Whether its rekindling the romance or navigating new relationships, Easy just gets it.
11. Ali Wong: Baby Cobra
Ali Wong is a ferociously funny comedian who did her Netflix special while heavily pregnant. Pop on her comedy special when you are in dire need of a laugh from a woman who isn't afraid to be frank.
12. Master Of None
Master of None is absolutely fantastic in every way possible. Even better, the first season is eight half-hour episodes. You'll laugh, you'll cry, and you'll be totally surprised at how it ends. I mean, does it get any better than that?
13. Unbreakable Kimmy Schmidt
The ultimate in binge-able, Unbreakable Kimmy Schmidt is offbeat and heartwarming enough to keep you reeled in, but digestible enough that it won't consume too much of your day.
Who's ready to have a Netflix binge session with me?