Carrie Fisher's Sense Of Humor Truly Shined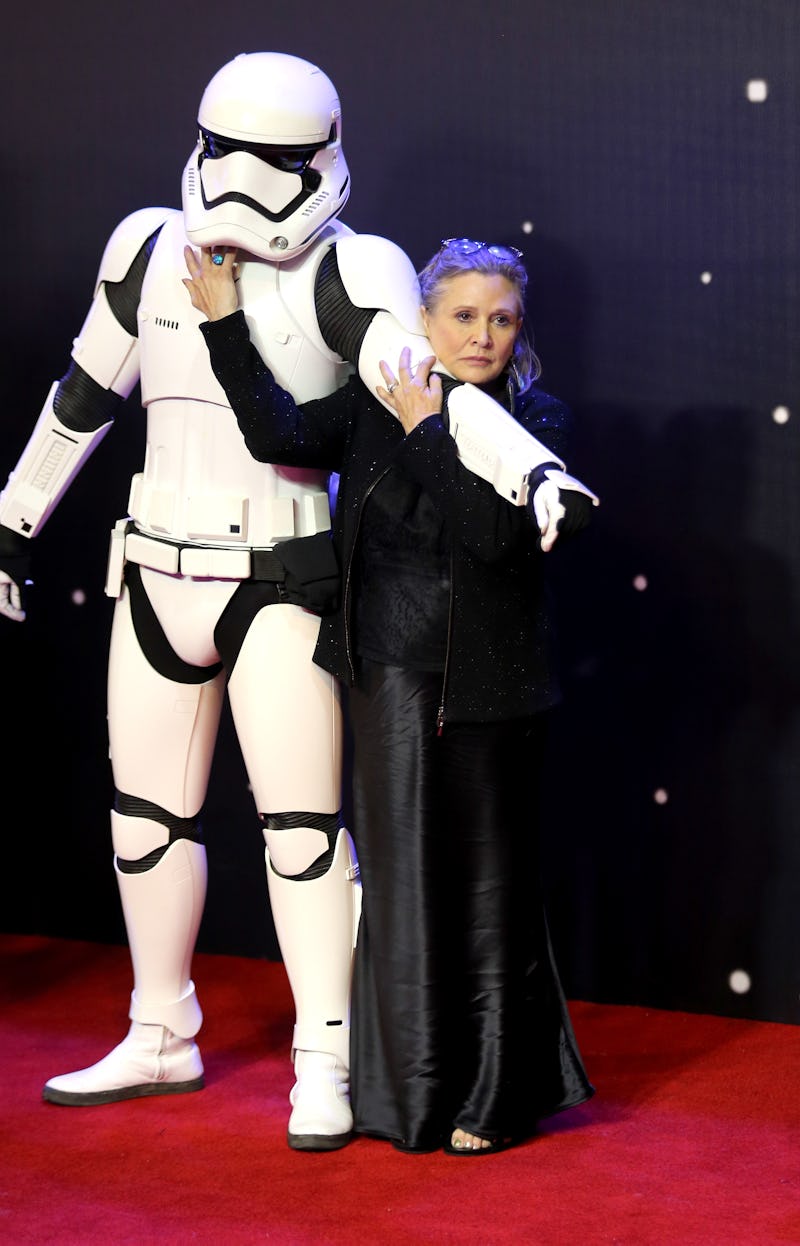 Chris Jackson/Getty Images Entertainment/Getty Images
It's no secret that Carrie Fisher was a woman of many talents and will surely be remembered as a master of each of them. Be it acting, writing, or simply a personality speaking to a room of people, Fisher's unique sense of humor was always present. Following Fisher's untimely death at age 60, fans have rediscovered and developed a new appreciation for her incisive wit. Two — among the dozens and dozens — tangible examples of this morbid yet wonderful sense of humor include: Fisher's Twitter bio, which still reads, "theres [sic] no room for demons when you're self-possessed..." and her final resting place being a Prozac pill-shaped urn.
Aside from the tangible pieces of her humor, there are quotes which exemplify this wonderful spitfire of a woman even better. Her wit and wisdom commingled in such a way that is rarely seen these days. What resulted was a woman who was brutally honest and always herself; for a female celebrity, that seems simply unheard of these days.
Fisher had a special knack for seeing the darkness of a subject and making it something funny. She could bring out the best in people. She lifted them up while simultaneously bringing them down a peg. I think it's high time we take a moment to salute the Star Wars actor's unparalleled sense of humor.
1. How She Wished To Be Remembered
Now an oft-quoted sentiment, Fisher expressed that she wanted to be remembered as "drowned in moonlight, strangled by my own bra." The statement was a response to Star Wars director George Lucas' stance that Fisher not be allowed to wear a bra in Star Wars because "there's no underwear in space." Fisher's quote — featured in her 2008 book Wishful Drinking — was emblematic of her response to a ridiculous situation, as well as making the absurd morbid and hilarious.
2. On Forever Being Princess Leia
Fisher's portion of the Star Wars: The Force Awakens press tour was nothing short of perfect. During a now-iconic interview with Good Morning America host Amy Robach, she consulted her dog Gary for opinions — "He panted all the way through it... It was his first real screening" — and commented on always being associated with Princess Leia. She said, "I got into character and I've never gotten out again."
3. Explaining Bipolar Disease To A Child
In 2015, Fisher attended the Indiana Comic Con and during a Q&A, a young boy asked her what it was like living with bipolar disease. Ever the gentle wit when the need arises, Fisher answered eloquently,
"It's kind of a virus of the brain. It makes you go very fast or very sad. Or both. Those are fun days. So judgement isn't one of my big good things. But I have a good voice. I can write well. I'm not a good bicycle rider. [I'm] just like everybody else, only louder and faster, and sleeps more."
Following her passing, this quote began making its way around Twitter.
4. On Whether She Cared About Others' Opinions Of Her Aging Body
She had no time, patience, or care for people who wanted to criticize her aging body. Of the critics, Fisher implored them: "Please stop debating about whether or not I aged well. Unfortunately it hurts all three of my feelings. My body hasn't aged as well as I have."
5. On Learning What Billie Lourd Wanted To Be When She Grew Up
From her one woman show, Wishful Drinking, Fisher hilariously recounted how she reacted when her daughter, Billie Lourd, told her she wanted to be a singer or comic when she grew up:
"My daughter, she tells me when she grows up she wants to be a singer or a comic. I said 'Well, baby, if you wanna be a comic, you gotta be a writer. But don't worry, you've got tons of material: Your mother is a manic depressive drug addict. Your father's gay. Your grandmother tap dances and your grandfather eats hearing aids.' And my daughter laughs and laughs and laughs and I said, 'Baby, the fact that you know that's funny is gonna save your whole life.'"
The last line of that quote says it all.
6. Making 'Em Laugh During Her Tribute To Harrison Ford
During an American Film Institute tribute to Star Wars co-star Harrison Ford, Fisher delivered a truly amazing line: "Hi, my name is Carrie and I'm an alcoholic. Oh sorry, wrong group. Well, actually, maybe not," which set the room on fire.
Another great zinger: "When I first saw Harrison on the set of Star Wars... I was 19 and he was 63, but he looked 33 or under." Watch the whole speech, though, for maximum laugh output.
7. On Meryl Streep's Greatness
During another American Film Institute tribute, Fisher remembered what it was like to be compared to Streep, who played a version of Fisher in the semi-autobiographical Postcards from the Edge. "After Postcards premiered, I began to see daily to see the pain and disappointment in the eyes of my family and friends every time I wasn't Meryl," she said of Streep. "There's a name for this condition, as it turns out: Meryl-noma. Streep-tococcus."
8. On Star Wars From Her Stage Show Wishful Drinking
Let's be real: The entirety of Wishful Drinking is friggin' delightful, but it's Fisher's memories of Star Wars that really tickle the ribs. She said,
"Here's the thing [donning a Pricess Leia wig, complete with buns]: as you age, it's about dignity. [Speaking to the audience] This is what you have to look forward to. It's really unavoidable."
9. Her George Lucas Tribute Was Amazing
"Hi, I'm Mrs. Han Solo and I'm an alcoholic," was a riff on a favorite line of Fisher's and landed no less perfectly at a tribute to Star Wars director George Lucas. "I'm an alcoholic because George Lucas ruined my life, and I mean that in the nicest possible way. Fifty-seven years ago I did his little film, a cult film, that went on to redefine what they refer to as 'the face of cinema,'" she said. "And now, 65 years later, people are still asking me if I knew [Star Wars] was going to be that big of a hit."
10. In An Excerpt From The Princess Diarist
While recounting the runaway success of Star Wars, which forever changed her life, Fisher wrote:
Movies were meant to stay on the screen, flat and large and colorful, gathering you up into their sweep of story, carrying you rollicking along to the end, then releasing you back into your unchanged life. But this movie (Star Wars) misbehaved. It leaked out of the theater, poured off the screen, affected a lot of people so deeply that they required endless talismans and artifacts to stay connected to it.
11. On Being In A Textbook
When making light of the fact that she was able to make it into textbooks for something unrelated to her acting work, Fisher wrote in her book Wishful Drinking,
Oh! This'll impress you — I'm actually in the Abnormal Psychology textbook. Obviously my family is so proud. Keep in mind though, I'm a PEZ dispenser and I'm in the abnormal Psychology textbook. Who says you can't have it all?
Obviously her career is marked by so much more than PEZ dispensers and a psychology textbook reference, but her comment will make you LOL.
12. On Hating Bras & Heels
During an interview with Craig Ferguson, Fisher schooled the nighttime talk show host on the absolute pain of wearing bras and high-heeled shoes. Ferguson, gobsmacked that a woman would be so adamantly against either article, asked what the fuss was about. Fisher, turned to the women in the audience and asked to back her up that yes, they were the worst. It's just a great moment and speaks to fans and women on so many levels.
13. On Losing Weight For The Force Awakens
One of Fisher's final interviews before her unexpected death was also one of her best. When asked about her dog's name, she replied, "This is Gary. He's a French bulldog. His birth name was Jean Jacques and we went with Gary as an Anglicized version of that." But her best moment was when she was asked about losing weight for the Star Wars films. She said,
"They want to hire a part not me, not all of me. They want to hire three-fourths. And so I have to get rid of the fourth somehow. The fourth can't be with me."
Carrie Fisher, I'll miss you. You were one devilishly funny lady and I will forever be grateful for the words you left behind. I'll pore over them regularly and repeatedly.