13 Manicures That Will Inspire You To Get Weird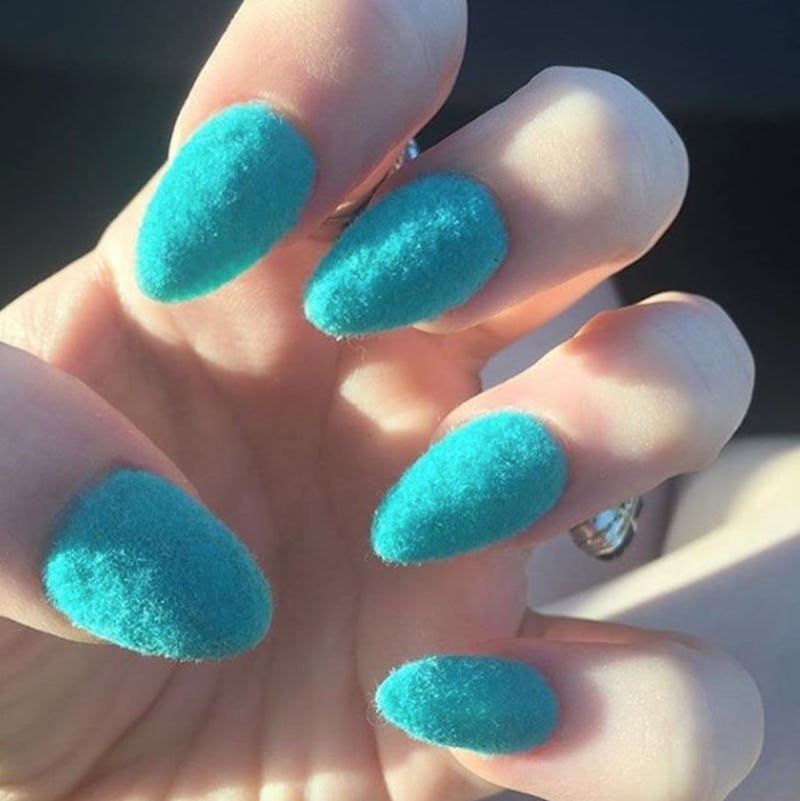 Two coats of color is no longer cutting it these days for some nail art fanatics. Some of the most unique manicure trends have been taking over social media in the most surprising ways.
Sure, a non-traditional mani may not always be super functional, but there's no doubt that some of the most visually striking designs have popped up as of late. In fact, beauty gurus and nail techs are proving they can be the most elaborate feature of your appearance. Whether enhancements are crafted in new ways or traditional polish is loaded with embellishments, it's clear that the nail game has changed in a major way.
Before giving up your go-to mani to test drive more creative nail art, you may want to brush up on a few gel manicure truths. And there are plenty more things you should know about acrylic nails where those came from. Not all non-traditional manicures will call for artificial nails, of course, but the more informed you are the better you'll be able to care for super fancy claws.
Turning heads with your mani will be inevitable if you give any of these 13 innovative manicures a try.
1. Aquarium Nails
Bring on the magical mermaid vibes with aquarium nails. Loaded with floating glitter and sparkling flakes, these claws are sure to cause some serious nail envy.
2. Flip Manicure
Designs don't have to be restricted to your nail beds. A flip mani proves impeccable artistry can be painted on the back of your nails too.
3. Crystal Nails
Opt for clear acrylic over traditional enhancements for a see-through mani that's far from typical.
4. Succulent Nails
Succulent nails are about as unique as they come. Really show off your green thumb with fingers adorned with living plants.
5. Oil Spill Nails
If there's any design bound to catch your attention, it's oil spill nails. Combining holographic colors and a bubbling aesthetic, these babies are beyond intriguing.
6. 3D Nail Art
Nails loaded with tons of embellishments are guaranteed to be original. A girl's gotta have her bling, after all.
7. Duck Feet Nails
If the average round, square, and squoval shapes don't suit your fancy, duck feet nails may be up your alley.
8. Fuzzy Nails
There's nothing like a little texture to give your nails an edge. Fuzzy nail art is as unconventional as it is adorable.
9. Shattered Glass Nails
For total wow factor nails, it doesn't get any more captivating than a shattered glass aesthetic.
10. Caviar Nails
Caviar isn't just for eating anymore. Give caviar nails a go for the most luxe claws you've ever had.
11. Sweater Nails
Perfect for sweater weather, cable-knit nails showcase your inner fashionista on your fingertips.
12. Pom Pom Nails
All it takes are a few mini pom poms to take your nails to a whole new level of cuteness. You likely won't see many so
13. Chrome Nails
One of the latest beauty crazes, chrome nails are oh so chic. Giving traditional polish a run for its money, nails with a chrome finish will make your pretties stand out in all the right ways.
With so many impressive creations floating around the beauty sphere, upping the ante on your nail game has never been easier.
Image: varnishlab/Instagram