13 Women Share The One Thing That Stresses Them Out The Most During The Holidays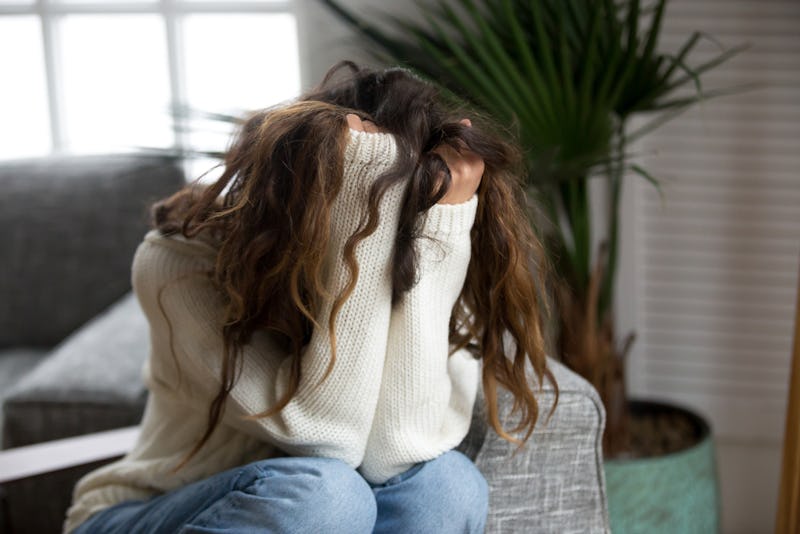 Fizkes/Shutterstock
Holiday season is upon us. That means Hanukkah dradles in shop windows; 10 million emails about sales we CAN'T MISS; and Christmas carols everywhere. It also means, for some of us, time with family and maybe even some time off from work. It's a time of reflection, consumerism, connecting with family, religion, gift-giving, decorations, cooking... No wonder so many of us get stressed around the holidays!
There's no question about it: Holiday stress is very real. In fact, one survey from natural health site Remedy Review of 1,000 people found that 66 percent experienced holiday stress, with money coming in the number one stress (42 percent) followed by family (20.4 percent) and travel (14.4 percent). And when they broke it down by gender, they found women were even more likely to get stressed around the holidays than men: 71.5 percent to 60.3 percent respectively.
Why are women more stressed than men? The survey didn't cover that question, but here are a couple of theories. Our society expects women to perform the majority of emotional labor in personal relationships — and the majority of cooking and housework at home. And many women are also balancing work and family. That means that moms are expected not only to decorate the tree, but also buy the presents. Daughters are expected not only to clean the guest room, but also make sure Uncle Joe doesn't get too drunk and say anything offensive this year. Sisters are asked to help cook, and then to help clean. And, of course, we're supposed to make all of this look effortless.
According to self-care coach Carley Schweet, learning to say no might be the key in dealing with holiday-related stress. "As a self-care coach, one of the biggest stressors I'm seeing around the holidays among women right now is a lack of boundaries," she tells Bustle. "This time of year, it's so easy to get caught up in the mindset that we have to do it all — see every family member, attend every holiday party, meet work deadlines etc. — that we often forget how relaxed and joyous this time of year can be. Learning to say no or politely decline invitations might just help you save your sanity this holiday season."
So, yeah, there's a gender imbalance when it comes to holiday stress. And to shine a little twinkle light on what many women go through at holiday season, I decided to ask around. What stresses you the most about the holidays? Here's what 13 women had to say.