14 Women Reveal The Moment They Realized They Have Anxiety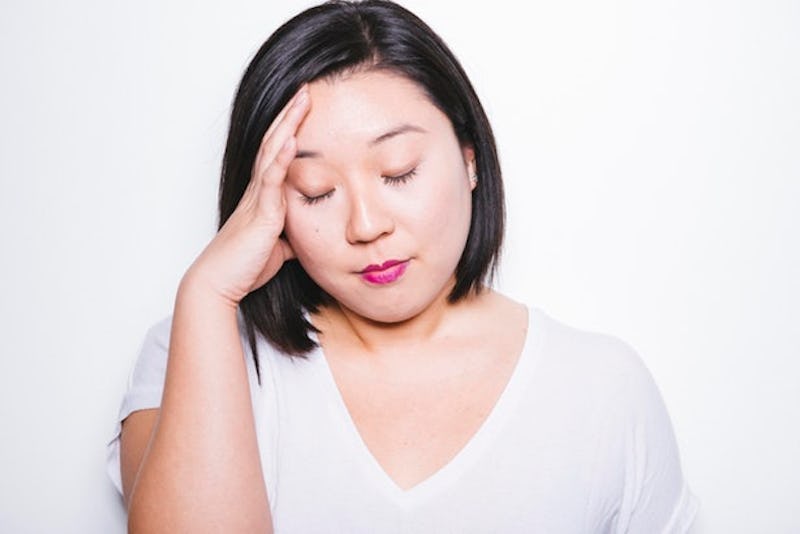 BDG Media, Inc.
Most people know what it feels like to be anxious, but it's not always clear what the difference is between everyday nervousness and debilitating anxiety. While anxiety disorders are extremely common and should not be stigmatized, it is important to get help if you're experiencing one. How, then, can you figure out if your anxiety requires professional help?
"Everyone feels anxious at times," practicing psychologist and Harvard lecturer Holly Parker, PhD, author of If We're Together, Why Do I Feel So Alone?, tells Bustle. "And as undesirable as it is, it's beneficial that we have the capacity to feel it. Anxiety is an alarm bell of sorts that warns us to be on the lookout for something distressing or hurtful that could happen sooner or later."
Anxiety is different from fear because it's not always associated with one particular threat, Parker says. "People can also feel anxiety that seems like it's just floating out there, with no clear reason to pinpoint. There are assorted signs of anxiety, such as thinking about what could go wrong (e.g., 'What if I say the wrong thing on the date tomorrow night? That would be so humiliating. I couldn't handle that.'), trying to stay away from whatever it is that's increasing anxiety (e.g., hold back from chatting with the person), and physical signs such as tenseness in one's body (e.g., tight jaw, crunched forehead, tight back, shoulder, or neck muscles), a racing heart, breaking out in a sweat, difficulty breathing, shaking, lightheadedness, and feeling ill."
If your anxiety is bothering you, there's no shame and a lot of benefit in going to a therapist, says Parker. Here's how some women knew their anxiety was interfering with their lives and required their attention.