14 Celebs Who Love 'Real Housewives' Just As Much As You (Maybe Even More)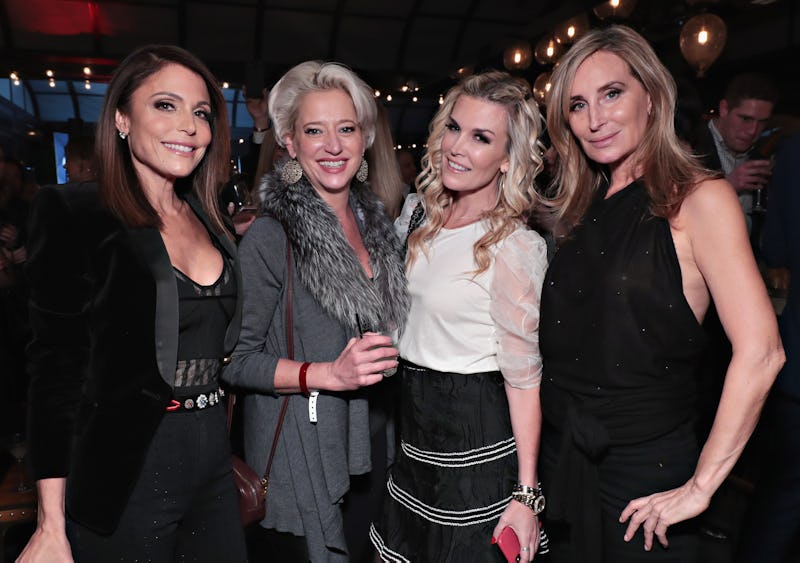 Cindy Ord/Getty Images Entertainment/Getty Images
If you thought you were the ultimate reality superfan, think again: These celebrities love the Real Housewives just as much, if not more, than you do. A major sensation since its premiere in March of 2006, Real Housewives quickly took the world by storm with the introduction of its Orange County-based series, drawing in a large fanbase of loyal viewers. With its cult-following, the reality show quickly spawned into a series of popular spinoffs, including New York, Atlanta, New Jersey, Potomac, and Dallas.
While each and every offshoot of Real Housewives seeks to offer fans a personal, unique look into the lavish lifestyles and relationships between women, it's the ensuing drama which most definitely keeps viewers interested. Entertaining, inspiring, and shady all at the same time, Real Housewives has managed to maintain the attention of viewers around the entire world for more than a decade — and celebrities appear to be no exception.
While there are some stars who choose to remain closeted about their affections for the show, there are plenty of famous viewers who have loudly and proudly proclaim their allegiance to the Real Housewives. From hip-hop moguls to former first ladies, here are some of the celebs who have just as much love for the drama of RH as you.
1. Chrissy Teigen
Never shy about her love for Real Housewives, Teigen spoke about her expectations for her second pregnancy with Us Weekly in January, explaining, "If it's like last time, I loved the whole process. Chicken broth, Real Housewives."
2. Mila Kunis
Sharing her obsession for the show, Mila Kunis once revealed that Real Housewives of Beverly Hills is one of her guilty pleasure TV shows. During an interview with Conan O'Brien, Kunis explained:
"So I'm on the treadmill and I have the little Fisher Price little rocker. I put Wyatt in there. And I watch... bear with me everybody, and do not judge... the Real Housewives of Beverly Hills."
Obviously, fellow fans would never judge.
3. Michelle Obama
During a 2012 episode of Live With Kelly And Michael, Kelly Ripa asked Michelle Obama to name her favorite reality show, according to Huffington Post. After a brief moment of hesitation, the former FLOTUS candidly replied, "I do love a little Real Housewives every now and again."
4. Nicki Minaj
Nicki Minaj once gushed about her fascination with Real Housewives of Atlanta alum Phaedra Parks during an interview with the Rickey Smiley Morning Show. According to Bravo's Daily Dish, Minaj explained,
"The fact that she inspired that 'Fix it, Jesus' lyric — do you understand how obsessed I am with her? It doesn't get better than that. She had me and my girlfriends, like, we talk about her the whole hour. We'll sit there and drink and just talk about how Phaedra be shading people and don't not one F be given, and she don't even raise her voice, honey. She don't even have to move, but she will read you down."
5. Megan Fox
Discussing her and her husband Brian Austin Green's obsession with Real Housewives, Megan Fox told E! News in 2014,
"I watch all of the Housewives. Brian watches them, too. They're addicting. And we talk about it. We're like, 'Could you believe Teresa did that?' They're like drugs those shows. It's my worst vice for sure."
She continued, "We watch them together and we record them if we're going to be out of town. There's nothing wrong with it. It's just junk food for your brain."
6. Diddy
Also talking to E! News, Diddy revealed that he is a "reality show junkie." In 2011, he shared, "My favorite Housewife, hands down, is Nene. I'm an Atlanta Housewives fanatic and I do love the New Jersey Housewives, too. I like the family feud thing... I'm not even embarrassed to say it."
7. Beyoncé
The superstar singer referred to her 2013 Destiny's Child SuperBowl Halftime reunion with a one-liner made famous by Real Housewives of Atlanta star Kenya Moore, according to the Daily Dish. Proving that she just may be a secret fan of the reality show, Beyoncé spoke of the performance, saying: "They were fierce, honey. 'Gone With the Wind Fabulous.'"
8. Zooey Deschanel
During an interview with Huffington Post back in 2011, Zoey Deschanel explained her love of the Bravo franchise: "I'm into a lot of reality shows. I love the Real Housewives — especially the Beverly Hills one. And I love Top Chef and Intervention.
9. Lady Gaga
In 2014, Lady Gaga featured the cast of Real Housewives Beverly Hills in her video for "G.U.Y." The visual featured Lisa Vanderpump, Yolanda Foster, Carlton Gebbia, and Kyle and Kim Richards along with Andy Cohen, who showed up to play the role of Greek god Zeus.
10. Jennifer Lawrence
Jennifer Lawrence is one of the biggest superfans of the Real Housewives franchise. According to E! News, Lawrence told Vanity Fair in 2014, "I do love my Real Housewives ... New York Housewives, and Beverly Hills, New Jersey and Atlanta Housewives. I mean, I love them all, but Miami — oh, my God! Miami is really special."
11. Eddie Redmayne
During a sit down with Watch What Happens Live, Eddie Redmayne revealed that he had a "deep bonding moment" with Jennifer Lawrence over their mutual obsession with Real Housewives. According to ET, he explained in 2016, "When you have a hard day's work, you come home and I'm obsessed with really, wonderfully intricate and dirty reality TV."
12. Jonah Hill
According to a 2011 Daily Dish article, Jonah Hill once told Wendy Williams, "I pulled up next to NeNe Leakes in a car in Atlanta where I was shooting a movie and I freaked out. I texted all my friends."
13. Solange
Revealing that the show reminded her a lot of her childhood growing up in the south, Solange shared her fandom for RHOA, telling Interview magazine in January 2017:
"I was just having a conversation with someone about 'The Real Housewives of Atlanta,' and I was saying how I love that show and think it's so brilliant because it's the woman that was represented in my childhood in Houston. It makes me feel so at home."
14. Michael Rapaport
With a power ranking of Housewives cast members in his book, This Book Has Balls: Sports Rants from the MVP of Talking Trash, there's no question that Michael Rapaport is a diehard fan of the reality franchise.
The Real Housewives saga, now in its 13th year in production, has an influence and famous fanbase, which has continued to grow and shows no signs of stopping any time soon.