14 Halloween Costumes You Can Get At Target Right Now For Under $10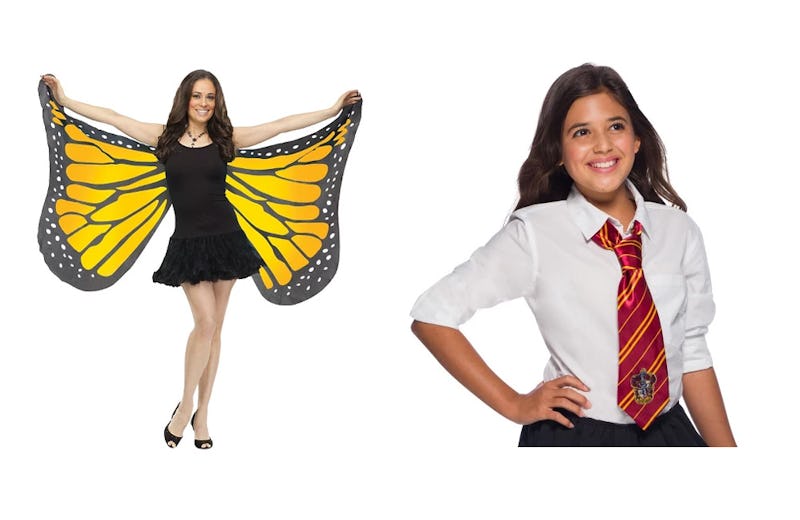 Target
Now that Halloween is around the corner, it's time to brainstorm affordable ways to dress up. After all, like most holidays, joining the festivities can cost a pretty penny. But thanks to Halloween costumes from Target that you can get for under $10, it's possible to pull it off on a budget — I promise. It's all about getting creative with what you already have. And with the right accessories, you can have an instant costume.
Besides, many easy Halloween costumes can be created with clothes from your own closet. Often, accessories and masks will do all the work for you, like the classic black cat or witch costume. Don't forget to have fun with your hair and makeup, too. Little details like whiskers or red lips can go a long way.
This list of ideas is perfect if you want to save money for pumpkin carving parties or traditional fall activities. Personally, I prefer simple and inexpensive Halloween costumes so I can save for spooky décor items like pumpkins, candles, and decorative skulls. And as you can imagine, Target doesn't disappoint when it comes to the Halloween steals and deals. There are so many affordable costumes and accessories to choose from.
Here are a few costume ideas under $10 that you can get at Target. Happy Halloween!
1. Masquerade Ball
Adult Masquerade Costume Mask Black, $4, Target
For an easy yet elegant costume, wear this fancy mask with your favorite party dress. How's that for an instant costume?
2. Butterfly
Soft Butterfly Wings Orange, $7, Target
Thanks to this set of butterfly wings, you can turn any outfit into a colorful costume. It doesn't hurt that it's lightweight and comfortable, too.
3. Creepy Pumpkin
Adult Burlap Pumpkin Costume Mask Orange, $8, Target
If you're all about the spooky elements of Halloween, throw this mask on. Wear it with a hoodie and you're good to go.
4. Unicorn
Halloween Animal Ears Costume Accessory, $3, Target | Halloween Animal Tail Costume Accessory, $3, Target
Don't be afraid to check out the kid's section. You might be able to rock accessories like this unicorn headband and furry pink tail. For a grand total of $6, how can you say no?
5. Lion
Adult Lion Bobblehead Costume Mask, $8, Target
For another instant and inexpensive costume idea, wear this $8 lion mask. Pair it with tan or brown clothes to complete the look.
6. Statue of Liberty Tiara
Halloween Statue of Liberty Tiara, $9, Target
Want to show off your love for the Big Apple? Wear this Statue of Liberty tiara with a light blue or green dress.
7. Black Cat
Women's Black Cat Ears Costume Headband, $6, Target | Halloween Animal Tail Costume Accessory, $3, Target
It's safe to say that the classic black cat costume will never go out of style. And thanks to these two accessories, you can pull it off for just $9.
8. Fox
Halloween Fox Accessory Kit, $6, Target
If you love foxes, you'll adore this costume accessory kit. And again, don't forget to draw on those whiskers!
9. Witch
Women's Deluxe Costume Iridescent Bow Hat, $7, Target
Much like the black cat costume, you can't go wrong with a witch-inspired outfit. All you need is a witch hat and a black or dark-colored dress. For extra detail, accessorize with witchy jewelry.
10. Superhero
Superhero Cape, $8, Target
This superhero cape is not only under $10, but it's extremely easy to wear, too. Just throw it on whatever you're wearing and head out the door.
11. Cat Woman
Cat Mask Faux Leather Black, $8, Target
Halloween is the perfect time to unleash your inner Cat Woman. And thanks to this inexpensive mask, you can make it happen. Pair it with an all-black ensemble to complete the costume.
12. Skull
Adult Skull Costume Mask, $6, Target
For another spooky and classic costume, wear this creepy skull mask. It even has a hood that will hide your hair.
13. Hogwarts Student
Adult Harry Potter House Costume Tie, $5, Target | Harry Potter Hermione Granger Wand, $5, Target
Contrary to what you might think, it doesn't take much to dress up as a Hogwarts student. You can easily turn a white polo or button-down shirt into a uniform with this tie and wand.
14. Troll
Pink Adult Fuzzy Wig, $8, Target
To dress up as a troll, wear this bright and fun pink wig. Pair it with clothing that matches your skin color. How cute, right?