14 Paw-sitively Hilarious Puns For Your National Pet Day Instagram Captions Today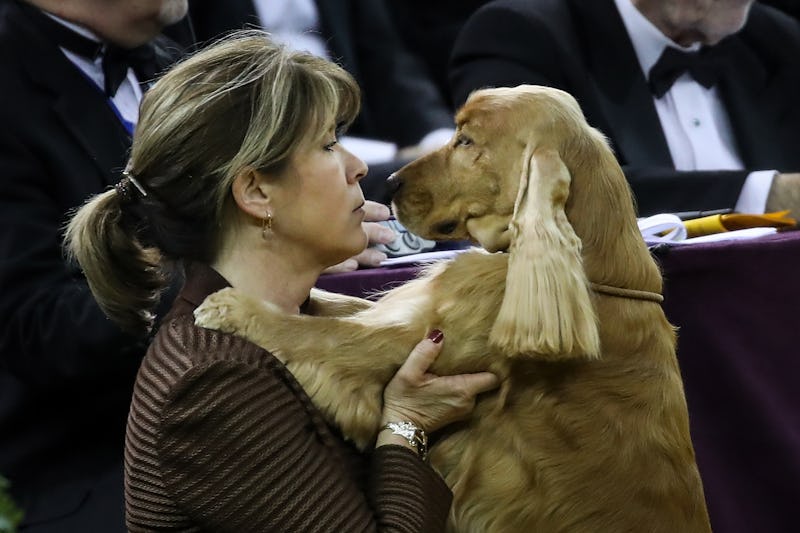 Drew Angerer/Getty Images News/Getty Images
Out of all of the little holidays that exist out there, a few stand out as extra special — and one of those is National Pet Day. This seems like the perfect day to give your furry (or not so furry) friend a lot more hugs and kisses than usual. Maybe it's a good day to remember all of the ways your pet makes you feel awesome and give them an extra treat or two (why not, right? They deserve it!). It might seem like the best time to upload a photo of your pet(s) on social media to get a lot of likes and maybe even some new followers. In that case, you'll want some punny National Pet Day Instagram caption ideas that are paw-sitively (get it?!) hilarious to accompany your photos, or just to tweet out if you're feeling bored.
There are tons of pet puns out there — so many, in fact, that it's kind of overwhelming. We've gone through a whole bunch of them online to come up with some of the best ones. They're cute, sweet, and perfect for whatever you want to use them for, whether it's a funny tweet or a Facebook post dedicated to how awesome your pet is.
Because while National Pet Day is great for celebrating your pet in particular, it's also about something bigger: encouraging other people to think of animals as our equals. According to the official website, National Pet Day was founded "to celebrate the joy pets bring to our lives and to create public awareness about the plight of many different kinds of animals awaiting a forever home in shelters and rescues all around the globe." So, yeah, at first glance, a pet pun might seem like a silly way to celebrate this holiday, but if it helps even one more animal get into their forever home, then I'd say it was totally worth it. And who knows? Your adorably funny post could be just the thing that inspires someone to finally get the pet they've always wanted.
That said, below are a collection of pet puns you can use for just about anything. They can also easily be changed to say whatever you want them to say. Happy National Pet Day!