Creepy Apps Horror Fans Will Love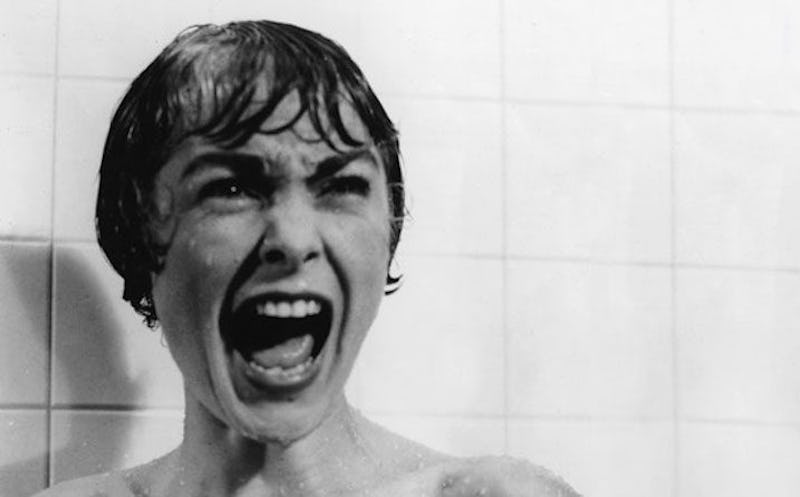 Paramount Pictures
I have to be honest and say that I've never quite understood the appeal of horror movies. For me, the idea of paying money to sit in a crowded theater and scream like a panicked toddler for two hours with my hands over my eyes doesn't quite sound like my idea of fun. The closest I've come to liking a horror film was the somewhat enjoyable time I had watching 2015's It Follows, but die-hards would probably call that more suspense than horror. It's no secret that the horror genre has a loyal and dedicated fan following, and many aren't shy about sharing their love of the genre. From zombie takeovers to scary-because-it's-true re-enactments of classic murders, for some horror fans, a perfect Saturday night looks an awful lot like enjoying a nice cup of tea on the couch while watching some psycho walk around wearing someone's face. And to each their own! You do you. If you fancy yourself a fan of gory get-ups, slasher films, fake blood galore, and cult classics, you're going to freak out over these super creepy apps for horror fans.
Whether you want to test your knowledge of iconic films, get some scare in before bed, or listen to literary horror classics read in a particularly sinister tone, theseapps, games, and VR experiences have something for even the most discerning horror buff.
1. Killers & Heroes
Think you can identify absolutely every pop culture killer out there? Test your silver screen knowledge with Killers & Heroes, which flashes the faces of notorious killers for players to guess. Fill in their names before the time runs out, challenge friends, or play other users on the app.
2. House of Fear - Escape
Called the scariest game on iOS, House of Fear - Escape is a great game for fans of real-life escape rooms and beat-the-clock movies. Plus, the graphic effects are truly terrifying. The game includes puzzles, obstacles, codes to crack, and terrifying red herrings.
3. Brain Eater's Bible
Consider this the antithesis to the Zombie Survival Guide. The Brain Eater's Bible gives you the rundown on absolutely everything you need to know about being one of the undead. Offering brain schematics, sensitive points of contact, and strategies for hunting down human prey, the Brain Eater's Bible is your starter kit for joining the zombie ranks. Now to find a zombie to bring you into the fold...
4. Zombie Photo Booth
Ever wondered how you'd look as a zombie? Maybe you'd be cute with a little undead on you! Find out for sure with the Zombie Photo Booth app, which shows you how you'd look if you switched over to Team Zombie.
5. iPoe 1
The iPoe 1 app takes the classic works of horror master Edgar Allen Poe and brings them to life with dramatic, interactive readings. Turn your iPhone one way and another to look through scenes, notice new details, and interact with the story. You'll never look at bedtime stories the same way again.
6. Ghost Voice
Want to take your scaring skills to the next level? Use Ghost Voice, a creepy app that changes the quality of your voice to one that matches ghosts, goblins, and ghouls, for the ultimate horror level prank.
7. Horror Movie Quiz
Perhaps the most exhaustive tome of horror movie knowledge out there, Horror Movie Quiz tests your knowledge of scary cinema with thousands of obscure trivia questions. What color was the car in I Know What You Did Last Summer? Who killed Brian in Final Destination? Developers call Horror Movie Quiz "the perfect slice of scary fun."
8. Horror Cam
Turn basic photos into shots plucked straight from a horror movie set with Horror Cam. Use it to creep out your Instagram followers, or snap a scary photo in honor of the NYC Horror Film Festival.
9. Slasher
Slasher is nothing new in the horror app world, but it's definitely an old favorite. Slasher pulls up a bloody knife and makes a horror-ready stabbing sound whenever you make a stabbing motion. Use it to practice your zombie-fighting skills IRL, or to just freak out your friends.
10. Guess The Horror Movie
Guess the Horror Movie tests your knowledge of instantaneous horror recognition by revealing tiles in scenes from iconic horror movies. Think you can name that film just by seeing the scream face of the lead? Download the app and test your skills.
11. True Ghost Stories From Around The World
Think of True Ghost Stories as the creepy podcast in your pocket you didn't know you needed. Full of thousands of real ghost stories from around the world, pull it out whenever you need a dose of real-life scary read to you.
12. Haunting Melissa
Haunting Melissa is like reading a ghost story by flashlight before bed with the covers over your head in the digital age. The app is a serialized visual story that changes every time you watch it. For best results, watch with the phone very close to your face — it makes the scares that much more intense.
13. iHorror App
Want to preview the next big horror release, or watch a classic from the '90s? iHorror App lets you stream horror films and trailers right in the app. You can also browse around to read reviews, leave comments, and read fun facts about the films.
14. Horror Master Trivia Free
Want to test your multi-media horror knowledge? Horror Masters Trivia quizzes you on everything from soundtracks and set design to special effects. It also lets you get specific with your knowledge with categories like "Women in Horror" and "Cult Favorites."