These Varys Theories Prove The Final 'GoT Episodes Are Going To Be A Wild, Twisty Ride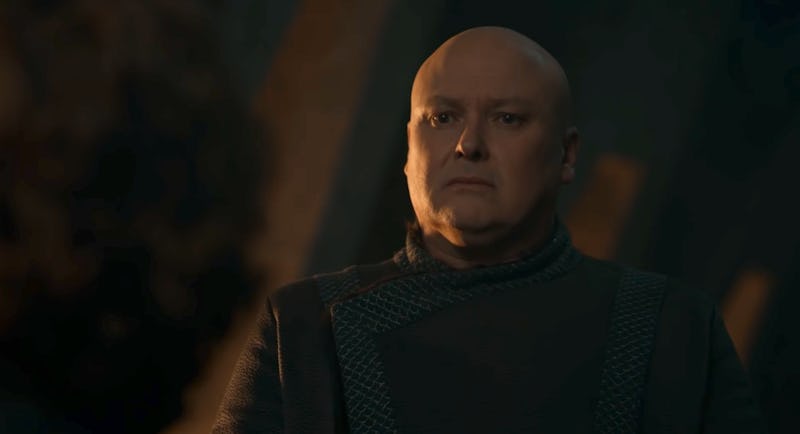 HBO
Spoilers ahead for Game of Thrones Season 8. Lord Varys, the Master of Whispers, is back to his whispering ways in the final episodes of Game of Thrones. During "The Last of the Starks," Varys started considering a new ruler for the Iron Throne. And with a betrayal pending, Reddit is full of theories about Varys on Game of Thrones. He has supported a Targaryen ruler since the very beginning when he conspired with Illyrio Mopatis and he has been actively backing Daenerys since Season 5. She gave him a pardon for all his king hopping in Season 7, but now that Varys knows that Jon Snow is a Targaryen, he's looking to jump ship. So with only two episodes left to go, this Spider still has a few tricks up his sleeves that are worth speculating about.
Varys has shared concerns with Tyrion before about the possibility that Daenerys could become like her father and turn into a "Mad Queen." But, unfortunately, it's actions like him conspiring with Tyrion that could push Daenerys over the edge when she is already justifiably enraged after the deaths of Jorah, Rhaegal, and Missandei. And since Daenerys told him she'd kill him if he ever betrayed her and Melisandre informed him he will die in Westeros, it seems Varys may soon join the body count of Season 8.
But whether he makes it out of Game of Thrones dead or alive, here are some theories from Reddit users about what Varys could be up in the final season.