These 'Game Of Thrones' Episodes Keep The Tyrion Targaryen Theory Alive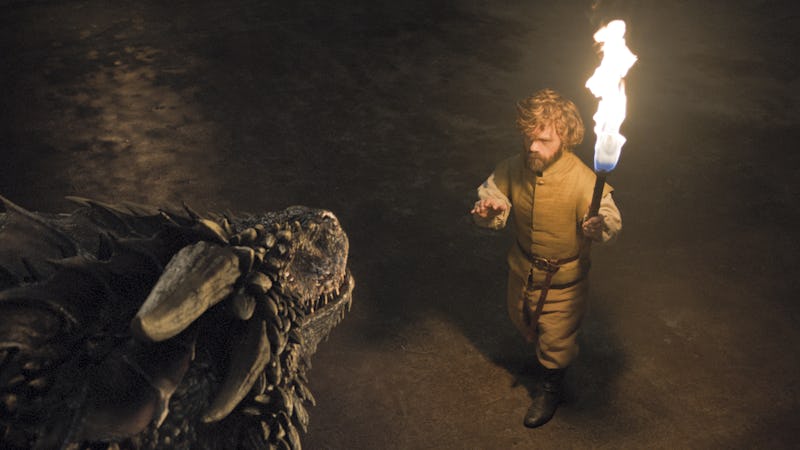 HBO
Game Of Thrones had spent a significant amount of time foreshadowing the fact that Jon Snow is a Targaryen. But the HBO fantasy series hasn't provided as much evidence for another (yet unproved) fan theory — that Tyrion Lannister is actually a Targaryen too. The final season of Game Of Thrones could potentially reveal another Targaryen paternity secret when it premieres in 2019. The moments that point to this theory coming true are pretty scarce, but if you really believe that Tyrion Lannister is Tyrion Targaryen, these episodes provide a little bit of proof.
The theory goes that Tyrion is not Tywin Lannister's son, but that he is actually the son of the Mad King — Aerys II Targaryen. In George R. R. Martin's books, the Mad King and Tyrion's mother Joanna Lannister had some history. So Aerys II could have either willingly cheated on her husband or the king could have raped her and it resulted in Tyrion. This would mean that Tyrion is Daenerys' half brother and Jon Snow's uncle.
The theory not only helps to explain why Tywin utterly despised his youngest son so much, but it also fulfills the dragon has three heads prophecy from the A Song Of Ice And Fire books. Based on this prophecy, some fans think that there are three Targaryens alive who would ride Daenerys' three dragons. Of course, since Viserion is now an ice dragon, this thesis has lost some steam (err, fire?). But if you're still holding out hope that Tyrion could be a Targaryen, you can find hints in the following episodes — but mostly if you are really, really desperate to prove this theory right.