16 Things You Forgot Happened In 'Game Of Thrones' Season 7 — Like That Ice Bear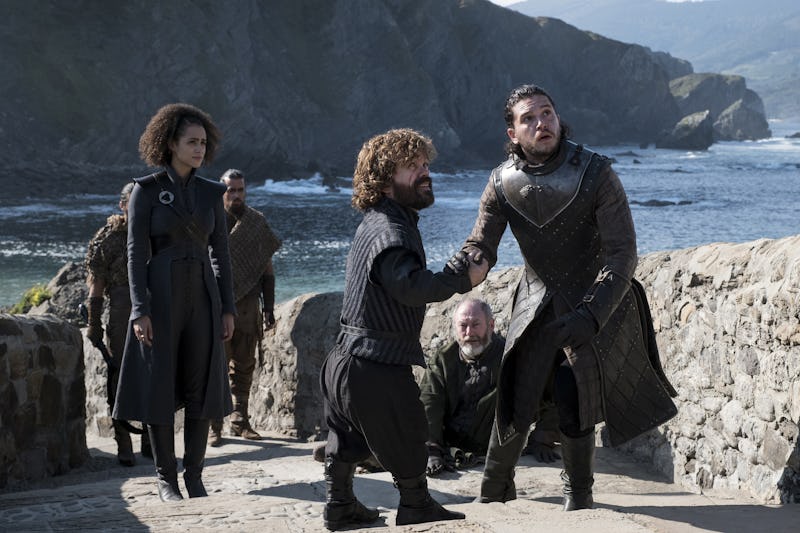 Macall B. Polay/HBO
Game of Thrones packs a whole lot of plot into each season, and Season 7 might have been the most action packed yet. The penultimate season barreled its way toward the endgame with characters traveling around Westeros at warp speed and major reunions galore. Still, even with this quicker, more focused pace, it that doesn't mean that you remember every. single. thing. that went down. There are bound to be things you forgot happened in Game of Thrones Season 7 — if only because it aired nearly two years ago. A lot has happened since then. Hopefully, this list will help refresh your memory regarding some of the more easily overlooked moments to have you all set for the Season 8 premiere on April 14.
Some moments in Game of Thrones, fans can never forget — and Season 7 was chock full of them. Like, Jon and Tyrion reuniting. Arya and Sansa killing Littlefinger. The epic collision of characters at the Dragonpit. Jon and Daenerys having sex while Bran revealed to Sam they are aunt and nephew. And Viserion becoming an ice dragon and destroying the Wall. Even if you kind of wish you could unsee some of those moments — calling out that Ed Sheeran cameo, Sam's feces-filled maester training, and (but of course) Jon and Dany's cringey sex scene — you gotta give credit to the show for making these scenes unforgettable.
But maybe with the passage of time or with so many other details to worry about, some of Season 7 has just slipped away from your recollection. So this list will get you back in fighting form for the eighth and final season of Game of Thrones.