These "One Love Manchester" Tweets Are An Inspiring Dose Of Hope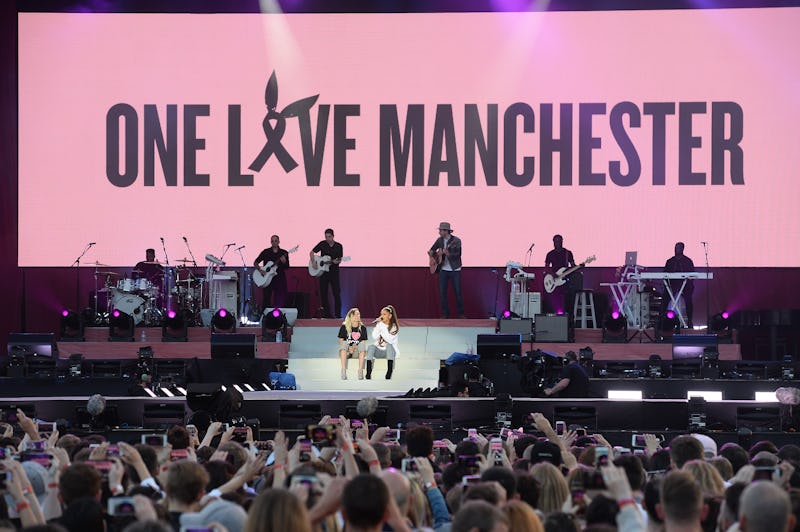 Getty Images/Getty Images Entertainment/Getty Images
Only two short weeks after the terrifying lone suicide bomber attack that killed 22 people, Manchester is back in full glory and defiance with the One Love Manchester concert. The event, which has attracted some 50,000 people, took place at the gigantic Old Trafford stadium. Performers for the event included Katy Perry, Miley Cyrus, Take That, Pharrell Williams, Coldplay, The Black Eyed Peas, and more. But perhaps most remarkable was the return of Ariana Grande whose very concert came under attack at the Manchester Arena two weeks ago. Tweets from the powerful One Love Manchester concert showed how people refused to give into fear, hatred, and division.
One of the most beautiful songs was the Oasis hit, "Don't Look Back In Anger," performed by Grande and Coldplay before an emotional audience. The massive crowd swayed to the classic hit as it seemed to be the perfect song for troubling times like these. Concert-goers viewed the event as a way of defying terror and coming together from all walks of life, especially after the tragic London Bridge attack on Saturday which claimed seven lives. Tweets all over Twitter showed photos, videos, and messages of solidarity, compassion, resilience, and unity in the face of offensive and divisive rhetoric.
1. Heart-Shaped Signs For The World To See
Young concert attendees held up their hands in heart-shaped signs, exemplifying love, unity, and resilience after the Manchester Arena attack.
2. Police & Locals Come Together
A policeman was seen skipping in a circle with concert-goers at the One Love Manchester concert. It was a heartwarming sight for many.
3. 50,000 Stand Together In Silence For Victims
Thousands upon thousands held a moment of silence for the lives lost in the Manchester and London attacks.
4. Politicians Shared Their Message Of Love
Jeremy Corbyn, the leader of the United Kingdom's Labor Party, tweeted a moving photo of Grande with a young concert attendee in a warm hug. His message read, "In Manchester now, London today, and always in our country: we stand together and united against those who seek to divide us. #OneLoveManchester"
5. Massive Crowds Refuse To Succumb To Terror
Photos depicting the powerful and magnificent crowd of thousands and thousands standing together were shared all over Twitter. Love is, indeed, stronger than hate.
6. Humor Over Hatred
Humor is a potent antidote to hatred and fear. In one such example, a Twitter user shared a humorous photo of how they joked British people feel at the moment. The one thing unifying British folks at the moment? "Ariana Grande."
7. Grande Fans Come Back Again
From the looks of the concerts she's conducted so far, the majority of Grande's fans are young and female. Such a vulnerable demographic made the Manchester Arena attack even more heartbreaking. But the terror did not deter fans from attending the One Love Manchester concert. BBC Newsbeat shared a tweet showing Grande fans attending the concert only two weeks after the Manchester Arena attack. Now that is true resilience.
8. Breathtaking Overview Of Crowd
There is nothing like a helicopter shot of a massive crowd to put things into perspective. One tweet showing the audience at the One Love Manchester concert at The Old Trafford stadium captured the magnanimous nature, both emotional and physical, of the crowd.
9. "Love Always Wins"
Several lovely photos showed members in the audience holding signs like "We Stand Together" while watching their favorite singers perform.
10. A Poignant Message For Those Seeking To Divide
This user's tweet rings exceptionally true in these testing times, "I hope those caused the [Manchester Arena] tragedy can see this now and realize that they're the ones who lost."
11. Thousands Sing Together
Watch thousands of people in Manchester sing together in unison. It's a powerful vision and leaves goosebumps everywhere.
12. Photos Of The Manchester Arena Victims Were Shared
Users shared photos of the lives lost in the Manchester Arena attack with the lyrics of Coldplay's heartbreaking and beautiful hit, "Fix You."
13. Crowds Sing Along
"Fix You" was played at the One Love Manchester concert by Coldplay where the crowd sang along with the band.
14. United Kingdom Remains United
"Let's get together and feel alright," one Twitter user urged. It's a message that will resonate with many.
15. An Iconic Night For Everyone
No one will forget the beauty of coming together after such a heinous attack.
Tweets of love and empathy are still pouring in under the hashtag #OneLoveManchester. If you're looking for a dose of hope, you know where to go.