15 Easy Halloween Costumes You Can Put Together With 3 Items Or Less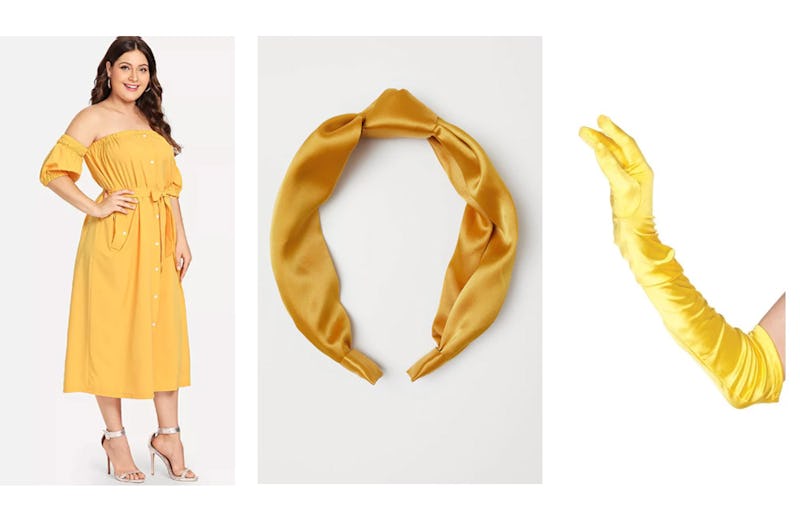 Romwe, H&M, Halloween Costumes
Whether you're a last-minute planner or on a budget, creating a Halloween costume involves some imagination. This is especially true if you don't want to be stuck with a pile of extra clothing and accessories that you'll never use again. Luckily, it's surprisingly easy to put together a Halloween costumes with only three items or less. This is a great way to not only use what you already have, but to limit what you buy, too.
Personally, I love easy Halloween costumes that don't take a lot of work. It opens up more time to enjoy other types of fall activities, like carving pumpkins and visiting haunted houses. There is also something so satisfying about shopping my own closet and using clothing in different ways. However, if you do end up purchasing something that you won't use again, consider passing it on to someone else so they can enjoy it next Halloween.
Of course, that's not to say you can't go all out this year. Instead, this list of fun Halloween ideas is all about the simplest take on each costume. The items listed are the bare minimum and will get the point across even without extra bells and whistles. If you want to take it further, then go for it! This is exactly why dressing up for Halloween is so fun.
Keep reading for 15 costumes that need three items or less.
1. Skeleton
Skeleton Sleep Sweatshirt, $19.99, Target | Adult Skull Costume Mask, $6, Target
When it comes to Halloween, you can't go wrong with a skeleton costume. All you need is a skeleton hoodie (or onesie) and a mask, and you're all set.
2. Ms. Frizzle
Heart and Solar System A-Line Dress, $79, ModCloth | Asymmetrical Blue Celestial Earrings, $11.17, KaaiCo on Etsy
For a throwback to your childhood, dress up as Ms. Frizzle. This is especially perfect if you love science or work in the field. You'll need a galaxy-printed shirt and funky mismatched earrings.
3. Stewie Griffin
Essential Crewneck Tee, $9.99, Kohls | Button-Front Denim Overalls, $29.90, Forever 21
Thanks to a yellow long-sleeved shirt and a pair of red overalls, you can dress up as everyone's favorite sarcastic baby. How's that for a comfortable two-piece costume?
4. Party Animal
Plus Size Iridescent Geo Halter Dress, $28, Forever 21 | Bear Ear Headband, $6.99, Spirit Halloween
If you love punny costumes, wear your favorite party dress with a pair of animal ears. This two-piece costume works well for group outfits, too.
5. Emoji
Waffle Knit Dress, $12.90, Forever 21
To dress up as an emoji, all you need is a yellow dress or shirt. Print out a large emoji and tape it to your clothing or wear it as a mask. That's it!
6. '90s Troll Doll
Pink Adult Fuzzy Wig, $8, Target
A troll costume calls for very few items. You'll need a bright wig and a shirt or dress that matches your skin color. For extra detail, head to the craft store and add a plastic rhinestone to your belly.
7. Butterfly
Soft Butterfly Wings Orange, $7, Target
A pair of butterfly wings will transform any outfit into a butterfly costume. It's also lightweight, so you'll be comfortable all night long.
8. Jughead Jones
Refuge Denim Sherpa Zip Up Jacket, $25, Charlotte Russe | Riverdale Jughead Beanie, $16.90, Hot Topic | Woven Plaid Shirt, $14.90, Forever 21
Jughead's typical outfit can be recreated with just a few pieces. You'll need a denim jacket, beanie, and plaid shirt. To make his "crown", cut the edge of the beanie into a zig-zag border.
9. Betty Cooper
Brushed Crew Neck Sweater, $15.90, Forever 21 | Classic Soft Shirt, $24.99, Kohls
On that same note, Betty Cooper's look is also easy to recreate. You'll need to layer a light pink sweater over a white polo or button-down shirt. Don't forget to throw your hair up in a high ponytail, too.
10. French Toast
Plus Size Striped Tie-Front Top, $22, Forever 21 | Felted Wool Beret, $12.99, H&M
With just two items, you can dress up as French toast. This one calls for a striped shirt and a beret. Easy.
11. Ash Ketchum
AE Oversized Denim Vest, $29.97, American Eagle | Gildan Short Sleeve Adult T-Shirt in White, $3.99, Michaels | BIOWORLD Pokemon Ash Ketchum Snapback Hat, $16.34, Amazon
To dress up as Ash with just three items, wear a denim vest over a white t-shirt. Finish it off with a red snapback hat. You can also wear fingerless gloves, but this trio of items will certainly get the point across.
12. Unicorn
Leg Avenue Women's Plus Size Unicorn Costume, $32.47, WalMart
On Halloween, never estimate the power of one-piece costumes. This fun and bright unicorn dress is the perfect example.
13. Blair Waldorf
Lace Mock Neck Top, $38, Forever 21 | Glen Plaid Bow Headwrap, $3.90, Forever 21 | Pleated Scuba Skater Skirt, $22.99, Charlotte Russe
Blair's outfits might seem complicated, but with three basic items, you can pull off her look. You'll need a preppy shirt, flared skirt, and her iconic bow headband. Finish it off with your best RBF.
14. Cat Woman
Cat Mask Faux Leather Black, $8, Target
Another one-and-done costume idea is a cat or Cat Woman. You'll need a cat mask and an all-black ensemble.
15. Belle
‌
Plus Off Shoulder Solid Dress, $17.59, Romwe | Hairband with Knot, $9.99, H&M | Yellow Gloves, $14.99, Halloween Costumes
Belle's classic yellow outfit can also be recreated with just three items. To do it, wear a yellow maxi dress and a yellow headband. Complete the costume with yellow gloves.