16 Harry Potter Socks That Just Scream "Dobby Is A Free Elf"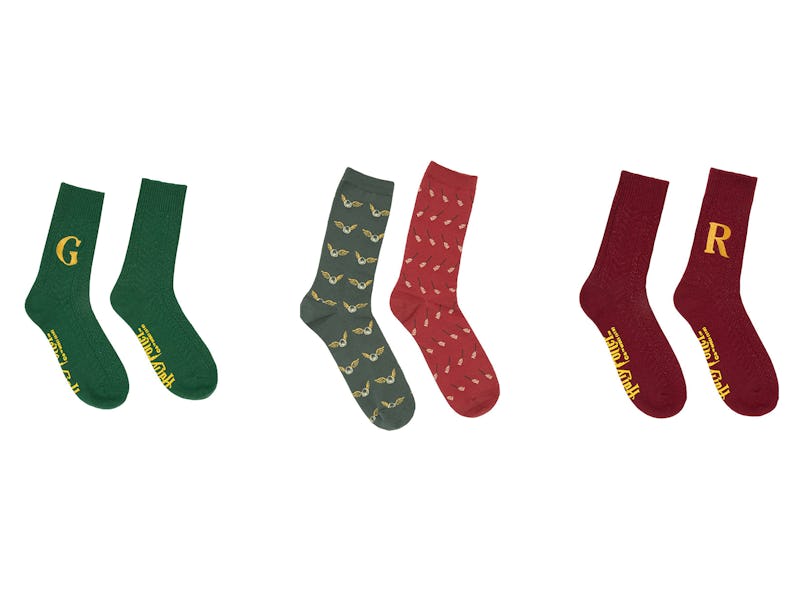 Out of Print (3)
Do you remember the days when receiving a gift of socks used to be, at best, a silly holiday joke? Or, at worst, a complete and total disappointment that you had to pretend to love, to spare Great Aunt Barbara's feelings? (JK, love you Auntie Babs.) Whether it's a side effect of growing older, or the fact that socks are just oh-so-much-cooler than they were when I was a kid — at least from what I can remember — the days of lame-ish, utilitarian sock-gifts are definitely over. In fact, socks have become one of my go-to gifts and stocking stuffers, and they're always, ALWAYS a hit.
As far as socks for the book lovers in your life go, you definitely can't beat Harry Potter-themed footwear. And you also won't be hard pressed to find Harry Potter socks for the most stylish of Potterheads. From Gryffindors to Hufflepuffs, Hedwig fans to Dobby lovers, the Quidditch obsessed and the Hermione wannabes, when it comes to Harry Potter socks there is something for everyone.
Want the perfect stockings to stuff your stockings with this year? Look no further than these 16 Harry Potter socks. Just try not to keep them all for yourself, okay?
Books Turn Muggles Into Wizards Socks
Glasses & Lightning Bolt Socks
Hedwig Letter Socks
Ron Weasley Sweater Socks
12 Days Of Socks
Gryffindor House Socks
Hufflepuff House Socks
Hogwarts Crest Socks
Dobby Christmas Socks
Gryffindor Casual Crew Socks
Hogwarts House Mascot Socks
Mischief Managed Socks
Slytherin House Socks
Fred And George Sweater Socks
Ravenclaw House Socks
Hogwarts Symbol Socks