16 States Are Suing Trump For Declaring A National Emergency To Build His Wall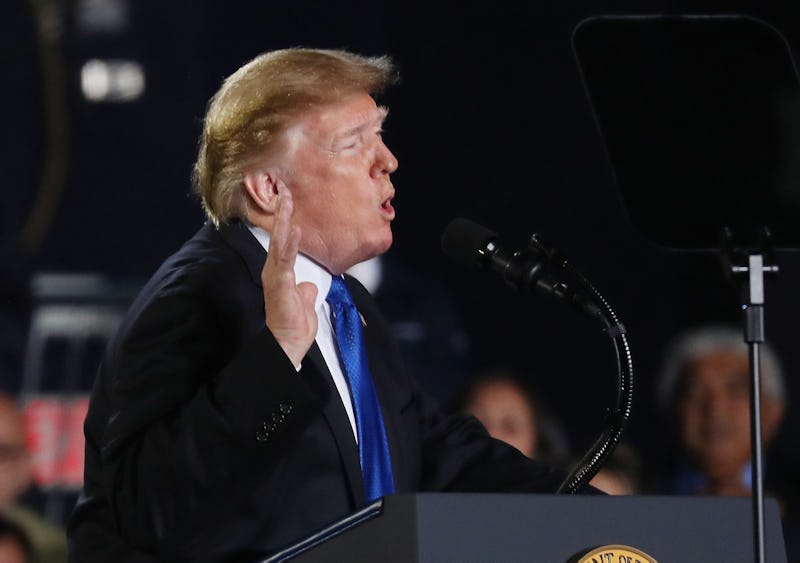 Joe Raedle/Getty Images News/Getty Images
The legal challenges against the president's use of a national emergency to build a border wall piled up Monday. Led by California and New York, 16 states sued President Trump for declaring a national emergency, arguing that the move was unconstitutional, The Washington Post reported.
Filed in the U.S. District Court for the Northern District of California, the lawsuit, California et al. v. Trump et al., argues that Trump "has used the pretext of a manufactured 'crisis' of unlawful immigration to declare a national emergency and redirect federal dollars appropriated for drug interdiction, military construction and law enforcement initiatives toward building a wall on the United States-Mexico border," according to The New York Times. It also claims that Trump "has veered the country toward a constitutional crisis of his own making."
Fourteen states — Colorado, Connecticut, Delaware, Hawaii, Illinois, Maine, Maryland, Michigan, Minnesota, Nevada, New Jersey, New Mexico, Oregon and Virginia — join California and New York in the lawsuit.
As word about Trump's plan to declare a national emergency spread on Friday, some states signaled their plan to launch a legal challenge. During a freewheeling — and contentious — press conference in the Rose Garden announcing the emergency that day, Trump said that he "didn't need to" declare a national emergency, but that it would be "much faster" do build a border wall that way. He pointed to a "national security crisis on our southern border" as the reason for emergency, despite many experts having pointed out that there is, in fact, no such "crisis."
California Attorney General Xavier Becerra also suggested to The New York Times that Trump's comment on Friday had done no favors for his own argument. "Probably the best evidence is the president's own words," Becerra told the Times. The suit filed on Monday evening — on Presidents' Day, no less — explicitly quotes Trump saying that he "didn't need to do this."
The emergency declaration is meant to bypass Congress and divert taxpayer funds from other programs toward construction for the border wall. A few hundred million will come out of the Department of Treasury's forfeiture funds. $2.5 billion more will be drawn from military narcotics funding, according to CNN, and $3.6 billion will be redirected from military construction funding.
Trump's bruising spending bill deadlock with Democrats has led to veiled warnings from the president that he is not beneath declaring a national emergency for his wall. So that the president and his administration is being sued over the national emergency is no surprise. Trump himself said at his Friday press conference that he expects to be sued, though he added that he thinks "we will be very successful in court."
Shortly after his declaration that day, Public Citizen, a consumer advocacy group, filed a lawsuit against Trump on behalf of landowners in Texas and environmentalists. Two more suits are expected this week, according to the Times, and the Democratic-controlled House is also considering filing a legal challenge against Trump's emergency declaration.
Hours before it was filed on Monday, Becerra noted in a CNN interview the timing of the lawsuit. "It's kind of awkward to say that on Presidents' Day we're going to be suing the president of the United States," he said, "but sometimes that's what you have to do."