Literary Quotes That Are Horrifyingly Relevant RN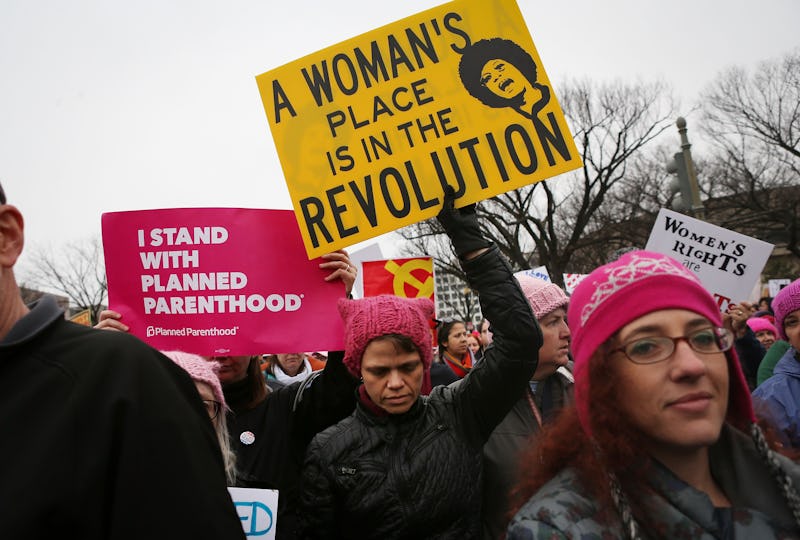 Mario Tama/Getty Images News/Getty Images
It has been less than a month since the new president took over the White House, and in that short time, it's as if the plot to your favorite dystopian novel started playing out on the city streets. Every day that a new headline reveals the administration's repeated efforts to censor the media, to restrict, even completely strip, civil liberties based on religion, race, and gender, and to blatantly lie to the American people, these literary quotes that are horrifyingly relevant to 2017 only become more appropriate. Before you know it, we may actually be living out The Handmaid's Tale, and not just by binge-watching it on Hulu.
When Donald Trump was elected president, people across the country recoiled in shock, disgust, anger, and fear. After months of outlandish unpresidential behavior that included such things as mocking a journalist's disability, bragging about sexually assaulting women, and promising a religiously-based Muslim travel ban, many Americans thought there was no way such a hateful, divisive, and unqualified man could rise to the highest seat of power.
November 8 proved them all wrong, and since then things have only gotten darker and more unbelievable.
If you weren't already under the impression we're living in a dystopian reality, these 17 literary quotes that are horrifyingly relevant to 2017 will convince you.