17 Mermaid Inspired Products To Become Ariel IRL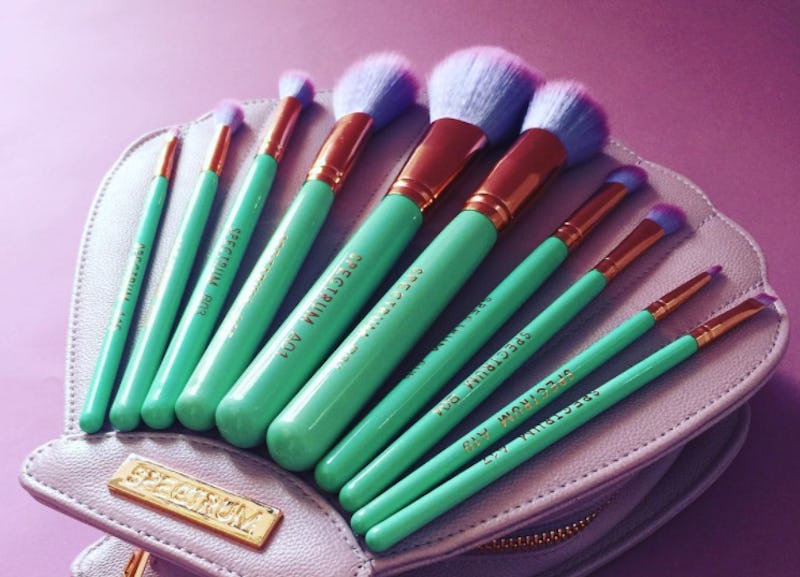 Whether it's their effortlessly tousled beach waves or the glow of their iridescent scales, mermaids are some of the most alluring beauty muses. Sporting a seashell bra and a nearly full-body tail may not be practical on the daily for mere mortals, but mermaid beauty products are your best bet for transforming into a walking sea goddess.
The fascination with mermaids has been real for quite some time now. With merfolk working their magic on every realm of the beauty sphere, trying to mimic their image is becoming practically obsessive. Pastel and rainbow hair trends proved color fanatics were translating their inner Ariel onto their manes. Nail artists even got in on all of the deep sea action by making the aquarium manicure trend a thing. Now that cosmetics companies are pumping out marine-inspired, holographic beauty products too, a head-to-toe mermaid makeover is easier than ever to achieve.
From sea salt hairspray to pearlized lipstick, there are a ton of options for nailing the look of a sea siren. Ariel may have desperately wanted a taste of life on land, but these 17 aquatic beauty products will fully submerge you in her enchanting world.
"Sea Siren" Magnificent Metals Glitter & Glow Liquid Eye Shadow, $24, StilaCosmetics
The name says it all. Stila's "Sea Siren" liquid glitter is surely the stuff mermaids are made of. This multidimensional sparkle reflects the most jaw-dropping pink, blue, and pearl tones.
"Requiem" Liquid Lipstick, $36, Amazon
Bring the deep sea to your pout with the shade "Requiem, an Anastasia Beverly Hills liquid lippie that's a metallic blackened teal.
"Lounge" Eyeshadow, $22, Sephora
At first glance it's a deep green, and the next, it's a brick red. Urban Decay's "Lounge" single shadow glimmers like an underwater goddess.
Mermaid Sea Salt Hairspray, $19, Amazon
What's a mermaid fanatic without her wavy tresses? Use Captain Blankenship's Mermaid Sea Salt Hairspray to get your best textured and moisturized beach waves.
"Holographic Stick", $28, Sephora
Delivering a next-level, iridescent glow, Milk Makeup's Holographic Stick will give your cheekbones, cupid's bow, and brow bones the ultimate aquatic aura.
"Trip" Diamond Crusher, $18, Amazon
There's no topping Limecrime's "Trip" Diamond Crusher. Described as a "delirium purple", it's way too majestic to handle.
"Mermaid's Dream" Nail Polish, $20, Amazon
Deborah Lippmann's "Mermaid's Dream" nail polish gets your claws a little fishy in all the right ways. Small flecks of glitter twinkle within this beautiful sea foam green shade.
Wild & Alluring Baked Eyeshadow & Highlighter Palette, $18, Amazon
Even the packaging is mermaid-inspired with BH Cosmetics' Wild & Alluring palette. Featuring marbleized shadows and glitzy highlighters, it's full of rich coral, gold, and aqua tones.
Seaweed Mask Sheet, $8, Amazon
A true mermaid would get down and dirty with a little seaweed. Tony Moly's Skin Purifying Seaweed Mask cleanses your skin with natural oils and water while penetrating deep into pores to extract impurities.
Mermaid Conditioner, $40, Urbanoutfitters
To achieve Ariel-level tresses, you'll need all the hydration you can get. Mermaid Hair Conditioner should be your go-to for moisturizing your strands. The added scent of fresh orange blossom, coconut, and ocean breeze will help transport you to paradise.
"Whatever" Lip Tar, $17, Occmakeup
A jewel-toned metallic jade with oceanside vibes, OCC's "Whatever" Lip Tar may not be around for long, so snag this mermaid-esque beauty while you still can.
The Glam Clam, $74, Spectrumcollections
You can't get a mermaid beauty beat on without the proper tools. Give Spectrum Collections' Glam Clam brush set a place in your stash to paint on your precious, iridescent products.
Scales Stencils, $17, Amazon
Painting fish scales has never been more simple. Layer these stencils onto a deep, glittery manicure for the glamest mermaid tail nails.
"Kaleidoscope" Duochrome Pigment, $22, Amazon
Call this multi-colored dream a quadri-chrome because Makeup Geek's "Kaleidoscope" is a blue base with pink, purple, and teal reflects. It's for sure the holy grail sea goddess pigment.
"Silverlite" Strobe Cream, $28, Amazon
Become the ultimate glow mama with MAC's Strobe Cream. Shade "Silverlite" can backlight all of your makeup looks with the most luxe shimmer, perfect for living out your underwater fantasies.
"Crystal" Face and Body Glitter, $6, Amazon
Multicolored opal glitter is exactly what you need to sparkle like merfolk. NYX's "Crystal" loose glitter can do just that, applied to your lids, lips, or your entire facade if you wish.
Spa of the World Dead Sea Salt Scrub, $27, Amazon
High in mineral content and loaded with coarse crystals to exfoliate, The Body Shop's Dead Sea Salt Scrub can reveal your smoothest skin yet. Make it you go-to product for getting a fresh, all-over glow.
Whether it's bikini season or far from it, these beauty finds full of marine magic will have you feeling like a year-round mermaid, in and out of the water.
Images: spectrumcollections/Instagram; Courtesy of Brands (17)