17 People Reveal Exactly How Many Minutes They'd Wait If Their Date Is Running Late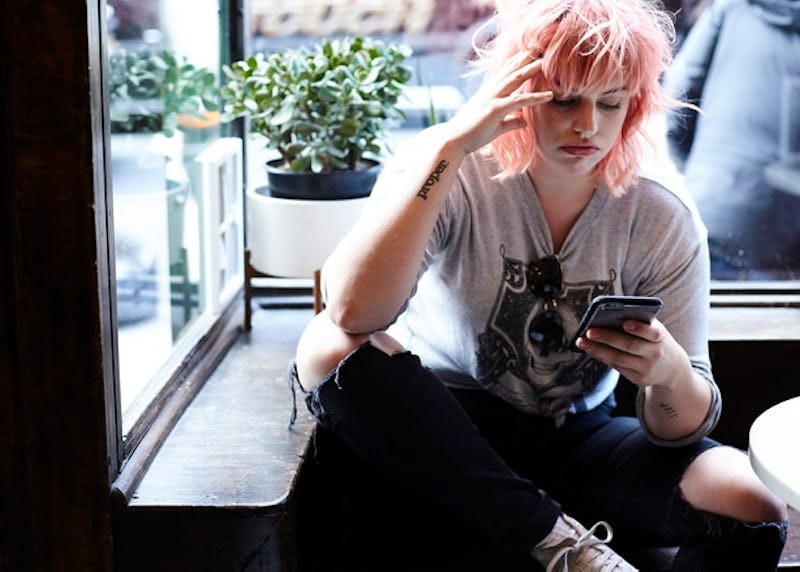 Hannah Burton/Bustle
When a date you've gone out with before is running late, many thoughts might run through your head: Did you get the time and place right? Did they mention they'd be late, and you forgot? Or, worst of all, are they ghosting you?! Should you wait? Not wait? Give them "just five more minutes…" What's the right thing to do when a date is late?
"If it's a second date or beyond, by that point, you should be in communication on a more regular basis with your date, so sending a text to say you're running late is something that one must do," Julie Spira, CEO, Cyber-Dating Expert, tells Bustle. "Without that, it's a sign that your time isn't being respected. In addition, if a meeting ran late or if you're the one stuck in traffic, ask your date, via phone or text, if they don't mind waiting 20 extra minutes."
David Bennett, counselor and relationship expert with Double Trust Dating, also says to base their current "late" behavior with your past date(s) with them. "If you have been out with the person before and have observed that they are normally on time, true to their word, and prioritize time with you, then I would be more lenient with them," he tells Bustle. "Clearly, their regular and consistent behavior shows that being late isn't normal for them."
Bennett also says to pay attention to their reason for being late. "I would accept an excuse that clearly is a result of a difficult situation (for example, an angry business client came to the office right at closing time, so your date was basically forced to stay at work later). So long as your date is apologetic and genuinely working hard to get to your date as soon as possible, I think some understanding is a good idea here."
However, he also says to watch out if your date seems unconcerned or takes an "It's no big deal" attitude. "Then, clearly your date just doesn't value your time or is too self-absorbed," Bennett says. All that said, here's how long 17 people would wait for a date they've already had at least one date with before.