19 Creative Ways To Display Your Pride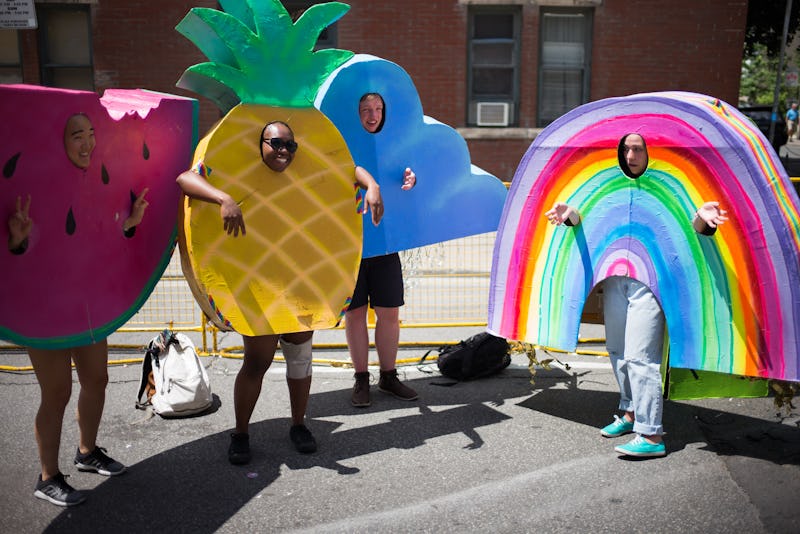 Ian Willms/Getty Images News/Getty Images
Pride month, a beautiful time that comes every June, is a celebration of love, rainbows, equality, and hope. Started in 1970's New York, following the year prior's Stonewall Riots, Pride originated as a fight for equality, acceptance and respect. In 1991, Pride expanded to become a celebration of the progress that had been made and the community which had formed. It began to stand as a reminder that the best person to be is yourself and that is a person you should never have to hide.
In New York, the Pride parade will be streamed live for the first time and takes place on Sunday, June 25. Across the country, and the rest of the world, many others have already happened, throughout the past month.
This year, there is an increased focus on the importance of Pride. One aspect comes from the greater vocalization of the need to show up for causes that don't effect you directly. As poet Emma Lazarus said, "Until we are all free, we are none of us free." When any one of us is discriminated against or not given equal opportunity and rights, it can not be tolerated. Even if you are not a member of the LGBTQ community, it's so important to show up and fight for all who are.
The other, and very obvious reason is the horror show that roams the White House. It's more important than ever to show up and #displayyourpride as part of or for the wonderful LGBTQ community. Read on for some of the best #displayyourpride tweets.