Small Acts Of Resistance To Support The Environment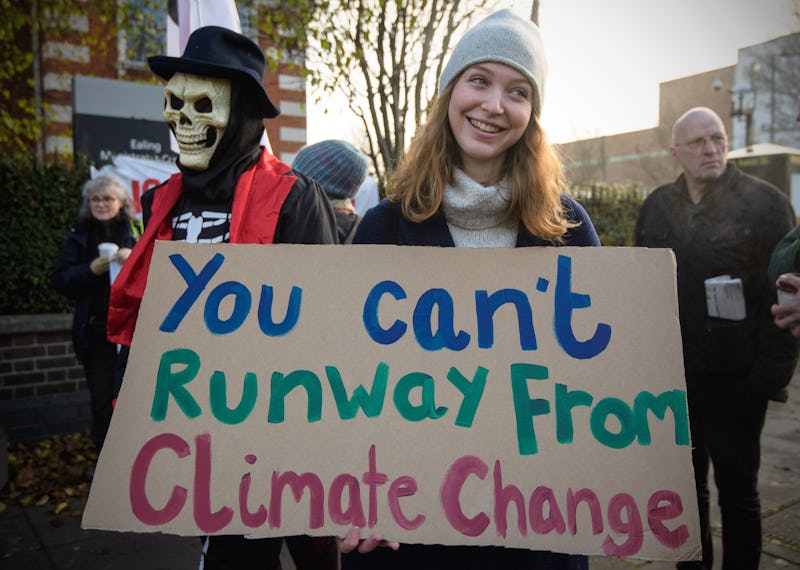 Carl Court/Getty Images News/Getty Images
We've established that climate change is real, because, science. But that hasn't stopped President Donald Trump from signing an executive order rolling back climate-change protections put into place by former President Barack Obama, because who needs clean air anyways? If you're looking for small acts of resistance to support the environment, there are plenty of ways to help fight back.
According to the Washington Post, Trump signed the order March 28, and included in it is language seeking to lift a moratorium on federal coal leasing, and remove language that requires federal officials consider the impact of climate change when making decisions. The "energy independence" executive order also targets the Clean Power Plan. Additionally, with the EPA is losing a third of its funding under Trump's proposed budget, and environmental groups and grassroots organizations need your support now more than ever.
While it might feel like Trump has doomed us to a future of smog, unsafe drinking water, and other environmental atrocities, the Washington Post reported that several of the measures in Trump's order could take years to implement, and "are unlikely to change broader economic trends that are pushing the nation toward cleaner sources of energy than coal. But the order sent an unmistakable message about the direction in which Trump wants to take the country — toward unfettered oil and gas production, with an apathetic eye to worries over global warming."
Many predict that Trump will be out of office before the damage is irreversible (because how could be possibly be re-elected?), but that doesn't mean you should wait to take action. Here are eight small acts of resistance to support the environment you can take right now.
The People's Climate March, scheduled for April 29, and sister marches around the country, will send a clear message to the Trump administration that destroying the environment is not OK. And since we haven't figured out that whole life-on-other-planets thing (yet!), we're pretty dependent of Earth continuing to be a viable place to live. Join a march, and make your voice heard.
The Democratic Congressional Campaign Committee has started a petition in response to Trumps executive order dismantling climate-change protections. Add your name to the list.
For example, the Action Network hosted a rally in New York City April 5 as part of Resist Trump Tuesdays in response to EPA cuts. Visit the Action Network for a Resist Trump Tuesday event near you.
If you value clean air and water, here are three organizations you can support right now.
Environmental Defense Fund: Founded in 1967, this group was instrumental in getting the EPA to ban DDT in 1972. They focus on combating climate change and overfishing, and advocate for sustainable farming and ranching practices.
Sierra Club Foundation: The financial support arm of the Sierra Club promotes protections for public land, advocates for the United States to transition to a clean-energy economy (especially with its Beyond Coal and Environmental Law programs), and expands access to the outdoors across cultural and economic lines.
Natural Resources Defense Council: This group supports environmental programs that work to to ensure the rights of all people to the air, the water, and the wild.
Additionally, contact your representatives and ask them to support the EPA.
While you can't control Trump, you can reduce your own carbon footprint, because every little bit helps. Carbon Offsets To Alleviate Poverty offers ways to reduce your impact with tips for driving, traveling, food waste, home energy use, and more.
Food & Water Watch has devised a plan to resist Trump dubbed Resist, Protect, Rebuild. Support the effort by volunteering, setting up a monthly donation, or calling and writing your representatives.
If you have family or friends who don't fully grasp the impact of Trump's executive order, UNESCO has a Climate Change Education for Sustainable Development program you can download the PDF) to help you explain the gravity of the situation.
The Resistance Manual offers up-to-date resistance efforts, including a page specifically for climate change. It also details how to call your representatives, how to find your local town hall events, and how to support people and organizations committed to resisting Trump.
Destruction of the environment is no joke, so let's get to work protecting our future.