19 Home Accessories To Gift The Grown-Ass Harry Potter Fan In Your Life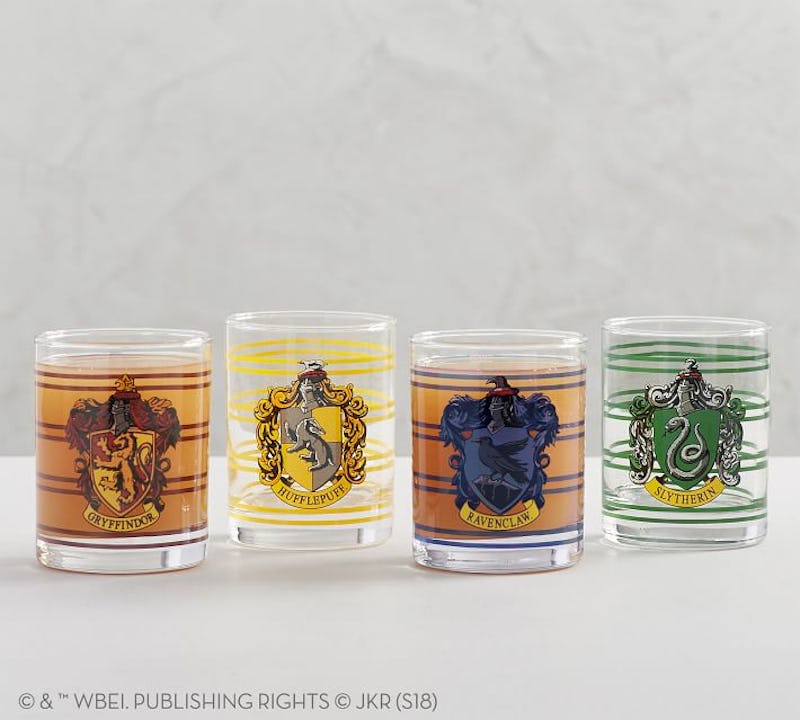 Pottery Barn
Calling all Hufflepuffs, Ravenclaws, Slytherins, and Gryffindors. The holiday season is upon us, which, for Potterheads (and the folks who love them) means exactly one thing: it's time to finish knitting those annual Weasley sweaters and start shopping (Hogsmede, Amazon Prime — you choose) for the perfect Harry Potter-inspired presents. But with the endless — and seriously, I do mean endless — number of Potter products available for the purchasing, where does someone with a sack of silver Sickles to burn even start?
The good news is, if you're purchasing Potter paraphernalia for the Harry Potter lover in your life, it's pretty hard to go wrong. (Unless you mix up their House colors — that would be really bad.) This holiday season, might I suggest sprucing up your Potterhead's burrow (or hut, hollow, dormitory, or castle) with some must-have Harry Potter-inspired home accessories? From the kitchen to the living room, the bedroom to the den, there are Harry Potter home goods that'll make any room of the house just a little bit more magical.
Here are 19 giftable Harry Potter home accessories that you'll totally want to keep for yourself this holiday season. (But, you know, try not to. At least not ALL of them.)
1. Hogwarts Gift Crate
2. Hedwig Bedside Table
3. Wand Wall Art
4. Erised Glass Mirror
5. Golden Snitch Snack Bowl
6. Harry Potter Cookie Baking Kit
7. Hedwig Mood Light Table Lamp
8. Marauder's Map Pillow Cover
9. Hogwarts House Crest Tumblers
10. Sequin Spectacles Throw Pillow
11. Ceramic Cauldron Soup Mug with Spoon
12. Deathly Hallows Bluetooth Speaker
13. Spells and Charms Graphic Art Print
14. Hogwarts House Apron
15. House Crest Table Throw
16. Hogwarts Houses Ceramic Dinnerware Set
17. Harry Potter Luggage Bundle
18. Reversible Comforter
19. Throw Pillow
For more shopping ideas, check out Bustle's roundup of Harry Potter stocking stuffers.