19 Gaga Beauty Looks To Prep You For Super Bowl LI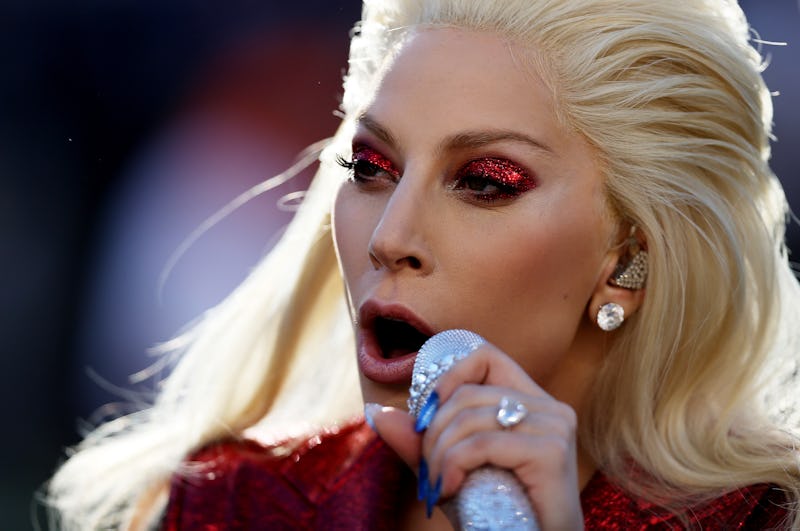 Patrick Smith/Getty Images Sport/Getty Images
Lady Gaga is the queen of transformation. With help from her makeup artist Sarah Tanno, who she'll likely be collaborating with on Feb. 5, Gaga's makeup has been everything from rock rebel to poised pinup to intergalactic space goddess. Naturally, fans can't wait to see what Lady Gaga's Super Bowl LI makeup will look like.
Sarah Tanno and Gaga have been collaborating since 2009, but Gaga only recently appointed Tanno as her personal primary makeup artist in September 2014. Since then, Tanno has created Gaga's groundbreaking looks for the Grammy's, the Cheek to Cheek tour, the Oscars, American Horror Story, and the Victoria's Secret Fashion show, to name a few.
Tanno almost exclusively uses Marc Jacobs Beauty products on the flawless canvas that is Gaga's face, thanks to Gaga's friendship with the designer. Tanno has employed bedazzled, bejeweled faux brows, glittery grandiose eye looks, and super sculpted contour that match the singer's one-of-a-kind, born-this-way personality.
Such a match made in heaven can only mean her Super Bowl LI makeup will be beyond iconic. Remember the glittery red goodness that Gaga sported as she sang the national anthem at last year's Super Bowl? It was the look that launched a thousand YouTube recreations and a full year of trending red eyeshadow.
Yas, Mother Monster, yas!
Here are some other Tanno x Gaga collaborations that are just as fierce.
1. '70s Irridescent Goddess
Just look at this soft, slightly-holographic lilac lip and peachy eye combo. She's a sherbet dream come true.
2. Graphic Brow and Slept-In Eyes
Take a gander at this rhinestone brow and undone smoky eye moment that just oozes effortlessness and editorial charm.
3. Mosaic Masterpiece With Purple Smoke
There is a literal piece of artwork on her face. Enough said.
4. Soft And Simple Stunner
Just in case you forgot, our queen is also capable of rocking delicately clean yet beautiful looks as well.
5. Romantic Modernized Retro Moment
Aren't you just gagging on this eleganza? That's the face of a true queen, bestowing a soft smile upon her noble subjects.
6. Graphic Brows With Diamond Eyes
We know Gaga has a diamond heart, but who knew she had the makeup to match?
7. Rock And Roll Angel Babe
Just in case you forgot she's an actual rockstar.
8. Heavy Metal Met Ball Lover
Here she is to remind you.
9. Swept Out Smoke With Simple Rhinestone Brows
She somehow majestically pulls off many makeup no-no's, like these thin sparkly brows.
10. Beautiful Blue Bowie Babe
And blue eyeshadow up to the heavens.
11. Peachy Keen Pop Rock Princess
Actually, just slay me with that '80s realness, queen.
12. Holo Lids With Hippie Hair
She is the only human to consistently sport gem-encrusted eye looks.
13. British Invasion With Faux Tooth Gap
Because she has lid space for days.
14. '60s Sex Pot Graphic Eye
This 1960's cut crease is sharp enough to slice the haters into itty bitty pieces.
15. Smoldering Stare Into Your Soul
Look at that shadow shape! So effortlessly fierce. Even Tony Bennett is jealous.
16. Actual Glowing Goddess Sent From The Heavens
Her backup singer just can't handle the majesty that is her glowing, heavenly highlight.
17. Marc Jacobs Runway Couture
Admittedly, this one wasn't by Sarah Tanno (it was actually created by Francois Nars), but if you can manage to draw focus while standing next to Marc Jacobs himself, that's really saying something.
18. Classy Crooner Extravaganza
From rebel to retro, Gaga rocks it all.
19. Seductive Murderous Countess Mug
She's an absolute chameleon of a canvas, and her makeup is expressive, transformative, and a work of art in itself.
We're ready for you, Mother Monster. Can't see what gorgeous form your face takes when you hit the stage tonight! You'll be looking good, and we'll be feelin' all of it.