19 Valentine's Day Instagram Captions To Post If You're Single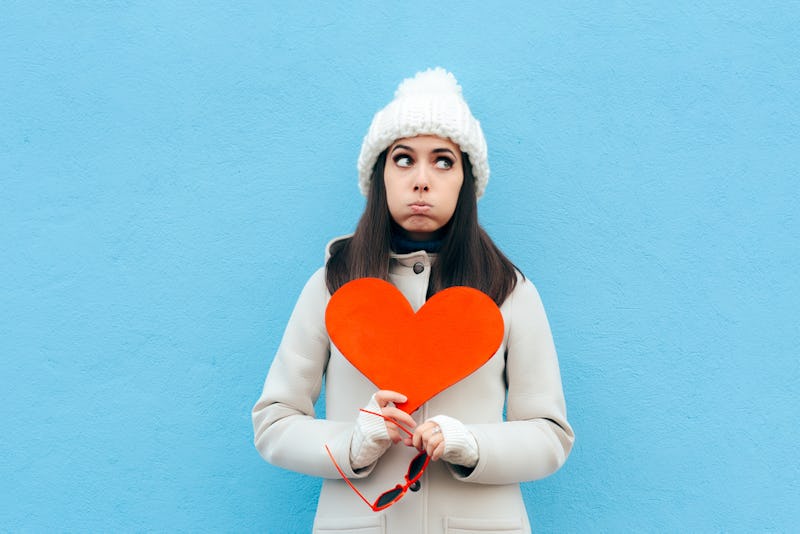 ShutterStock
Valentine's Day is a holiday dedicated to celebrating love of all kinds — but especially romantic love. While it's a great day if you're in a loving, kind relationship with someone you care about, it's not always quite as wonderful when you're single. Seeing cute posts on social media and being inundated with hearts and quotes in basically every store ever can just remind you of how lonely you can sometimes feel, and that is not an easy thing to get through. Sometimes, the best thing you can do on Valentine's Day isn't ignore the fact that you're single, but embrace it, and post about it! There are lots of Valentine's Day Instagram captions to post if you're single that will explain exactly how you're feeling.
These can be either funny and sarcastic and a little self-deprecating, or heartfelt and meaningful — whatever you're in the mood for. If you want to joke about being single and feeling a little lonely on Feb. 14, then you definitely can. But you can also love and appreciate the fact that you're doing things on your own, because there's obviously nothing wrong with that. Valentine's Day doesn't have to be a day where you're made to feel bad about not being in a relationship. It can also be a day where you feel appreciative of the relationship you have with yourself, as corny as that might sound. And you can communicate all of these things through a simple Instagram photo caption.
So, however you're feeling about Valentine's Day, use one of the captions below for any picture you post on the 'gram. Plenty of your followers who are also single will appreciate your candidnesses.