2017 Oscars Party Trivia To Stump Your Guests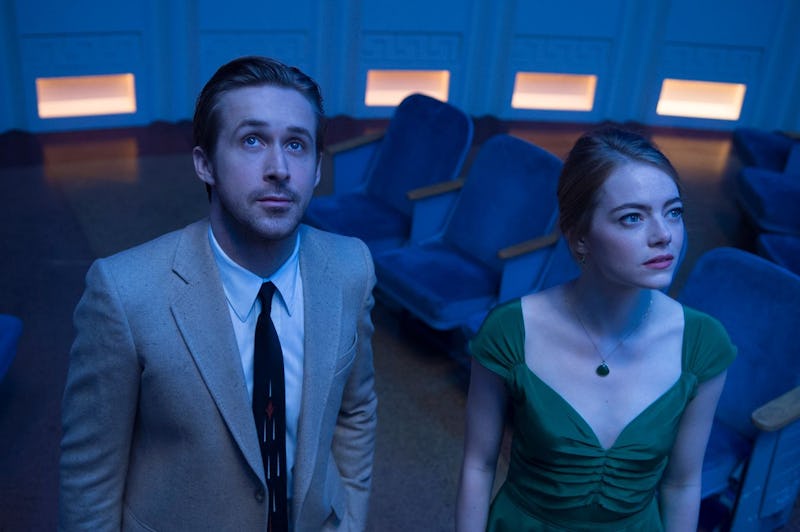 Summit Entertainment
With the Golden Globes over and done with, all eyes are now turning to a different awards show: the 2017 Academy Awards. The Oscars will air on Sunday, Feb. 26, with nominations announced Tuesday, Jan. 24. The show might be a ways away, but it's never to early to start planning your Oscar party. And, to help, I've got your must have 2017 Oscar party trivia, including fun facts about all the favorite Oscar movies, including La La Land, Moonlight, and Moana.
Awards show trivia tends to fall into two categories: too easy and way too hard. Does anybody really know the last film to win both Best Director and Best Picture? (It was actually Birdman.) And on the opposite end, who doesn't know the identity of the most Oscar nominated actor in history? (Meryl Streep, duh.) This is why I'm opening up the Oscar party trivia to include not only the history of the Academy Awards, but also the movies most expected to take home some golden statues. Whip out these facts to impress your guests, or use them to turn your party into a trivia game. But, whatever you do, make sure your guest-lists is in order, because this 2017 Oscar party trivia is not for the faint of heart.
General 2017 Oscars Trivia
If La La Land wins Best Picture, John Legend could be one of the first people ever to win an Oscar for Best Original Song and Best Picture.
Janelle Monáe made her onscreen debut as an actor this year with supporting roles in Moonlight and Hidden Figures.
The last time a black actor has won Best Supporting Actor (a category likely to be won by Moonlight's Mahershala Ali) was Morgan Freeman for Million Dollar Baby in 2004.
The last musical to win Best Picture was 2002's Chicago.
Three of this year's frontrunners — Manchester By The Sea, La La Land, and Moonlight — were made by directors who also wrote (or co-wrote) the script.
Monáe, Ali, Greta Gerwig, and Michael Shannon are each in two films getting heavy Oscar buzz this season. Monáe and Ali both have roles in Moonlight and Hidden Figures, Gerwig appears in both Jackie and 20th Century Women, and Shannon has supporting roles in Nocturnal Animals and Loving.
La La Land
Miles Teller and Emma Watson were originally set to play Seb and Mia, respectively, as reported by People.
La La Land's choreographer shares a name with '90s pop star-turned-TV-star, Mandy Moore.
Director Damien Chazelle and composer Justin Hurwitz attended Harvard University together, according to Variety. Hurwitz also composed the music for Whiplash.
La La Land marks Ryan Gosling and Emma Stone's third film together; they previously starred in Crazy Stupid Love and Gangster Squad. If nominated, this will be both Gosling and Stone's second Oscar nominations.
Spoiler alert: The actor who plays Mia's husband in the end of the film is Tom Everett Scott, best known for playing Guy Patterson in Tom Hanks' That Thing You Do.
Moonlight
In the ocean scene in the first act of the film, Mahershala Ali (Juan) is actually teaching Alex R. Hibbert (Little) how to swim.
Moonlight is director Barry Jenkins' first feature film.
Naomi Harris filmed all of her scenes in three days. She is the only actor to appear in all three parts of the film.
Trevante Rhodes, who plays Black (aka grown up Chiron), had a bit part in another buzz-worthy project of 2016: Westworld. He appeared as Floyd in the episode "The Original."
Manchester By The Sea
Matt Damon was originally set to play the lead role, according to The Hollywood Reporter, but had to drop out due to scheduling conflicts. His close friend and Good Will Hunting co-star, Casey Affleck, ended up getting the part.
Writer-director Kenneth Lonergan's first writing credit is for an episode of the animated series Doug. He also wrote The Adventures of Rocky & Bullwinkle.
Elle
Isabelle Huppert is on track to become the 14th Best Actress contender nominated for a foreign film — the sixth to do it with a French film.
Director Paul Verhoeven wanted to make the film with an American (or English-speaking) actor, but the director has revealed, via Deadline, that everyone he considered passed.
Moana
A win for Best Original Song could bring Lin-Manuel Miranda one step closer to the EGOT. Thus far, the Hamilton scribe has won a handful of Tonys, a Grammy, and an Emmy.
Fun fact: Alan Tudyk, who plays the droid K-2SO in Rogue One, voiced the Moana character of Heihei, the chicken.
Jackie
Jackie director Pablo Larraín also directed the Chilean film Neruda, which could earn a nomination for Best Foreign Film.
If Natalie Portman wins an Oscar for her performance, this will be her second win overall and her second win when pregnant.
Arrival
If nominated, this will be Amy Adams' sixth Oscar nomination — her fifth in eight years.
Arrival is director Denis Villeneuve's first feature film to get a PG-13 rating. (His previous films have all been rated R.)
Villeneuve's next film, Blade Runner 2049, will star fellow 2017 Oscar hot shot Gosling.
Obviously, there's still a ton of little-known facts about the 2017 Oscar movies that aren't listed here, but these fun pieces of trivia should make you the most knowledgeable person at your Oscar party.