21 Cheap Feminist Gifts Under $20 That Will Fill Holiday Stockings With Gender Equality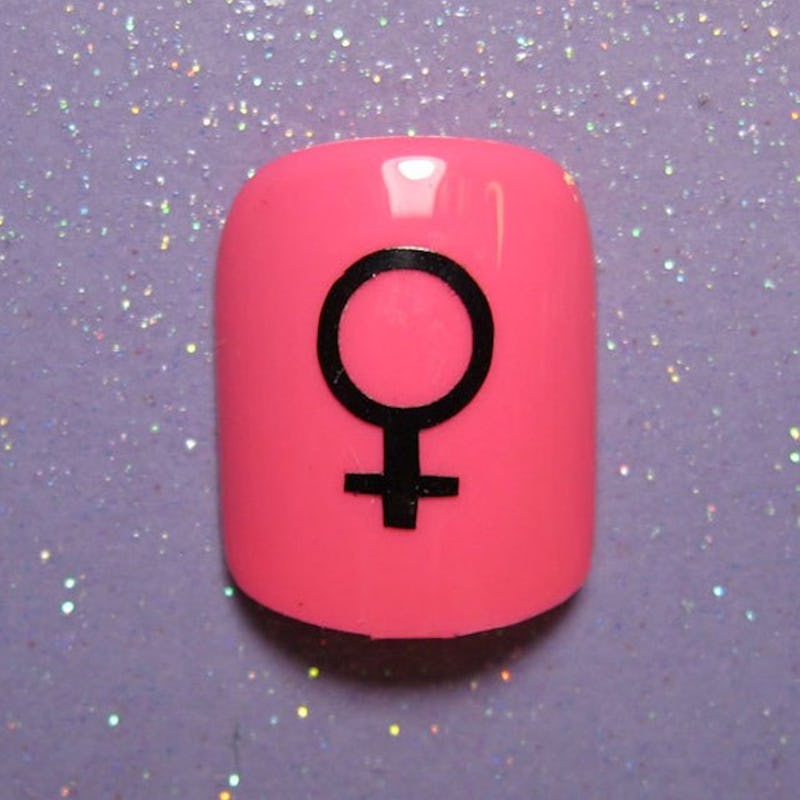 ShellsVinylDecals / Etsy
It goes without saying that shopping for friends and family can be complicated and expensive. But, when it comes to shopping for fierce and fabulous feminists, the task becomes so much easier. After all, cheap feminist gifts are capable of making a huge statement. Think about it: Feminism is about spreading gender equality beliefs and messages. Feminist merchandise is one of the best way to do just that. It can turn heads, make people think, and get the conversation going. To top it off, important concepts can be easily portrayed through simple words and symbols.
Luckily, this can be done through the smallest items. Things like stickers and pins can add feminist flair to absolutely anything. Home décor products like posters will create a safe space to talk about what is most important. The best part? These objects are not only inexpensive, but portray crucial messages regarding our society and culture. They jump start the conversation without the need for verbal communication.
By purchasing a sassy feminist gift, you will fuel the inspiration within your fellow feminists. Furthermore, gifts of this nature are way more meaningful than the average mug or sweater. It just goes to show that one of the best parts of the holiday season is finding items that enrich a person's lifestyle.
Instead of scouring the web, check out this list of 21 budget-friendly gifts that embrace gender equality. Your wallet (and uterus) will thank you.
1. Girl Power Sticker Vinyl Decal
Thanks to the nature of stickers and decals, your feminist friends can turn absolutely anything into a fiercely rad object. Help a lady out by gifting an awesome "girl power" decal. The best part? You have 14 different colors to choose from.
2. Gold Feminist Pencils
Writers, artists, and students will adore this these gold feminist pencils. You can even purchase a single set and divvy them up among your friends.
3. Pink Girl Gang Pin Badge
Enamel pins are here to stay, people. Help embellish your fellow feminist's jacket with a girl gang pin badge. It's sweet, simple, and badass.
4. Rosie The Riveter Socks
Rosie Riveter Socks, $8, Sock Smith
Vibrant printed socks are the secret to surviving a cold and dreary winter. Make a statement by gifting a pair of Rosie the Riveter socks; it's the best way to honor our girl while staying warm and cozy.
5. Nasty Woman Mug
The election might be over, but Hillary Clinton's legacy will live on forever. This Nasty Women feminist coffee mug serves as a daily reminder to keep on fighting. Consider pairing it with coffee or tea for the ultimate gift.
6. Pineapple Uterus Pin
Pineapple Uterus Pin , $9, Etsy
This pineapple uterus pin is the epitome of brilliance. Feminists who love food, fruits, and clever graphics will swoon over this accessory.
7. Girls Just Wanna Have Fundamental Rights Pin
ShellsGlitterButtons, $3, Etsy
While you can't go wrong with an enamel pin, there's nothing like classic round pin back button. For two to three bucks, you can snag this "girls just wanna have fundamental rights" pin, available in four different colorways.
8. Rosie The Riveter Vinyl Sticker
For another way to pay homage to the female workforce, gift a Rosie the Riveter laptop vinyl sticker. The tech-obsessed feminist will definitely appreciate it.
9. Feminist Killjoy Coasters
You can never go wrong with home decor gifts. So why not make them feminist? This pack of four feminist killjoy coasters feature original artwork infused with important messages. They're pretty darn adorable, too.
10. Bad Feminist By Roxane Gay
Bad Feminist By Roxane, $9, Amazon
For the feminist that seems to have everything, gift an eye-opening book such as Bad Feminist by Roxane Gay. This is an especially awesome gift idea for someone who is just starting to delve into the wonderful world of feminism.
11. Pink Uterus Plushie
How many people can say that they have gifted (or received) a uterus plushie? This one was handmade with the yarn of a reclaimed sweater, making it an earth-friendly present.
12. Feminist Doodle Reusable Decals
Feminist Decals, $8, LookHuman
Like I said, stickers are excellent for embellishing everything and anything. This sheet of feminist doodle reusable decals is especially perfect for the feminist who (rightfully so) hates cat calls.
13. I Do What I Want Mug
I Do What I Want Mug, $15, LookHuman
Feminist cat ladies and coffee lovers will be all about this cheeky "I Do What I Want" mug. How cute is that kitten?
14. Printable Boss Lady Coloring Book
Coloring Book, $10, Etsy
The simple act of coloring is one of the best ways to de-stress from the holiday season. Luckily, you can print this boss lady coloring book right from the comfort of your own home. The awesome part is that can re-print it as many times as you like.
15. She's Whiskey In A Teacup Poster
Food and drink analogies are some of the best ways to make a point. This simple yet chic "She's Whiskey in a Teacup" Poster will look especially charming in your favorite feminist's home.
16. Go With The Flow Tampon Cross Stitch Pattern
Know a crafty feminist or two? Gift them this pun-tastic tampon cross stitch pattern.
17. Cuterus Art Print
How freakin' adorable is this uterus art print? It's another one that a pun-loving feminist will appreciate.
18. Venus Feminist Nail Decals
Feminist Nail Decals, $3, Etsy
For the feminist that loves to spruce up their nails, these simple feminist symbol nail decals are the perfect treat.
19. Thelma & Louise DVD
Thelma & Louise, $6, Amazon
Any feminist movie buff will adore a copy of Thelma & Louise, one of the most feminist flicks out there.
20. Ovaries Before Brovaries Cuff Bracelet
Cuff Bracelet, $14, Etsy
Show your feminist bestie that you love them with a "ovaries before brovaries" cuff bracelet. Leslie Knope would be proud.
21. Feminist Nasty Woman Planner Stickers
Feminist Planner Sticker, $4, Etsy
In true nasty woman fashion, these sassy feminist planner stickers combine Victorian designs with cheeky sayings. So good.