These Photos Will Restore Your Faith In True Love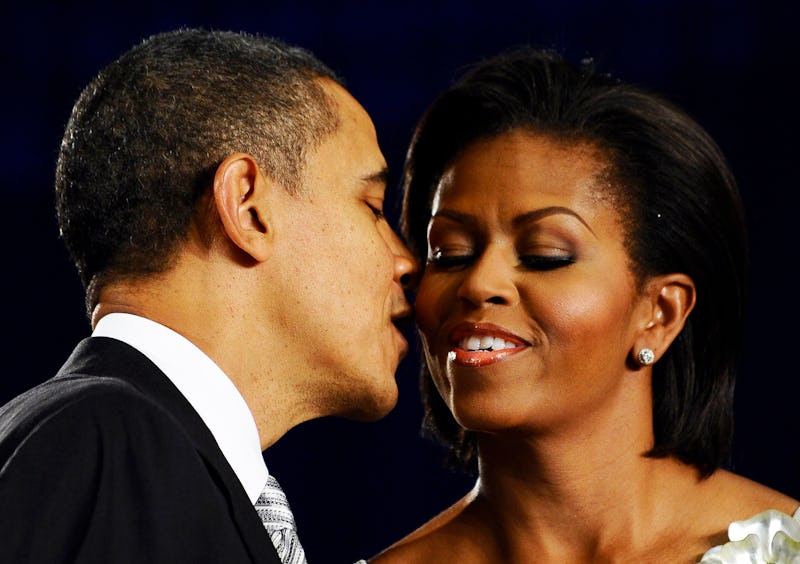 JEWEL SAMAD/AFP/Getty Images
Following this tumultuous year, it seems that many Americans' core values have been shaken. With Hillary Clinton's unexpected and crushing defeat and the election of well-documented misogynist Donald Trump to the presidency, it can feel difficult to determine which way is up. But if there's one thing you should never give up on — excuse any cheesiness here — it's your faith in true love. Because despite who may be entering the White House, we've had an amazing example of what true, hardworking, and dedicated love looks like from Barack and Michelle Obama these last eight years.
You can feel their love from so many places — from the way they look at one another, to the manner in which, after all these years and regardless of job titles, still challenge one another to be the best version of themselves. It certainly is something to aspire to in your own partnerships.
These photos give a glimpse into the Obamas' love for one another, surely a key element to the success of the president's two terms in office. Barack said this himself, telling Oprah in a 2011 interview: "Obviously I couldn't have done anything that I've done without Michelle. You were asking earlier what keeps me sane, what keeps me balanced, what allows me to deal with the pressure. It is this young lady right here. ... Not only has she been a great first lady, she is just my rock. I count on her in so many ways every single day."
Election Night Embrace
Barack and Michelle were photographed in this embrace during his election night victory rally in 2008 — the look he gives her says it all.
A Great Dance Partner
The pair were captured dancing during the Midwestern Regional Inaugural Ball the evening of President Obama's 2009 inauguration. No dad dance moves this time.
First Dance As President & First Lady
Another shot from the 2009 inaugural ball, because it's too cute not to share.
A Family Portrait
It would be amiss to discuss Barack and Michelle's love for each other without sharing a photo of the whole family. Sasha and Malia (and Bo, too!) have done so well being in a loving family.
A Sweet Moment On Their Wedding Anniversary
Here, Michelle and Barack were seen celebrating their 17th wedding anniversary in October 2009. The pair dined at Blue Duck Tavern in Washington D.C.'s Georgetown neighborhood.
A Partnership To Aspire To
This photo was taken moments after President Obama signed a school nutrition bill into law, a subject the first lady has heavily championed the last eight years as well.
A Hug On The 2010 Campaign Trail
Families that campaign together, stay together.
The Best Kind Of Hug
Everyone knows the best kind of hug is the sneaky, behind-the-back hug.
Always Got My Vote
Who do you think they voted for?
A Theatrical Couple
Barack and Michelle delivered an adorable reading and performance of Where The Wild Things Are during this year's White House Easter Egg Roll.
A Courtside Laugh
They say the best couple's indulge in each other's interests — here, the presidential couple can be seen sharing a laugh at a basketball game, one of Barack's favorite sports.
Love In Black & White
Barack gives Michelle a sweet kiss following an August 2016 rally. Somehow, the black and white filter makes it all the cuter.
Exchanging Glances
Michelle and Barack exchange glances at a 2008 rally, with another look that really says it all.
Easter Kisses
A sweet image from another White House Easter Egg Roll. Not even the Easter bunny can distract from this one.
Love Over Dinner
The White House Correspondents' Dinner really won't be the same without these two.
Dressed Up With Somewhere To Go
During a March 2012 state dinner, Barack (understandably) couldn't keep his eyes off of Michelle.
Always By Your Side
It's really refreshing to see how they are so confident both in themselves and each other.
Some More Dance Moves
An image from the 2013 inaugural ball — both looked stunning and in love as ever during the event.
A Lovely Boat Ride
The pair were photographed here along with daughter Sasha during a 2010 beach trip to Florida.
An Active Couple
Challenging your partner to remain healthy is key in a good relationship. Here are the Obamas doing just that on a vacation.
Holding Your Hand
No matter how long they've been married, Michelle and Barack can often be found holding each other's hand wherever they go.
The Obamas are a wonderful reminder and example of what true love looks like. No matter what these next four years bring, they are certainly a couple to aspire to.