These Politicians Have Made March Madness Picks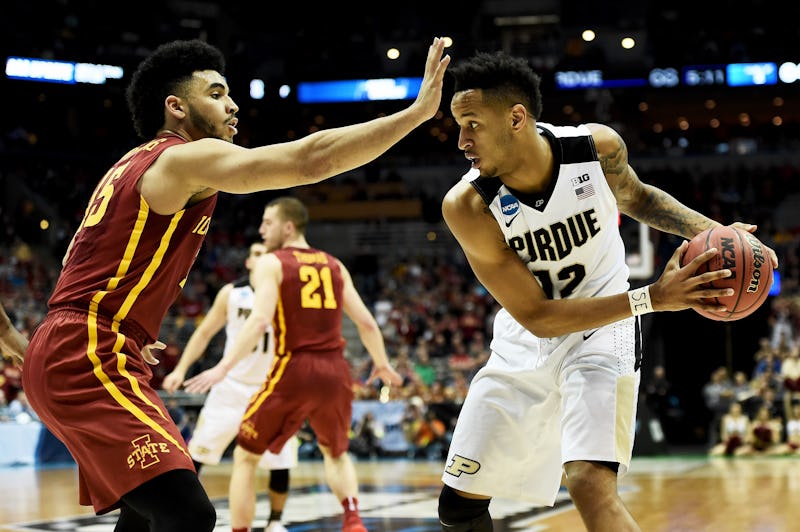 Stacy Revere/Getty Images Sport/Getty Images
Just when the government didn't need anything else to be divided about, March Madness began. The NCAA men's basketball tournament pits 68 collegiate teams — and their fans — against each other, but the rivalries are nothing compared to the tension between Democrats and Republicans in the age of the Trump administration. For a short time, basketball may be there to lighten the mood, as politicians root for their March Madness teams alongside the everyday Americans they represent.
In the midst of health care debates, Supreme Court confirmation hearings, and immigration lawsuits, there's something refreshing about the March Madness tournament. For the Americans who are tired of reading President Trump's controversial tweets, it's a welcome distraction. For the politicians who fight for or against the president's policies, it's an opportunity to reconnect with their constituents.
Although President Trump refused to fill out a March Madness bracket publicly, it's clear which teams many lawmakers are rooting for. Not surprisingly, they often pick the teams in their home state or district. The school spirit may or may not win them a few brownie points back home, but regardless, isn't it time Americans and politicians found something to unite them? Here's an idea of which officials you can root with:
Sen. Amy Klobuchar
Unfortunately for Sen. Amy Klobuchar, Minnesota was upset in the first round by Middle Tennessee State.
Barack Obama
The former president picked the University of North Carolina Tar Heels.
Sen. Chuck Schumer
The Democratic senator from New York chose last year's champs, Villanova. Like many other fans, his bracket was busted on Saturday when Villanova unexpectedly lost to Wisconsin.
Sen. Joe Manchin
The Democratic senator not only represents West Virginia, but he also graduated from West Virginia University.
Sen. John McCain
The Arizona senator chose the University of Arizona. With a secure spot in the Sweet 16, the Arizona Wildcats still have a chance to win it all.
Gov. Larry Hogan
The Maryland governor's choice really shocked the local media.
Sen. Luther Strange
Against all odds, Alabama Sen. Luther Strange remained loyal to his state, choosing No. 15 seed Troy University.
Gov. Mark Dayton
The Minnesota governor won't be winning any bracket challenges, but at least he roots for his state.
Sen. Mitch McConnell
The Senate majority leader is also a senator from Kentucky, which could explain his picks.
Nikki Haley
The president's ambassador to the United Nations may have been rooting for Villanova before Saturday's upset. Villanova's Kris Jenkins is from Haley's beloved Columbia, South Carolina.
Speaker Paul Ryan
The Republican speaker of the House hails from Wisconsin.
Reince Priebus
Currently the president's chief of staff, Reince Priebus grew up in Wisconsin. Apparently, Priebus and Paul Ryan have more in common than their political party.
Gov. Rick Scott
The Florida governor picked the University of Florida to win the men's tournament and Florida State to win the women's.
Gov. Roy Cooper
While North Carolinians may be hoping for a UNC-Duke matchup in the March Madness final, North Carolina Gov. Roy Cooper picked Kentucky to win it all.
Selina Meyer
OK, she may not be the real Veep, but Julia Louis-Dreyfus cheered on her son, who plays for Northwestern.
Gov. Scott Walker
Although he graduated from Marquette, the Wisconsin governor chose a different Wisconsin school. Still, he apparently saw Saturday's Villanova-Wisconsin result coming.
Sen. Tammy Baldwin
The Wisconsin Badgers seem to have the full support of their state's elected officials.
Sen. Tammy Duckworth
The Democratic senator from Illinois celebrated Northwestern's first-ever trip to the NCAA tournament.
Sen. Ted Cruz
Although he bears a stunning resemblance to Duke's Grayson Allen, Texas Sen. Ted Cruz is remaining loyal to the Lone Star State.
Sen. Tim Kaine
The former vice-presidential hopeful was rooting for Virginia Tech.
Sen. Tim Scott
In the women's tournament, South Carolina Sen. Tim Scott is rooting for his South Carolina Gamecocks.
March Madness brackets won't solve the country's deep divisions or serious issues, but they can help to restore the country's spirit — one team at a time.