This Is How 19 Women Say Trump Harassed & Assaulted Them, In Their Own Words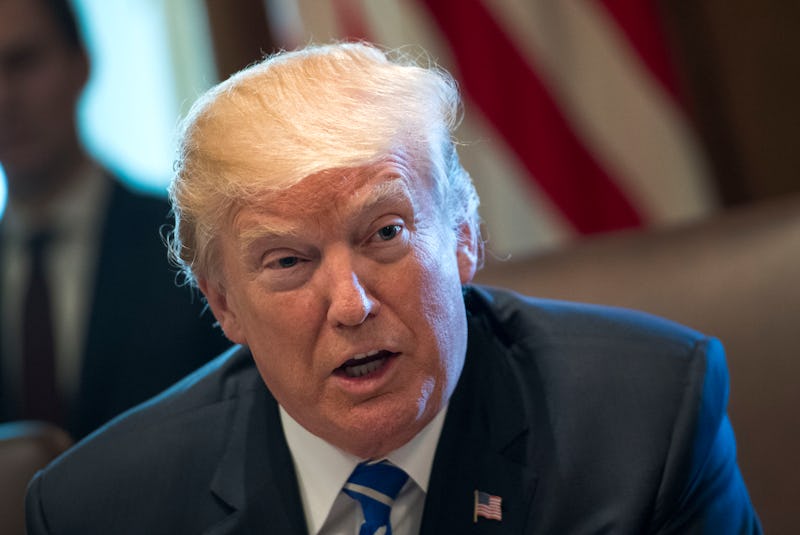 Pool/Getty Images News/Getty Images
This is a moment of reckoning in which many powerful American men are finally being held accountable for their actions. But one very important and powerful man, the president, denies every allegation levied against him and has seen little to no blowback. Yet at least 19 women have accused Donald Trump of sexual misconduct and unwelcome advances since he announced his presidential run. Now, following the larger #MeToo movement and the tumultuous Alabama Senate race, it's time to dive back into the accusations of sexual assault and harassment against Trump.
For a few weeks in late 2017, it seemed as though politicians would be the one exception to the cascade of powerful men losing their jobs in the face of such accusations. However, now-former Democratic congressmen Al Franken and John Conyers both stepped down after being hit with allegations of sexual harassment, claims that they denied. Then there was former Alabama Senate candidate Roy Moore, who for weeks repeatedly denied several women's allegations that he initiated sexual encounters with them when they were teenagers.
But Trump has not yet been held accountable or even truly answered to the allegations against him. After several women spoke out again in December 2017 about his alleged behavior, Trump tweeted that the accusations were a Democratic conspiracy, "fabricated stories of women who I don't know and/or have never met. FAKE NEWS!" Trump has also reportedly denied the Access Hollywood tape's authenticity in private. Scores of female Democratic politicians have demanded a congressional investigation into the allegations against him.
The White House issued another denial that same week:
These false claims, totally disputed in most cases by eyewitness accounts, were addressed at length during last year's campaign, and the American people voiced their judgment by delivering a decisive victory. The timing and absurdity of these false claims speaks volumes, and the publicity tour that has begun only further confirms the political motives behind them.
This is what makes his past denials about the women who have accused him of sexual misconduct so worth of a second look. Here they are in chronological order, with who knew at the time, and Trump's response.