A Radio Host Says Sen. Al Franken Sexually Assaulted Her & There's A Shocking Photo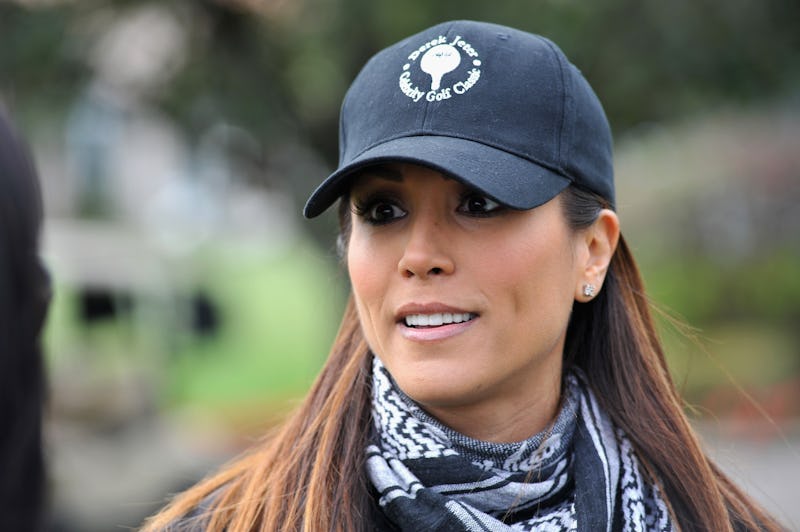 Tim Boyles/Getty Images Entertainment/Getty Images
In an article on Thursday morning, 790 KABC news anchor Leeann Tweeden alleged that Sen. Al Franken kissed and groped her without her consent when the two of them were abroad on a USO tour in Afghanistan in 2006. Tweeden claimed that Franken kissed her on the lips and stuck his tongue in her mouth, then later allegedly groped her when she was sleeping on the plane back to the U.S. — an incident she included a photo of, with Franken smiling at the camera as his hands grabbed at her chest.
In a statement, Franken says he does not remember the incident and that the photo was meant to be funny. "I certainly don't remember the rehearsal for the skit in the same way, but I send my sincerest apologies to Leeann," Franken says. "As to the photo, it was clearly intended to be funny but wasn't. I shouldn't have done it."
Tweeden recalled in her article that Franken, who was headlining the USO tour as a comedian back then, included her in a part of his script where his character goes to her for a kiss. As they went over their lines on the day of the show, Tweeden claimed Franken repeatedly insisted they practice the kiss. "We did the line leading up to the kiss and then he came at me, put his hand on the back of my head, mashed his lips against mine and aggressively stuck his tongue in my mouth," she wrote.
Tweeden wrote that she avoided Franken as much as she could during the rest of the tour, and made sure she was never alone with him. When she was back in the U.S., Tweeden looked through a CD with photos from the tour and discovered one of Franken grabbing at her chest while she was sleeping.
"I couldn't believe it. He groped me, without my consent, while I was asleep," she wrote. "I felt violated all over again. Embarrassed. Belittled. Humiliated. How dare anyone grab my breasts like this and think it's funny?"
Shortly after Tweeden went public with her allegations, Senate Majority Leader Mitch McConnell called for the Ethics Committee to "review the matter." The backlash elsewhere has been swift; many have called for Franken's Democratic colleagues to denounce his actions, as well as for Franken to resign.
In a follow-up statement, Franken pointedly apologized to Tweeden and said he would cooperate with an ethics investigation:
I respect women. I don't respect men who don't. And the fact that my own actions have given people a good reason to doubt that makes me feel ashamed.
But I want to say something else, too. Over the last few months, all of us—including and especially men who respect women—have been forced to take a good, hard look at our own actions and think (perhaps, shamefully, for the first time) about how those actions have affected women.
For instance, that picture. I don't know what was in my head when I took that picture, and it doesn't matter. There's no excuse. I look at it now and I feel disgusted with myself. It isn't funny. It's completely inappropriate. It's obvious how Leeann would feel violated by that picture. And, what's more, I can see how millions of other women would feel violated by it—women who have had similar experiences in their own lives, women who fear having those experiences, women who look up to me, women who have counted on me.
Coming from the world of comedy, I've told and written a lot of jokes that I once thought were funny but later came to realize were just plain offensive. But the intentions behind my actions aren't the point at all. It's the impact these jokes had on others that matters. And I'm sorry it's taken me so long to come to terms with that.
While I don't remember the rehearsal for the skit as Leeann does, I understand why we need to listen to and believe women's experiences.
I am asking that an ethics investigation be undertaken, and I will gladly cooperate.
And the truth is, what people think of me in light of this is far less important than what people think of women who continue to come forward to tell their stories. They deserve to be heard, and believed. And they deserve to know that I am their ally and supporter. I have let them down and am committed to making it up to them.
Tweeden's story comes as lawmakers on Capitol Hill attempt to confront rampant sexual misconduct in the halls of Congress. On Wednesday, a bipartisan group of politicians unveiled the ME TOO Congress Act that would protect accusers, make harassment settlements more transparent, and mandate sexual harassment training for all Congress members and staff.
Congress' recent reckoning with its sexual misconduct problem comes as high-profile men across major industries continue being outed as sexual predators. The stunning allegations of sexual harassment and assault against Hollywood producer Harvey Weinstein emboldened women in other fields to go public with their own alleged experiences of sexual misconduct. (Weinstein has apologized for his behavior and denied all claims of non-consensual sexual encounters.)
After years of shaming and blaming, women were believed — and powerful men were being fired, shunned, and denounced for their alleged behavior.
Tweeden wrote in her article that she debated whether her story was worth going public with. "I even thought to myself, so much worse has happened to so many others, maybe my story isn't worth telling? But my story is worth telling," she wrote, adding that she's coming forward because there may be other victims.
"I want them, and all the other victims of sexual assault, to be able to speak out immediately, and not keep their stories –and their anger– locked up inside for years, or decades," she added. "I want the days of silence to be over forever."