Unique Cheeses To Try On National Cheese Day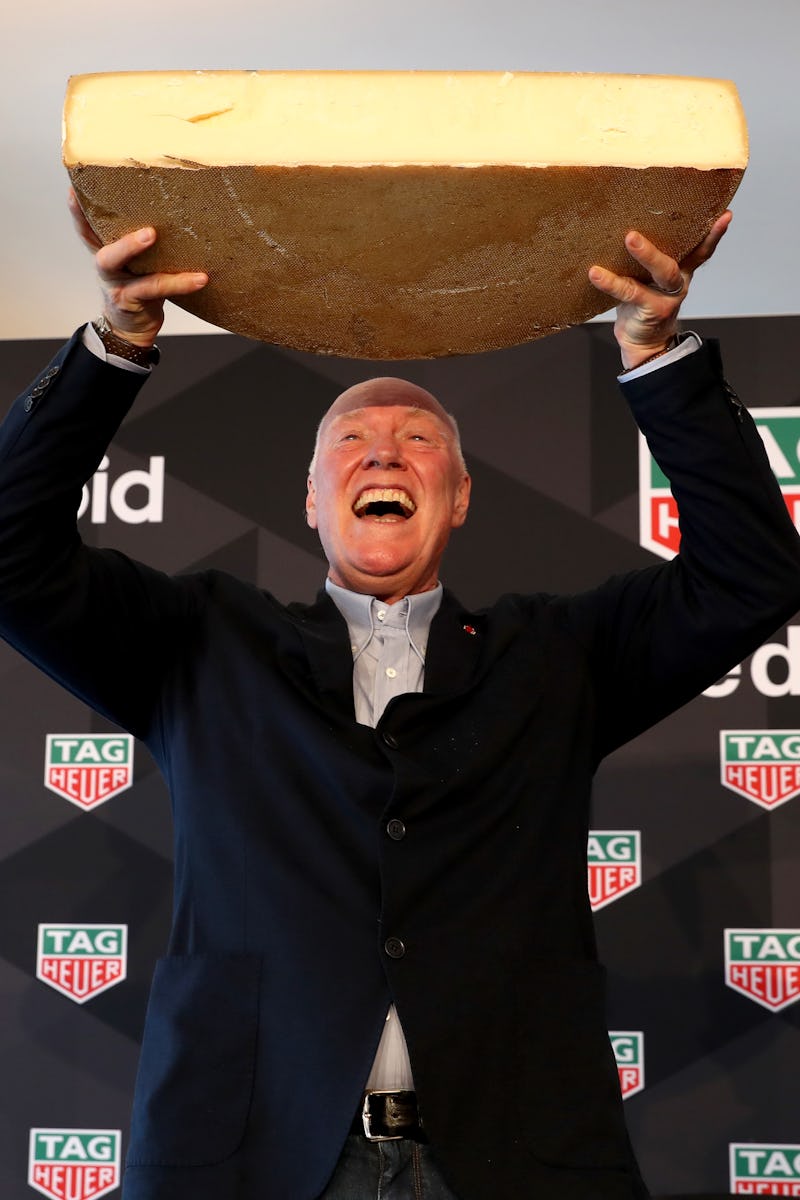 Alexander Hassenstein/Getty Images Entertainment/Getty Images
For cheesemongers, the best day of the year is right around the corner. June 4 is National Cheese Day, and if you've recently found yourself stuck in a rut of Babybell and Kraft Singles, it might be time to change things up. What better way to celebrate than with some new cheeses? I'm sure I don't have to tell you about the culinary power of a fine cheese (lookin' at you, Burrata), but trying something new in the cheese department can be tricky. It's tough to find something you like, especially if you're usually one to dive into the cheese plate blind and simply sample whatever looks good. This year, why not show the holiday its due appreciation and sample these unique cheese to try on National Cheese Day.
From soft and spreadable to salty and squeaky, there's plenty to explore in the world of cheese. And if you're not quite sure where to begin, there's hope: cheesemongers are an enthusiastic bunch, and are usually happy to make recommendations. The next time you pop by the cheese counter, ask the master behind the counter for a few recommendations for a cheese to fit your style.
And if an hour in the cheese shop sounds too demanding for your schedule, give these cheeses a look. They're bound to be just the bite you need to celebrate national cheese day properly.
1. Burrata
Creamy, smooth, and impossibly fresh, burrata is the epitome of decadence. A hollowed-out ball of mozzarella, burrata is made of shredded cheese soaked in rich cream. It's as fresh as cheeses come, and usually has a shelf-life of no more than two weeks. That's no problem though, as you'd be hard-pressed to find someone capable of waiting two whole weeks before devouring a fresh ball of burrata. For best results, enjoy it with toasted bread and balsamic-soaked tomatoes.
2. Sheep's Milk Cheese
Nutty and meaty, Spanish Manchego is arguably Spain's most popular cheese. But a true Sheep's Milk Cheese can be hard to come by, and arguably harder to appreciate. Some find sheep's cheeses (like Manchego) a little bland, but others claim it's incredibly complex. Pair it with some serrano ham and a glass of sherry and see for yourself.
3. French Style Goat Cheese
There's a lot going on under the hood with French goat cheese — mostly in the texture department. Picture a gooey center, a chalky texture, and an odd but edible rind. Sprinkle it over salad or spread it on crackers.
4. Epoisses Cheese
If you're looking for something unique to sample, Epoisses is it. The wooden box it traditionally comes in is adorable, but the scent can be too much for some cheeseheads. Don't let the smell scare you away, though, as the near-liquid texture of the cheese more than makes up for it.
5. Stilton Blue
Sweet and salty all at once, Stilton is perhaps blue cheese perfected. Its chunky texture makes it perfect on its own, or crumbled over a dish. Enjoy it with cranberries or pecans to balance its salty flavor.
6. Aged Gouda
The older the better, to be exact. The longer gouda ages, the harder and sweeter it becomes. For a taste of something truly unique, get your hands on a gouda that's been aged four three or four years. The texture is likely to throw you for a loop.
7. Roquefort
Although it's one of the world's most well-known cheeses, Roquefort sits firmly in the "unique cheese" category. Be warned: its strong, tangy flavor is not for everyone (it's actually the strongest blue cheese there is!), but the French blue cheese is perfect for a day celebrating unique flavors.
8. Weybridge Cow's Milk Cheese
Delicate in texture but bold in flavor, the Vermont-made Scholten Family Farms cheese bears a striking resemblance to another ultra-ripe cow's milk cheese, Constant Bliss (very tough to track down). Weybridge Cow's Milk Cheese is buttery, smooth, and has all the chops necessary to be the star of your next cheese plate.
9. Comte Cheese
Similar to a gruyére, Comte is a versatile cheese that doesn't skimp on its complexity. Its gruyére-esque quality makes it great on sandwiches, with baked or scalloped potatoes, on vegetables, or in mac 'n cheese. Its long-lasting shelf life means it'll be great even after National Cheese Day, too.
10. Gorgonzola Dolce
If your sweet sensors went off at the word dolce, you're right on track. Known sometimes as "The Sweet One" in Italy, this cow's milk cheese is creamy, mild, and undeniably sweet.
11. Drunken Goat
My personal favorite, Drunken Goat is soaked in the famous Doble Pasta wine of its region and aged for just 60-75 days. The result is a smooth, mild, slightly fruity cheese perfect for afternoon snacking.
12. Halloumi
This unripened cheese combines goat and sheep's milk for a soft, squeaky, salty finish. It's resistance to melting makes it great fried or grilled. Try it with falafel or on a salad with grilled lamb.
13. Langres
Gooey and creamy with a funky flavor, this cheese is a crusty baguette's best friend. And although its pungent odor isn't for everyone, it's a great representation of a classic, milky French cheese. It also earns points as a happy hour cheese, as it's great with a glass of red wine, too.
14. Black Pepper Toscano
The surprising bursts of black pepper give a nice hit of spice to this mild, creamy cheese. Serve it with steak, or over crackers before the meal.
15. Cambozola
The lovechild of an French Triple Cream and an Italian Gorgonzola, this cheese is quite a bit milder than a Gorgonzola, and features a very subtle blue cheese flavor. If you've often shied away from blue cheeses, Cambozola might just have you changing your tune.
16. Cypress Grove Humboldt Fog
As one of the OG soft-ripened goat cheeses in America, Humboldt Fog paved has always been a favorite among ashy cheese lovers. The distinctive ribbon of edible ash throws some people off, but it's all part of the experience. Look for notes of buttermilk, citrus, and floral in this cheese.
17. Ossau-Iraty
Fully raw and uncooked, this 90 day-aged AOC-designated sheep's milk cheese is some good stuff. It's got a mild flavor at first taste, but the nutty notes come out more as you chew. It also grates really well — try it over cheese or pasta.
18. Fromage De Meaux
American pasteurization laws make it painfully tough (read: impossible) to get real brie in the states, but Fromage De Meaux gets pretty dang close. It's essentially the pasteurized version of Brie de Meaux, and boasts a deliciously smoky, truffle flavor. Look for beefy notes, too!
19.Truffle And Salt Cheddar
Idaho cheddar meets Italian black truffle in this salty, surprising cheese from Ballard Dairy that's full of flavor. The velvety notes from the truffles make it perfect for snacking on in between sips at a wine-tasting, or grated over popcorn, potatoes, or roasted vegetables.
20. Paysan Breton Le Fromage Fouetté
As one of Whole Foods' finest cheeses, Paysan revives common cream cheese with a whipped take on the old classic. It's light, airy, citrusy, and tastes great smeared over toast or a bagel.
21. Clawson Stilton Gold
A cheese made with flecks of solid gold? Say no more. Just be prepared to smash your piggy bank for this one... a 100 gram portion runs round $95.
22. Sartori Balsamic BellaVitano
The slight addition of balsamic vinegar to this tangy cow's milk cheese offers a surprising, sharp twist on a classic farmstead cheese. If you pay close attention, you might taste a little raisin in there, too.